UN Documents Point To Deep Links Between Khorasan Leader Mohsin al Fadhli And Al Nusra Front In Syria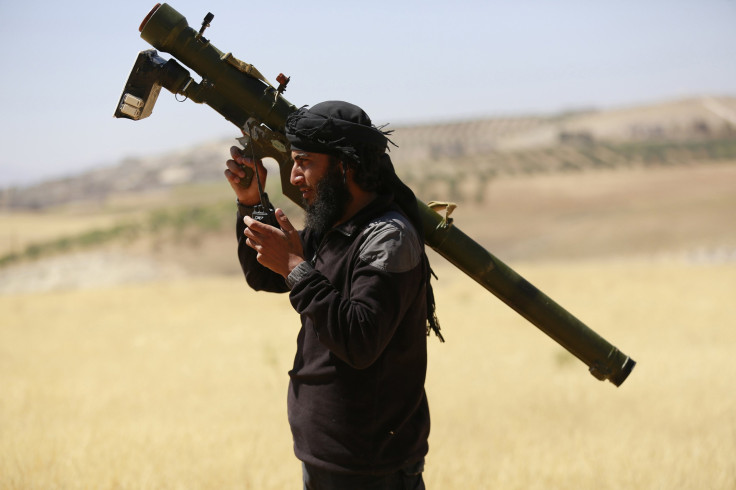 The Khorasan group, which the U.S. says was planning a terror attack in the West, is still largely mysterious -- but one thing that is clear, according to United Nations documents consulted by International Business Times, is that the man thought to be its leader has deep connections to Jabhat al-Nusra, al Qaeda's offshoot in the Syrian civil war.
Muhsin al-Fadhli was arrested in Kuwait in 2003 and then released; he went on to a remarkable career in the top echelons of al Qaeda. Some of the al Qaeda leaders he has been linked to have also been arrested by other Middle Eastern governments but subsequently released, according to U.N. documents. Fadhli may have been killed in the U.S. airstrikes on Syria this week -- reports have differed.
"We believe the Khorasan group was nearing the final stages of an attack in Europe or the homeland," Gen. William Mayville, the Joint Staff director of operations, said at a Pentagon briefing Tuesday. The group "is clearly not focused on either the Assad regime or the Syrian people."
The man whose full name appears in U.N. documents as Muhsin Fadhil Ayed Ashour al-Fadhli arrived in Syria last year. Rebels in Syria told International Business Times that "no one" in the opposition had heard of the Khorasan group before the U.S. airstrikes began earlier this week.
Intelligence agencies, though, have known of Fadhli and his link to Osama bin Laden as far back as 2005, and possibly before. In fact, the United Nations listed his exact address in documents published by the U.N. Al Qaeda Sanctions Committee, which works closely with Interpol, an international police organization. The sanctions committee is made up of members from the Security Council and is currently chaired by Australia.
Fadhli, originally from Kuwait, has been wanted by his country's security authorities since July 2008, but according to committee documents, he was added to the sanctions list Feb. 17, 2005, for "being associated with Al-Qaida, Usama bin Laden or the Taliban" and for "participating in the financing, planning, facilitating, preparing or perpetrating of acts or activities by, in conjunction with, under the name of, on behalf or in support of" al Qaeda.
The documents said Fadhli acted on behalf of Abu Musab al-Zarqawi, the militant who founded al Qaeda's branch in Iraq and was killed by a U.S. airstrike in 2006. According to the U.N., Fadhli was a "facilitator connected with the Al-Zarqawi groups in Iraq, providing support to fighters there."
Fadhli, a bodyguard and second-in-command for a leader in the al Qaeda network, possibly Bin Laden himself, fought for the terrorist group in the north of Afghanistan. He had learned how to use firearms, antiaircraft guns and explosives when he fought against Russian forces in Chechnya. He also was implicated in an attack against U.S. Marines on the Kuwaiti island of Faylaka on Oct. 8, 2002. The Marines were training on the island and were attacked by two Kuwaitis, Anas al-Kandari and Jassem al-Hajiri. One Marine was killed.
Shortly before the attack on the Marines, Fadhli was involved in raising money in Kuwait to finance an attack on a French ship off the coast of Yemen. The following year, in February 2003, a Kuwaiti court convicted four suspects, including Fadhli, of funding terrorist activities and participating in military training in Afghanistan for the "purposes of terrorism," according to U.N. documents. Fadhli was sentenced to five years. At that time, he was also being charged by Saudi authorities for terrorism committed in that country.
Several al Qaeda militants linked to Fadhli were added to the a sanctions list when the Al Qaeda Sanctions Committee met Aug. 14 of this year.
The U.N. also added Abdul Mohsen Abdallah Ibrahim al Charekh to the sanctions list Aug. 15 for being associated with al Qaeda and "participating in the financing, planning, facilitating, preparing, or perpetrating of acts or activities by, in conjunction with, under the name of, on behalf of, or in support of" Jabhat al-Nusra -- the Al Qaeda offshoot operating in Syria.
Charekh used to serve as the "deputy" for Fadhli before he moved to Syria in April 2013 to join Al Nusra. In December 2013 he was appointed as the leader of the rebel group in the coastal region of Latakia, alongside Abdelrahman Mouhamad Zafir al-Dabidi al-Jahani, who was also added to the sanctions list in August.
According to the U.N., Charekh has been involved in terrorist activities since 2006. After living for a short time in Pakistan, Charekh moved to Iran, where he became the "Iran-based representative of Al-Qaida." The previous leader, Yasin al-Suri, had been jailed by Iranian officials. As a leader of the network in Iran, Charekh raised money to finance al Qaeda's operations in Afghanistan and Pakistan. He was arrested by Iran in 2009 and released in May 2011. It is thought that after his release he traveled to North Waziristan, Pakistan, and in 2012 took charge of the finances of the entire al Qaeda network.
Jahani, added to the U.N. sanctions list on the same day as Charekh, is responsible for recruiting for Al Nusra in Syria, according to the U.N. He is currently on the Saudis' list of 47 most wanted criminals.
Jahani has been working for al Qaeda since 2006, starting in Afghanistan, where he provided logistical support for the group. He was responsible for the group's courier web in Waziristan in late 2008, and by mid-2009 was in charge of al Qaeda's administrative affairs.
He left for Syria in 2012, leaving his post on al Qaeda's central shura council and as chief of security for counterintelligence.
Now, it is thought that Jahani is in charge of foreign fighter networks with Al Nusra and is collaborating closely with Fadhil and Charekh. As of last year, Jahani is thought to have been working with counterparts in Pakistan to obtain weapons and trainers for Al Nusra fighters in Syria.
U.S. officials have not verified if Fadhli was killed in U.S. airstrikes, but National Security Adviser Susan Rice told NBC News the White House had seen social media reports that the allied airstrikes had killed him. But even if Fadhli has been killed, it is clear that he had established connections with Al Nusra leaders who are still operating in the country, and the Khorasan group's goal to attack the West could still be carried out.
© Copyright IBTimes 2023. All rights reserved.