UN: H5N6 Avian Flu Strain 'Particularly Worrisome' As It Sweeps Southeast Asia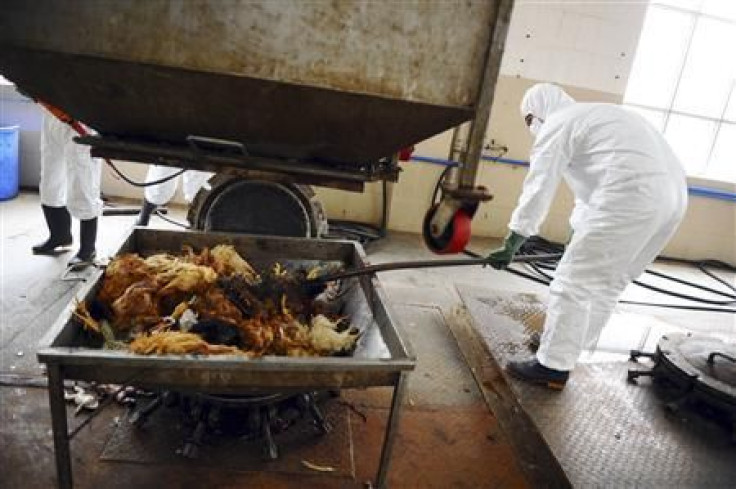 The United Nations is sounding an alarm about a new strain of avian influenza virus that has stricken poultry across Southeast Asia, the latest in a string of deadly diseases to ravage foul in recent years. The bird flu variety, commonly known as A(H5N6) or simply H5N6, causes a high death rate in the chickens and geese it infects and was first detected by authorities in China in April, but it has since spread to Laos and Vietnam, the U.N.'s Food and Agriculture Organization (FAO) said Monday in a statement.
"Influenza viruses are constantly mixing and recombining to form new threats," Juan Lubroth, chief veterinary officer at the FAO, said. "However, H5N6 is particularly worrisome, since it has been detected in several places so far from one another and because it is so highly pathogenic, meaning infected poultry quickly become sick and, within 72 hours, death rates are very high."
But unlike H1N1, which the Centers for Disease Control and Prevention estimates infected more than 60 million people and led to more than 12,000 human deaths in the U.S. between April 2009 and April 2010, H5N6 is responsible for only one reported case in a human so far and presents a "limited threat to human health," according to the FAO.
"It's been detected in multiple places in poultry, yet we only have one human infection reported," World Health Organization epidemiologist Elizabeth Mumford said. "This suggests that the virus does not easily jump from animals to humans. Of course, we still need to remain vigilant, because prevalence in poultry and therefore human exposure could increase during the winter."
Still, the 49-year-old man who caught H5N6 died from the virus in China's Sichuan province in May, demonstrating that it does have the ability to kill humans, according to Reuters.
The FAO and WHO recommend that consumers and farmers follow proper hygiene, food preparation and food safety guidelines to help stem the spread of the virus and avoid contracting it themselves. The organizations also emphasized the need for people to watch for and report suspected cases of the bird flu strain.
The economic impact of the virus could be high, with large-scale losses of poultry, authorities say. According to a report by Reuters, China's agriculture ministry said that almost 18,000 geese died on a single poultry farm hit by H5N6 last month.
FOLLOW MORE IBT NEWS ON THE BELOW CHANNELS