H5N6, which causes a high death rate among poultry, does not transmit easily between humans.
Kansas State University scientists have developed a vaccine for two strains of avian flu.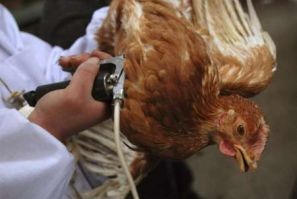 There's evidence that avian flu is mounting a comeback.
A rise in the number of reported cases of avian flu, coupled with the appearance of a mutation that could be resistant to vaccines, has led the United Nations to warn of a potential bird flu resurgence.
The top pre-market NASDAQ Stock Market gainers are: LM Ericsson Telephone, Silicon Image, SAVVIS, ShoreTel, Regeneron Pharmaceuticals, Questcor Pharmaceuticals, and Vical. The top pre-market NASDAQ Stock Market losers are: MIPS Technologies, Broadcom, SuccessFactors, Entropic Communications, and RF Micro Devices.