U.N. Observers Needed To 'Stop The Massacre' In Syria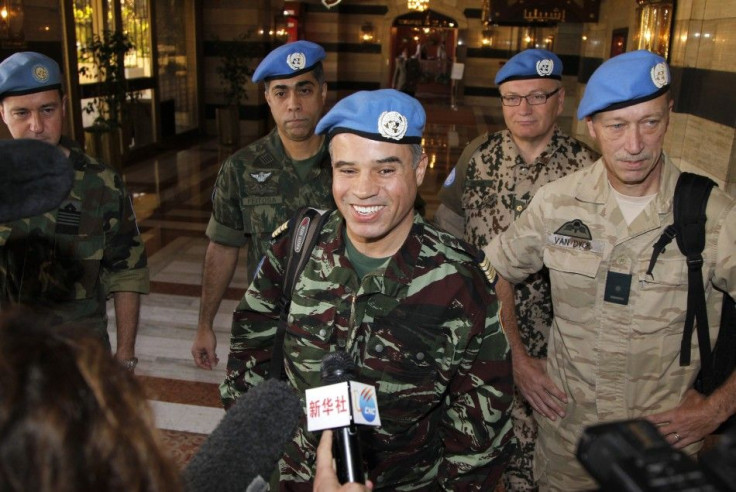 United Nations secretary-general Ban Ki-moon said on Thursday that 300 unarmed monitors need to be deployed to Syria immediately to protect the fragile cease-fire plan.
Without underestimating the serious challenges ahead, an opportunity for progress may now exist, on which we need to build, Ban said, adding that the observers should stay in Syria for three months.
The decision is in the hands of the UN Security Council, which has already voted to send an advance team of six monitors to Syria, but there is a chance that the 15-member council, which will vote sometime next week, won't reach a consensus.
There's broad agreement among council members that we should be ready to authorize a full-fledged mission, but real concerns [exist] about the conditions for its deployment being met, so that mission is on right track and doesn't suffer a fate familiar from other missions, a diplomat told Reuters, referring to the last observer mission, the movement of which was restricted by Syrian security forces.
But now that President Bashar al-Assad is trying to negotiate the terms of the ceasefire with U.N.-Arab League special envoy Kofi Annan, and, as the U.N. diplomat told Reuters, tanks and heavy artillery [are being] deployed [in Syria], and violence [is] up to pre-early-April surge levels, some countries have determined that the terms of the peace plan need to be stronger.
Before another meeting of the Friends of Syria group, France said on Thursday that observers need to be deployed as soon as possible, and that they need to have a very specific mandate in order to stop the massacre.
Can we contribute to the deployment of a real force of effective observers on the ground... -- at least 300-400 observers to cover the country -- that they are well-equipped, with some robust missions, and have the means to get around the country? French Foreign Minister Alain Juppe said in Paris.
I am convinced that if several hundred observers can move around freely on the ground, if Syria is open to the international media, then things will change in a drastic and fundamental way, he added.
And if that's not possible within a certain time frame, what other measures and initiatives must be taken to stop the massacre?
U.S. Secretary of State Hillary Clinton told reporters in Brussels on Wednesday that Syria is at a crucial turning point and that if Annan's plan isn't supported by both the international community and Assad, additional measures have to be considered.
According to the United Nations, more than 9,000 people have been killed since violence began in Syria 13 months ago.
© Copyright IBTimes 2023. All rights reserved.