'Under the Dome' Pollution Documentary Attracts Over 100M Viewers, Has Potential To Reshape Debate In China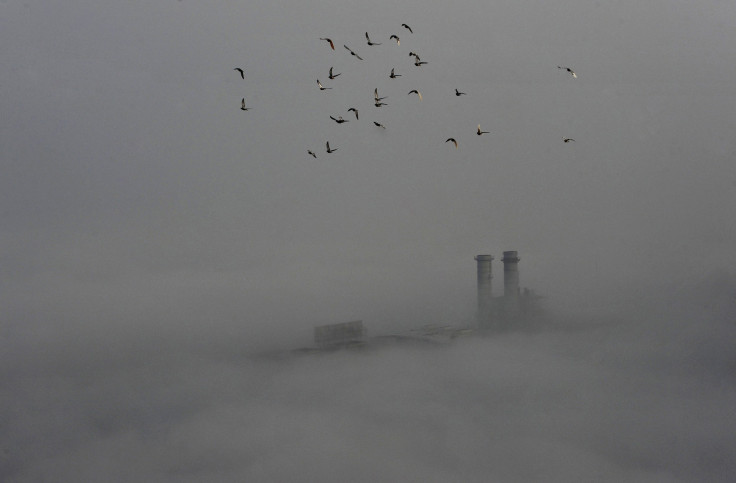 SHANGHAI -- A film on China's air pollution problems continued to attract enormous attention in the country on Monday, with more than 100 million people now having seen the film, "Under the Dome," by former state television reporter and presenter Chai Jing, since it was posted online on Saturday.
The 104-minute documentary, released on China's major online video platforms, has sparked a torrent of debate on how to tackle China's air pollution, which has left many of its major cities among the world's most polluted, and recently prompted the mayor of Beijing to describe the Chinese capital as "unlivable." Real estate tycoon Pan Shiyi described Chai as a hero while outspoken fellow former China Central Television host Cui Yongyuan said he "greatly admire[d] her," and lamented the fact that CCTV could not create such programs.
Chai, 39, made a reputation for in-depth reporting on issues such as the outbreak of the SARS respiratory virus in 2003, and on lung disease and pollution in her home province of Shanxi, China's coal-producing heartland. However, her new film, made since she quit her job after having a baby last year, goes far deeper: presented in the style of a TED talk, with Chai introducing film clips on a screen behind her, it takes viewers around the country, revealing failures to implement environmental rules. Among other targets, it criticizes state-run oil companies for not producing cleaner gasoline.
The fact that Chai's daughter was born with a (benign) brain tumor, something she ascribes to China's environmental problems, adds to the film's impact. "The combination of compelling facts, interviews with experts and impassioned story-telling makes it very moving," said Dali L. Yang, who is a professor of political science at the University of Chicago and is the faculty director of its center in Beijing, and studies China's environmental policy implementation.
Environmental pollution is not a new topic in China -- a heated online debate in 2012 led to the government bowing to public pressure and releasing data on levels of the potentially carcinogenic fine particles known as PM2.5 in the country's major cities. Well-known film maker Jia Zhangke made a short film, "Smog Journeys," about air pollution's impact on children, for Greenpeace East Asia earlier this year. And a video of a song about smog went viral online early last year.
But Chai's film, on which she said she spent over $150,000 of her own money, is significant both for its high levels of access -- she interviewed current and former senior government officials, as well as experts in the U.K. and U.S. -- and its level of factual detail. And while the film has its critics, some of whom have accused it of being emotive and unscientific, it has also received significant support from sections of China's state media, with the official People's Daily publishing a long interview with Chai on the film. China's new environment minister, Chen Jining, who took up his post at the weekend, also publicly expressed his thanks to her.
"This will be a boost for the Ministry of Environmental Protection, which in the past has been accused of not doing enough," Yang said. "The new minister has said he will tackle local authorities on implementing environmental laws, and he has already summoned two mayors to tell them to do better. So the timing is perfect – and because this comes just before the annual session of the National People's Congress [China's legislature] it will set the agenda for the debate."
The film is also significant in that it's been watched by many young people, who "rarely get the full story" on China's environmental problems, according to Yang. "It will make a lot of people reflect on what they're doing, and how they're living."
The success of the film is also notable since it comes at a time when the Chinese government has made efforts to rein in both the influence of the Internet, and the growing investigative tendencies of the country's media. Several prominent journalists have been investigated on corruption charges since last year, including the head of CCTV's own documentary channel, whose removal, according to media observers, has led to less ambitious programming on the channel. A number of high-profile bloggers have also been detained. And outspoken former newspaper editor Cheng Yizhong recently said that the government had succeeded in "annihilating" the media.
Chai's film may have benefited from the fact that the Chinese government last year pledged a war on pollution; and also perhaps from the fact that the state-run oil monopoly, one of its targets, has also been a focus of the government's anti-corruption campaign.
But, by Monday, some websites seemed to have removed stories about the film from their front pages. And there's no doubt that Chai's documentary may, in the words of the Al Gore film that helped inspire it, raise some "inconvenient truths" for the authorities. Not only does she call for openness of information, and for the public to report environmental abuses -- something the authorities often call for, but which in practice has led to some whistleblowers being punished -- but the film has also led to critical comments from China's Internet users.
"It really ought to be the government giving us this kind of information," as one user put it. "It shouldn't have to be up to an individual to do this."
Official anxiety about air pollution was revealed last November, when U.S. President Barack Obama and other world leaders visited Beijing for the meeting of the APEC (Asia Pacific Economic Cooperation) grouping. China's most popular air-quality app, which gives readings for PM2.5 levels in major cities, was forced to remove the readings provided by the U.S. embassy in Beijing, which are sometimes higher than those provided by official Chinese sources. So far, these have yet to reinstated.
Yet, with air pollution regularly cited as a major reason for the desire of many wealthy Chinese to move abroad, and with significant numbers of foreign residents, especially those with children, leaving Beijing over the past two years, the government may have little choice but to attempt to address the problem. One activist writer, Wen Yunchao, responded to the release of Chai's film by tweeting an advertisement for emigration services online, adding, "A good time to go abroad."
A commentator in the official China Daily, however, noted that Western countries often criticize environmental problems in the country, yet still "worry about the impact" of slower economic growth in China. But, he too echoed Chai's conclusion that, without significant progress in the next five years, the consequences for China's environment are "likely to be irreversible."
© Copyright IBTimes 2023. All rights reserved.