The Undertaker Talks WrestleMania Loss To Brock Lesnar, WWE Star Thought Streak Would Continue
It's been six years since The Undertaker's WrestleMania streak ended with a loss to Brock Lesnar in New Orleans. It remains the most shocking WWE moment of the decade, and it's arguably the most surprising result of any match in WWE history.
The Undertaker, real name Mark Calaway, was a perfect 21-0 on WWE's grandest stage in 2014. His legendary Streak ended at WrestleMania 30 after three F5s from Lesnar.
"Selfishly, would I have liked to have gone 25, 26-0? Of course," The Undertaker said on "Pardon My Take." "That probably would've been the greatest record in all of wrestling. But business is business, and sometimes you're up, sometimes you're down."
Many fans and wrestlers alike were upset with Vince McMahon's decision for The Undertaker to suffer his first WrestleMania loss.
"The Streak—it is what it is," The Undertaker told PMT. "I double-checked with Vince and I said, 'Are you sure that's what you want to do?' And he was like, 'Mark, if it's not him who's ever gonna beat you?' And I was just like, 'Alright. It's your call, and if that's what you want then that's what we'll do.'"
The victory catapulted Lesnar to becoming one of the most dominant forces in WWE history. The former UFC heavyweight champion followed up his win over The Undertaker by squashing John Cena at SummerSlam 2014, defeating the face of the company in a one-sided match with 16 German suplexes.
Lesnar was only pinned once from WrestleMania 29 in 2013 until SummerSlam 2018. That includes two more matches that Lesnar had with The Undertaker in 2015 when their rivalry continued.
The Undertaker has no recollection of wrestling Lesnar in New Orleans because of a concussion he suffered during the match. The 55-year-old does recall believing he was set to defeat Lesnar when he arrived at the Superdome on April 6, 2014.
"It had gone back and forth. I showed up that day thinking I was going over, and it changed the day of," The Undertaker said.
"All I wanted to make sure was that he had thought it all through. Because by that point, The Streak—it was whoever was the main event and then there was The Streak. Those two things were kind of the most important things at WrestleMania. If you weren't in the main event, you definitely wanted to be against The Undertaker trying to break The Streak. So obviously when you broke it, you lose that aspect of WrestleMania. So I just wanted to make sure that he was confident and that was the decision that he felt comfortable with."
The Undertaker has continued to have a match at almost every WrestleMania since The Streak ended. He defeated Bray Wyatt at WrestleMania 31 and followed it up with a victory over Shane McMahon at WrestleMania 32.
Badly injured and 30 years into his professional wrestling career, WrestleMania 33 was supposed to be The Undertaker's retirement match. The legend was defeated by Roman Reigns in the show's main event, but he was so disappointed in his performance that he returned the next year for a match with Cena at WrestleMania 34.
The Undertaker defeated AJ Styles at WrestleMania 36 in April. The last three years of his career are chronicled in "The Last Ride," a docuseries currently airing each Sunday on the WWE Network.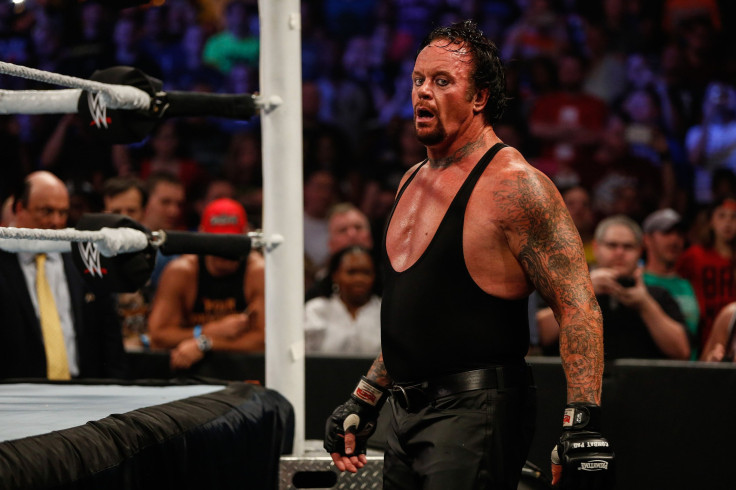 © Copyright IBTimes 2023. All rights reserved.