The Undertaker vs. Brock Lesnar: Prediction, Betting Odds, Preview For WWE Hell In A Cell 2015 Match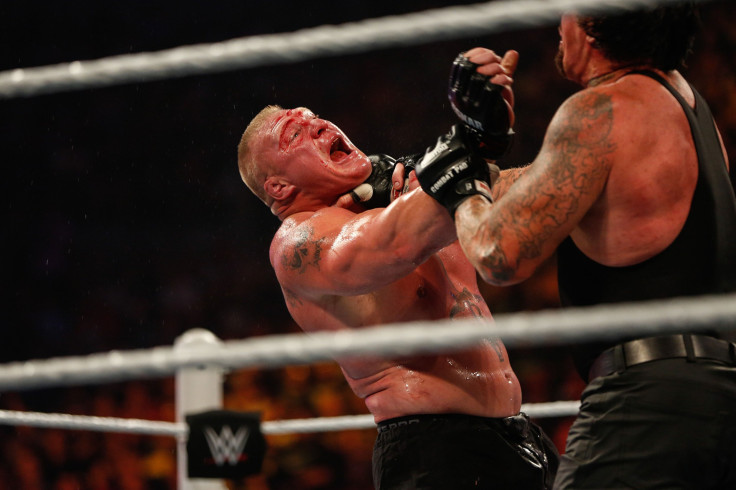 The feud between The Undertaker and Brock Lesnar dates back to WrestleMania 30, and it is set to come to an end at WWE Hell in a Cell 2015. After The Deadman defeated the former UFC Champ at SummerSlam, Lesnar is the heavy favorite to win their match at Sunday's pay-per-view.
Betting odds don't always mean much in wrestling, especially considering Lesnar was a longshot to break The Undertaker's WrestleMania streak. But Paddy Power gives him 1/6 odds in the upcoming match, and he's likely to defeat The Undertaker, who is a 7/2 underdog.
When The Undertaker returned at WWE Battleground to set up the rematch at SummerSlam, it became clear to many that the future WWE Hall of Famers would have two more matches, with each wrestler getting a victory. After The Undertaker got his controversial win at SummerSlam, it would make little sense for him to win on Sunday.
At 50 years old, The Undertaker's retirement looks to be imminent. It's a good bet that he'll have his last match at WrestleMania 32, putting an end to one of the best careers the business has ever seen. The Undertaker is a WWE legend, and his status as one will not change, no matter Sunday's result. Lesnar will be with the company for the next few years, and he's still building his legacy.
While he continues to take opponents to "Supplex City," Lesnar hasn't gotten a PPV win since the Royal Rumble. In some ways, Lesnar almost needs this victory if the company wants to keep billing him as the most unstoppable force that has ever wrestled in WWE.
Lesnar will be featured in a high-profile WrestleMania 32 match, possibly fighting for the WWE World Heavyweight Championship in the main event. A loss to The Undertaker certainly won't help put Lesnar in a position to have a match for the title at the biggest PPV of 2016.
The Undertaker's WrestleMania 32 match won't be affected by a loss at Hell in a Cell. He won't be going for a championship, and he'll be a draw no matter what. If Sting is healthy, he makes the most sense as the Deadman's opponent in April. A match with John Cena could also happen, since the two have never had a WrestleMania match and it could be The Undertaker's final match ever.
He's on a part-time schedule, but Lesnar will be around before WrestleMania 32, likely in time for a match at the 2016 Royal Rumble. The Undertaker might not make his return until late February or early March.
Prediction
The main event of SummerSlam ended with The Undertaker and Lesnar using their submission moves on each other, and Hell in a Cell will feature a different finish. The match should be just as physical, however, and it could take a few F5's before The Undertaker finally has nothing left.
Brock Lesnar over The Undertaker by pinfall
© Copyright IBTimes 2023. All rights reserved.