WWE Hell In A Cell 2015: Match Card, Predictions For The Undertaker vs. Lesnar, Cena's Open Challenge And More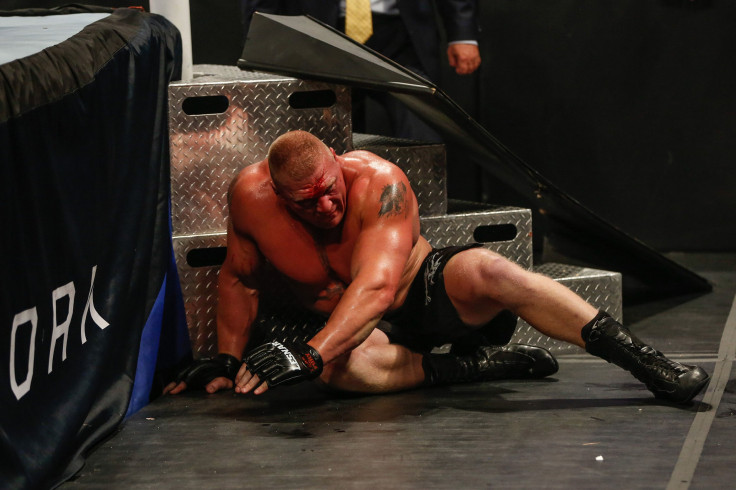 The biggest feud of 2015 is set to reach its conclusion on Sunday night in Los Angeles when The Undertaker and Brock Lesnar face off at WWE Hell in a Cell. The Deadman stole a win from Lesnar at SummerSlam, and each wrestler has one win against the other, dating back to WrestleMania 30.
Two matches will take place inside of a cell at Sunday's pay-per-view. Not only will The Undertaker and Brock Lesnar meet in the cell, but Roman Reigns and Bray Wyatt will seemingly conclude their feud inside of the structure.
John Cena will defend his United States Championship, though it's not known against whom. Dean Ambrose and Randy Orton were supposed to have a match against Luke Harper and Braun Strowman, but Orton can't compete because of an injury.
Every championship will be defended, and there are eight matches between the PPV and the pre-show. Below are predictions for every match on the card for Hell in a Cell 2015.
The Undertaker vs. Brock Lesnar (Hell in a Cell Match)
It's the final chapter of this feud, and Lesnar needs to come out on top. The Undertaker got his win back at SummerSlam, albeit controversial, and WWE must continue to build Lesnar as an unstoppable force. He hasn't won a PPV match since The Royal Rumble, and Lesnar should take The Undertaker to Supplex City on Sunday night.
Prediction: Brock Lesnar
Roman Reigns vs. Bray Wyatt (Hell in a Cell Match)
The feud between Reigns and Wyatt has spanned four months. Both wrestlers have gotten wins, but it's time for Reigns to end things with a victory at Hell in a Cell. WWE could be setting up Reigns for a run at the WWE World Heavyweight Championship once again, and he'll defeat Wyatt on his way towards earning a title shot.
Prediction: Roman Reigns
Seth Rollins vs. Demon Kane (WWE World Heavyweight Championship Match)
There's almost no chance Kane beats Rollins for the title on Sunday. Rollins will likely keep the belt until WrestleMania 32, and if he does lose it, it won't be to Kane, who last held the company's No.1 title 17 years ago.
Prediction: Seth Rollins
Charlotte vs. Nikki Bella (Divas Championship Match)
After her record-setting title reign, Nikki Bella could be out of the title picture for a while after this match. It's time for the Divas from NXT to battle for the belt, and that means Charlotte will retain, allowing her to defend her championship against the likes of Paige and Sasha Banks over the next few months.
Prediction: Charlotte
The New Day vs. The Dudley Boyz (Tag Team Championship Match)
The New Day has been disqualified in two championship matches with The Dudley Boyz, and it might be time for Bubba Ray and D-Von to reclaim the belts for the first time in over a decade. Doing so would extend the feud, and it could be the only title change at Hell in a Cell.
Prediction: The Dudley Boyz
Kevin Owens vs. Ryback (Intercontinental Championship Match)
This might be the most difficult match to predict on the card, but chances are Owens will keep the belt. He just defeated Ryback for the title last month, and Owens has been pushed since he came to the main roster in May. He isn't likely to lose his title this quickly.
Prediction: Kevin Owens
John Cena U.S. Open Challenge
Cena's opponent for Hell in a Cell won't be revealed until the United States Champ enters the ring on Sunday, but there's a good chance whoever it is will win the belt. Rumor has it that Cena is taking a break for nearly two months, and that means he could relinquish the title. He's been feuding with The New Day, so Big E or Kofi Kingston could fight Cena. But there are reports that Tyler Breeze is headed from NXT to the main roster, and it wouldn't be all that surprising to see him win the belt in his debut.
Prediction: Tyler Breeze
Ziggler, Cesaro & Neville vs. Sheamus, Rusev & King Barrett (Kickoff Match)
The heels got a win in this same match on "Raw," so the team of babyfaces should get their revenge on the pre-show.
Prediction: Ziggler, Cesaro & Neville
© Copyright IBTimes 2023. All rights reserved.