The Undertaker WWE Return: John Cena, Sting Are Possible WrestleMania 33 Opponents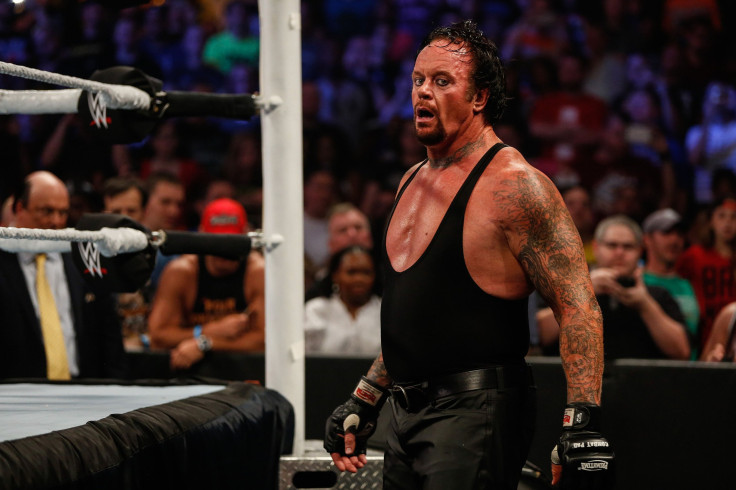 The Undertaker has not appeared on WWE television since WrestleMania 32, but he's expected to return for WrestleMania 33. While the biggest wrestling event of 2017 is still months away, one WWE Hall of Famer is already suggesting that he'd like to have a match against The Deadman at the event.
Sting officially announced his retirement when he was inducted into the WWE Hall of Fame in April, but the 57-year-old has not closed the door on a potential return. He suffered a neck injury in his last match against Seth Rollins at Night of Champions 2015, but Sting recently said on "Legends with JBL" on WWE Network that he's delayed having a procedure.
Surgery would probably end Sting's in-ring career for good, but he indicated that he's holding out hope for a match with The Undertaker. Sting said because he's never been able to go head-to-head with The Undertaker, he has "unfinished business."
"I am supposed to have surgery, but I'm having so many mixed messages out there," Sting said. "And the one thing I keep hearing is 'if you're not having side effects and you're okay, then don't do it.'"
If Sting and The Undertaker were to have a match, it would almost certainly happen at WrestleMania. With the two wrestlers already into their 50s, it might have to be at WrestleMania 33 on April 2, 2017. It's long been described as a dream match, pitting the former face of WCW against the wrestler that's been in WWE for over 25 years.
Because of Sting's injury, however, WWE might not let him compete. Even if he is healthy enough for one more match, WWE probably has another opponent in mind for WrestleMania 33 that they'd rather see face The Undertaker.
The match card for WrestleMania 33 isn't close to being put together, but WWE is likely already thinking about making John Cena vs. The Undertaker a reality. It was reportedly set to happen at WrestleMania 32, but Cena suffered a shoulder injury and was unable to have a match at the pay-per-view. The Undertaker ended up facing Shane McMahon in front of more than 100,000 people.
It only makes sense that Cena would have a match against The Undertaker before the Deadman's retirement, which could come as early as next year. Cena has been the face of the company for more than a decade, and The Undertaker is the greatest performer in WrestleMania history, going 23-1 at the event. None of those 24 matches included Cena, and it's been 10 years since the two WWE superstars had any kind of match against each other.
There's no guarantee that The Undertaker will come back for a WrestleMania match just days after his 52nd birthday, but he's been a staple at the event, even after he stopped wrestling full-time in 2010. He's had a match at WrestleMania in each of the last 15 years, missing WrestleMania 2000 because of an injury.
It's possible that The Undertaker could return for a match before WrestleMania 33, though that doesn't seem likely. In the months leading up to WrestleMania 32, he had matches at SummerSlam, Hell in a Cell and Survivor Series.
© Copyright IBTimes 2023. All rights reserved.