Unemployment Near 3-Year Low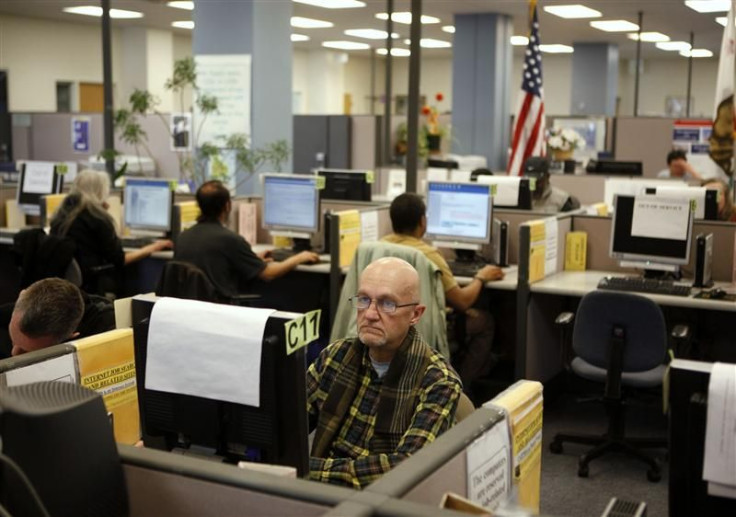 (Reuters) -- U.S. employment growth accelerated last month and the jobless rate dropped to a near three-year low of 8.5 percent, the strongest evidence yet the economic recovery is gaining steam.
Nonfarm payrolls increased 200,000 in December, the Labor Department said on Friday. It was the biggest rise in three months and beat economists' expectations for a 150,000 gain.
The unemployment rate fell from a revised 8.7 percent in November to its lowest level since February 2009, a heartening sign for President Barack Obama whose re-election hopes could hinge on the state of the labor market.
The labor market is healing, but we still have a long way to go to recoup the losses we have endured. We may be close to a tipping point where gains can become more self-feeding, said Diane Swonk, chief economist at Mesirow Financial in Chicago.
A string of better-than-expected U.S. data in recent weeks has highlighted a contrast between the recovery in the world's biggest economy and Europe, where the economy is widely believed to be contracting.
The jobs data was overshadowed in financial markets by concerns over Europe's debt crisis. U.S. stocks ended mostly down, while Treasury debt prices rose on safe-haven bids.
The dollar rose to a near 16-month high against the euro.
Republican presidential hopefuls have blasted Obama's economic policies as doing more harm than good.
The latest economic signs, however, could offer him some political protection.
The economy added 1.6 million jobs last year, the most since 2006, and the jobless rate, which peaked at 10 percent in October 2009, has dropped 0.6 percentage point in the last four months.
Obama welcomed the news and urged Congress to extend a two-month payroll tax cut through 2012 to help sustain the recovery.
We're moving in the right direction. When Congress returns they should extend the middle-class tax cut for all of this year, to make sure we keep this recovery going, he said.
LONG ROAD BACK
Employment remains about 6.1 million below its pre-recession level and at December's pace of job growth, it would take about 2-1/2 years to win those jobs back. There are roughly 4.3 unemployed people for every job opening.
Unseasonably mild weather last month helped fuel a hefty gain in construction employment. Courier jobs also rose sharply, a move the Labor Department pinned on strong online shopping for the holiday season.
Those jobs could be lost in January and the unemployment rate might rise as Americans who had abandoned the hunt for work are lured back into the labor market.
The drop in the jobless rate was mostly due to strong hiring. The labor force shrank only modestly.
A broad measure of unemployment, which includes people who want to work but have stopped looking and those working only part time but who want more work, dropped to an almost three-year low of 15.2 percent from 15.6 percent in November.
Still, all told, 23.7 million Americans are either out of work or underemployed.
With the labor market still far from healthy, the debt crisis in Europe unresolved and tensions over Iran threatening to drive up oil prices, the U.S. economy faces stiff headwinds.
FED STILL IN PLAY
Economists predict the recovery will lose a step early this year after expanding in the fourth quarter at what is expected to be the fastest pace in 1-1/2 years.
While the prospect of a further easing of monetary policy was damped a bit by the jobs data, the shaky outlook means a third round of asset purchases by the Federal Reserve remains an option.
The Fed will be watching for further credible evidence that this improving trend is gaining traction, said Anthony Karydakis, chief economist at Commerzbank in New York.
New York Federal Reserve Bank President William Dudley on Friday suggested the U.S. central bank was still leaning toward buying more bonds to pull borrowing costs lower, describing the recovery as frustratingly slow and the unemployment rate as unacceptably high.
I believe it is also appropriate to continue to evaluate whether we could provide additional (policy) accommodation, said Dudley.
GOVERNMENT A DRAG
All the job gains in December came from the private sector, where payrolls rose 212,000 - the most in three months.
Government employment contracted 12,000, with most of the drag coming from local government layoffs. However, the pace of government job losses is moderating as some states report revenue growth after years of being in the red.
For all of 2011, the private sector added 1.9 million jobs, while government employment fell 280,000. A measure of the share of industries that showed job gains during the month rebounded to a five-month high in December after diving in November.
Construction payrolls increased 17,000 after falling 12,000 in November as mild weather has boosted groundbreaking for new homes.
Transportation and warehousing employment jumped 50,200. The bulk of the rise came from the messenger industry, which added 42,000 jobs, reflecting an increase in deliveries of online purchases made during the holiday season.
Manufacturing jobs rose 23,000, the largest increase since July. Factory employment rose 225,000 last year, sustaining gains for the first time since 1997.
But there were soft spots in retail, where payrolls growth slowed to 27,900 after hefty gains in November as retailers geared up for a busy holiday shopping season.
Temporary hiring, seen as a harbinger of future hiring, fell for the first time June, dropping 7,500 in December after gaining 11,200.
Hourly earnings rose a modest four cents, indicating that most of the jobs being created are low paying.
This is a potentially troubling sign for consumer spending, which has been largely supported by a reduction in savings, although it also signals a lack of inflation pressure.
Firms need to grow wages faster if consumption is to accelerate. There is not a lot of appetite to give raises, said Joel Naroff, chief economist at Naroff Economic Advisors in Holland, Pennsylvania.
(Additional reporting by Alister Bull; Editing by Chizu Nomiyama)
© Copyright Thomson Reuters 2023. All rights reserved.