Unfriendly Fire: Indian Soldier Kills 5 Colleagues In Kashmir, Then Himself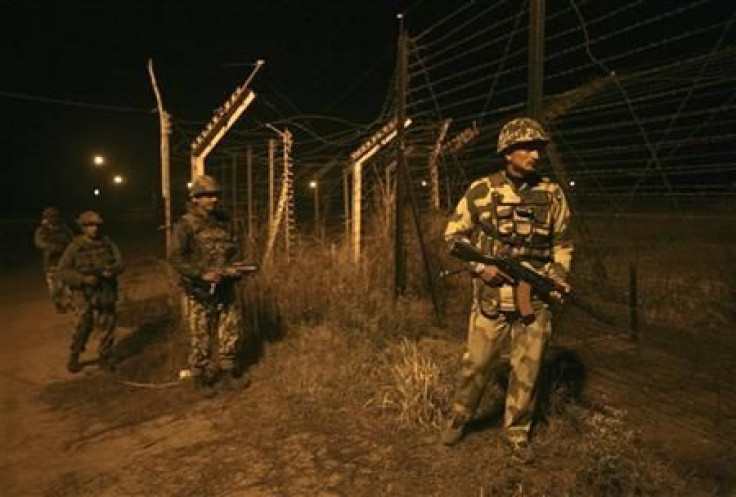 In yet another self-inflicted tragedy in the disputed territory of Kashmir, an Indian soldier shot five of his colleagues to death at point-blank range before turning the gun on himself on Wednesday evening. The Hindu newspaper reported that a sixth shooting victim survived and is hospitalized with injuries. The incident occurred inside a military camp for the Rashtriya Rifles paramilitary force in Safapora village in Ganderbal district, about 12 miles north of the city of Srinagar, Lt. Col. Narinder Nahar Joshi, an army public relations officer, told Agence France Presse.
The Rashtriya Rifles are a counter-insurgency force tasked with tracking down suspected militants. The group comprises tens of thousands of soldiers picked from the ranks of the army and are often moved from one conflict zone to another. According to reports in Indian media, the solider in question was on sentry duty, entered a barracks and fired his weapon at his colleagues, who were asleep. Indian military officials began a probe to find a motive for the massacre. The Hindustan Times reported that while the army refused to divulge more information about the shooting incident, it noted that a soldier named Ramber Singh was posted to sentry duty on the night of the killings, and that he later committed suicide.
Kashmir is claimed in its entirety by both Pakistan and India, who have each stationed tens of thousands of troops in the region, which is in the northernmost point of India, bordering China on the east and northern Pakistan on the west. Kashmir has been disputed by India and Pakistan since Partition created these two nations in 1947. Indian-administered Kashmir (Jammu & Kashmir) form the southern part of the original Kashmir, while Pakistan controls the other two parts of Kashmir: Azad-Kashmir and Gilgit-Baltistan. India and Pakistan have fought three wars over Kashmir, while internal struggles have kept the region in a continual state of chaos for decades -- at the cost of tens of thousands of lives lost. In 1989, an armed insurgency involving at least a dozen militant groups against Indian rule erupted in Indian-administered Kashmir. The Kashmir issue represents a complex struggle pitting various parties against each other -- some Kashmiris seek accession to Pakistan, while other Kashmiris are fighting to create an independent homeland, separate from both India and Pakistan.
Despite the imposition of a cease-fire in November 2003 along the "line of control," periodic shooting episodes occur across the border. However, the latest incident involved something quite different – soldiers killing their own, likely due to overwhelming stress. According to reports, hundreds of Indian soldiers and police officers engaged in counter-insurgency efforts in Kashmir and other disputed zones in India, particularly the northeast, have died in similar scenarios – that is, by their own men, or by suicide. For example, in 2011, an Indian solider killed four of his colleagues in a camp in Anantnag district of Kashmir. BBC noted that Indian troops posted to Kashmir frequently complain about long hours of duty, low pay, bad conditions and insufficient leave privileges.
"Bad leadership and poor management of leave, combined with protraction of duties under relentless stress, cause such fratricidal incidents," Ajay Sahni, who heads the Institute of Conflict Management, an NGO based in Delhi, told the AFP. Soldiers cooped up together in particularly hostile and dangerous zones -- far from families for long stretches of time -- sometimes turn their anger against one another.
Dr. Michael Kugelman, senior program associate for South and Southeast Asia at the Woodrow Wilson International Center for Scholars in Washington, DC, noted that soldiers have very stressful jobs, and in rare cases--as in any profession--people crack. "And that seems to be what happened in this tragic case, particularly given that in India, there is a history of counterinsurgency fighters being denied leaves for long periods of time during intense missions," he added.
Dr. Jonah Blank, senior political scientist at RAND Corp., said that "deliberate fratricide" -- that is, a soldier intentionally killing his own comrades -- is quite rare in the Indian military. "Far more common are incidents of suicide, and of unintentional fratricide," he said in an interview. "Kashmir is always a high-stress environment for troops: Even during periods of relative calm, soldiers must be prepared for an attack at any moment. That takes a heavy toll -- the psychological impact can be similar to that of actual combat."
Blank also indicated that in previous generations, such psychological issues in the militaries around the world were dismissed as "shell shock." However, today, they are recognized as a legitimate battlefield injury -- post-traumatic stress disorder. "The Indian military needs to do more for its soldiers who suffer from PTSD, or we'll see more tragedies like this one," Blank added.
Blank further noted that while the Indian public is "strongly supportive" of their troops stationed in Kashmir -- that doesn't necessarily translate to effective institutional support for soldiers suffering from PTSD and other physical or psychological wounds suffered there.
Now, Indian government and security officials, fear that the insurgency in Kashmir could ramp up ahead of India's general elections scheduled for later this spring.
© Copyright IBTimes 2023. All rights reserved.