United States GP: Fernando Alonso Criticizes F1 Drivers, Labels Them 'Amateurs'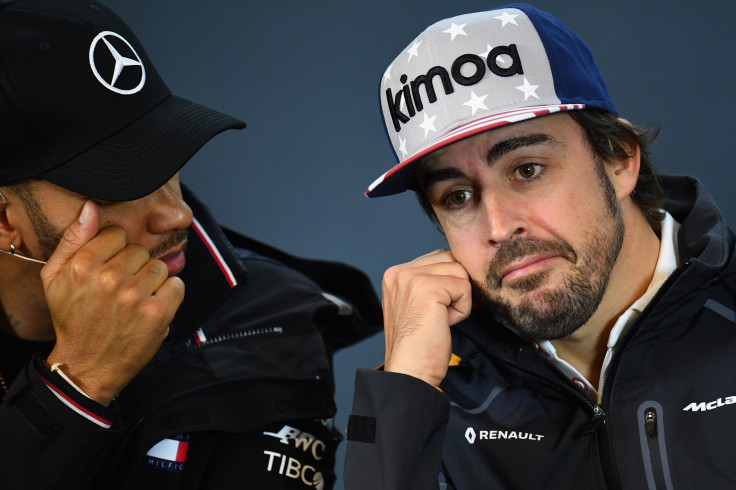 Fernando Alonso has ripped into his younger Formula 1 colleagues calling them "amateurs" who need "bumpers" like rental go-karts after being shunted out in the opening lap of the United States Grand Prix on Sunday.
The Spaniard is having a frustrating end to his F1 career despite being praised as one of the greatest the sport has ever seen. Alonso has spent the last four seasons fighting on the wrong end of the grid with a McLaren car that cannot even keep up with the midfield teams let alone the top three — Mercedes, Ferrari and Red Bull Racing.
Alonso suffered a crash in the first lap of the Japanese Grand Prix two weeks back and suffered the same fate again at the Circuit of The Americas in Austin, Texas, on Sunday. And it was the same driver on both the occasions — Lance Stroll of Williams.
The Canadian racer started the race in 15th place, while the Spaniard started two places ahead in 13th, but with start being what it is — a melee of cars were making their way through the first couple of turns simultaneously.
Stroll made a decent start and was looking to make up places, but ended up being too aggressive as he tried to make a move on Alonso when there was no room and ended up slamming into the side of the McLaren, completely destroying the side pods of the car. The Spanish racer was forced to retire from the race, while the Williams driver was handed a drive-thru penalty for his actions.
Alonso, who is a double F1 Drivers' champion, was not impressed as he continues to be involved in opening lap incidents and lashed out at the standard of driving in F1. There are a number of young drivers, who at times are over eager to impress and the veteran has labeled them "amateurs".
The former Ferrari and Renault driver, who also races in the World Endurance Championship, compared the two sports and believes F1 drivers despite being hailed as the best in the business are proving to be prone to more silly mistakes than their counterparts in other forms of motor racing.
"I'm not upset — I'm disappointed because I'm here [for] nine days in the US to do a race and I do 600 meters of the race and they push you off," Alonso said after being forced to retire, as quoted on Autosport.
"That's the way it is, but it's more a problem for the FIA if they keep allowing this type of driving. I drive in another series with amateur drivers, theoretically, and there has never been a problem," he added. "There are more amateurs here than in other series."
"Maybe when there's a big crash they will do something," he said referring to FIA taking no action despite continued first lap incidents.
"Until then we'll try to have fun in other categories where we race against 34 cars, against amateur people, against 60-year-old men and nothing ever happens," he explained. "Here we need bumpers, like rental go-karts, so we can all crash into each other."
© Copyright IBTimes 2023. All rights reserved.