University Of Kentucky Fires Coaches For Mishandling Team's Hazing, Lewd Activities
KEY POINTS
University of Kentucky fires its cheerleading coaches for allegedly mishandling the team's prohibited activities
The team reportedly engaged in hazing, nudity, and others
UK's cheerleading squad has been one of the most celebrated teams in the past 35 years
The entire coaching staff of the University of Kentucky's cheerleading squad has been fired after allegedly failing to contain the team's illicit activities away from the university premises. The school administration expressed its disappointment in a statement, saying the student-athletes and their behavior should have been handled more responsibly.
"The advisor and the coaches failed to stop a culture of hazing, alcohol use, and public nudity at off-campus activities where they were present," said UK's executive vice president for finance and administration Eric N. Monday in a statement, per CNN. "Our students deserve more responsible leadership, and the University of Kentucky demands it."
In a separate release, UK's President Eil Capilout said: "A commitment we make and renew every day at the University of Kentucky is that the success of our students is at the center of everything that we do. But for that sentiment to be more than words, we must always act in ways that honor that commitment — especially when we discover rare instances where those who supervise and guide our students don't meet the standards of integrity we expect of each other. This is one of those times.
"The University of Kentucky has built the nation's premier collegiate cheerleading program. But regrettably, the integrity of the program has been compromised by inappropriate behavior by some squad members on off-campus trips and by lax oversight by the program's coaches and advisor."
Among the staff who were fired are head coach Jomo Thompson, assistant coaches Ben Head, Spencer Clan, and Kelsey LaCroix, along with program advisor and principal deputy general counsel T. Lynn Williamson, who was axed due to "lax oversight and poor judgment."
According to the report, the allegations stemmed from the cheerleaders' retreat three months ago where some of the participants were said to have "engaged in nude routines -- including topless and bottomless basket tosses into the water from a dock" while the rest of the team reportedly sought medical attention after "slamming alcohol during boat parties" – all while being supervised by the team's coaches.
Apart from it, the university, per TMZ Sports, also revealed a separate incident in Tennessee where members in underwear-less uniforms were reportedly "ordered to perform dirty chants."
Considered as one of the most celebrated cheerleading teams in the U.S., UK's squad has registered 24 national championships in the past 35 years, including four straight titles from 2016 to 2019.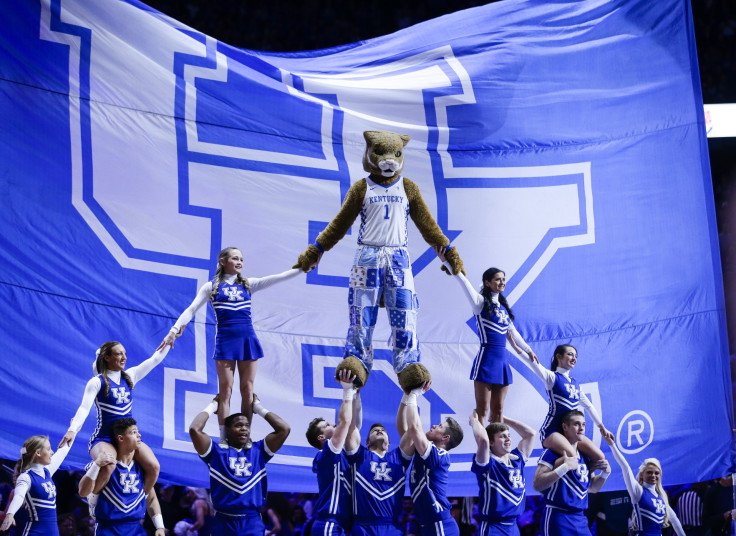 © Copyright IBTimes 2023. All rights reserved.