US Airdrops Iraq: What It Is And How It Works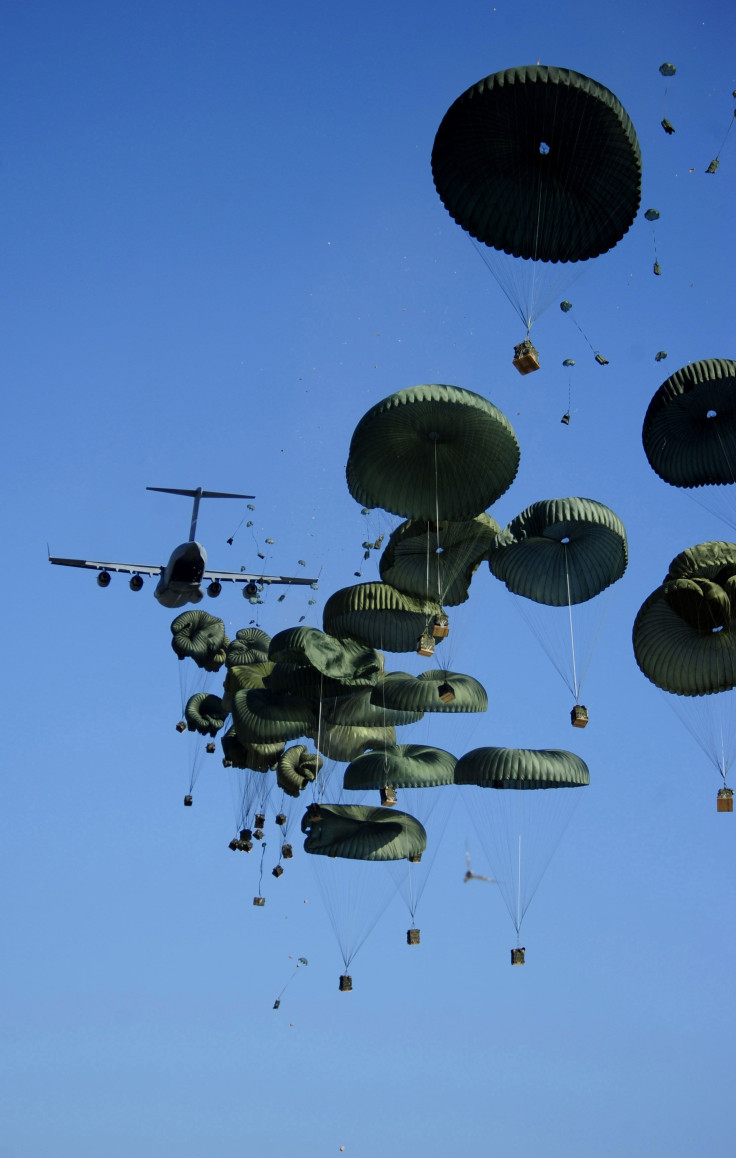 Emergency aid delivered by U.S. cargo planes reached Iraqi refugees trapped in the mountains outside Sinjar, northern Iraq, on Friday, despite earlier reports that the supplies had not shown up. Sixty of the 72 bundles of food and water that made it to the mountain were retrieved by the Iraqi military and will be distributed, U.S. Defense Secretary Chuck Hagel said early Friday. The bundles included 5,300 gallons of drinking water and 8,000 ready-to-eat meals, or MREs, according to a statement from the administration.
A video from the Iraq military posted online showed Iraqi troops in helicopters delivering the aid to refugee camps after three U.S. Air Force transport planes, accompanied by two fighter jets, dropped the bundles; the Associated Press corroborated the footage. The aid is a temporary measure to help some of the 40,000 Yazidis, an ethnic and religious minority group that fled their villages to escape violent Islamic State of Iraq and Syria, or ISIS, militants.
The use of military personnel and equipment to deliver humanitarian aid to conflict zones is a long-established practice used most extensively in post-World War II Europe. In 1947 and 1949, Berlin was almost entirely supplied from the air when it was blockaded by the Soviets. "Probably in no other case has the military played so vital a humanitarian role," disaster relief specialist Frederick C. Cuny wrote in 1989. Air forces from around the world flew over 200,000 flights in one year, providing up to 4,700 tons of supplies to war-ravaged Berlin daily; everything from food to coal made its way there on a cargo plane.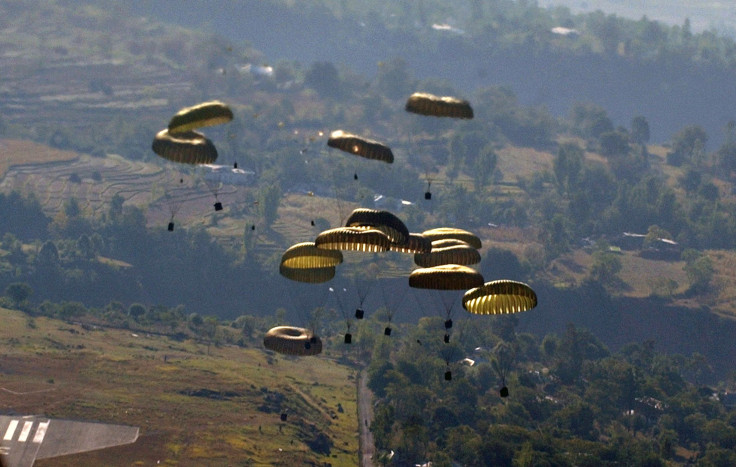 Since the mid-20th century, military airlifts have increasingly been used in areas affected by natural disasters, war, famine and poverty. Between 1994 and 2009, airdrops worldwide delivered some 1.5 million tons of aid in the world's worst emergency areas, according to the U.N. World Food Programme.
Airdrops are a way of getting basic supplies like water to a remote or inaccessible area quickly and efficiently when roads are inadequate or conflict prevents safe ground travel. The process saves time, involves less supply handling and reduces congestion at airfield off-loading areas.
The most commonly used method for delivering relief supplies is the container delivery system. It involves dropping bundles of supplies strapped to parachutes from an aircraft flying at low altitude. The parachutes open automatically on a delay, a system developed during the Korean War. The supplies fall at about 28 feet per second. The bundles are cushioned with an energy-dissipating material, such as aluminum honeycomb – the same stuff that protects sensitive cargo like nuclear materials – that absorbs the shock of impact with the ground.
Pilots coordinate a drop zone with logistical ground operators who secure and mark an open area. The drop zone is distinguished using white food bags in the shape of a cross. A local relief effort team gathers the dropped food aid and organizes distribution.
Food supplies often include food powders, dried beans or grain or, as was the case with the U.S. aid drops in Iraq, pre-packaged meals called MREs. These self-contained kits include some combination of the following: a main dish, a side dish, crackers, dessert, a spoon, salt, pepper, a beverage, coffee granules and candy. An MRE provides an average of 1,250 calories – 13 percent protein, 36 percent fat, and 51 percent carbohydrates, according to the United States Armed Forces.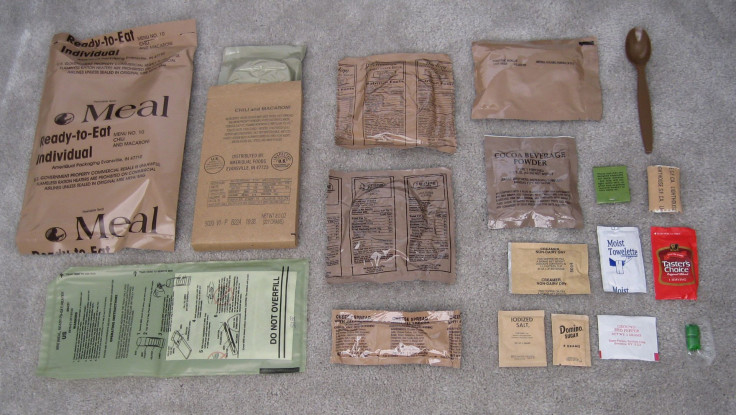 © Copyright IBTimes 2023. All rights reserved.