US Airports Face Nightmare Scenario Where Every Day Will Be Like Wednesday Before Thanksgiving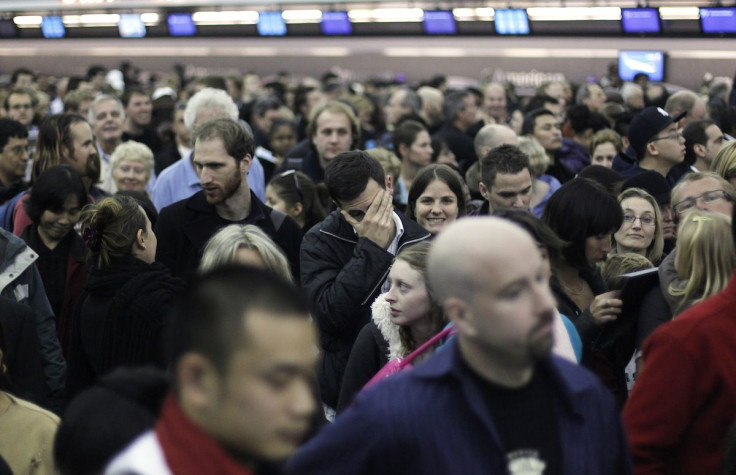 In less than a week, more than 3 million Americans will overwhelm airports across the nation as they head home for Thanksgiving in the busiest travel weekend of the year. It's a daunting thought, but the researchers behind a pair of reports released by the U.S. Travel Association this week offer an even scarier one: This nightmare airport scenario each Thanksgiving, they say, could be a year-round reality at nearly all of the top 50 U.S. airports within a decade.
According to U.S. Travel, passenger volume the Wednesday before Thanksgiving is 130 percent to 259 percent higher than on the average day. Conversely, the Federal Aviation Administration estimates that U.S. airports will serve roughly 800 million passengers in 2016 and 1 billion by 2027.
"Travel has been one of the leading sectors of the economic recovery, but that success won't be sustainable unless our infrastructure keeps pace," U.S. Travel President and CEO Roger Dow explained. "Every projection holds that the demand for travel will continue to dramatically rise, which portends terrific things for the growth of jobs and tax revenues. But that rising demand will be stifled without a significant effort to modernize infrastructure, and unfortunately the moment of greatest need has already arrived."
U.S. Travel warns in its new report that domestic air-travel infrastructure is in bad shape, and congestion is virtually unavoidable if demand continues on its current pace. The trade group's researchers analyzed passenger volume and growth data at the nation's top 30 airports, which account for 70 percent of total passenger enplanements, to calculate how soon the average day would resemble the busiest travel days of 2012.
In just five years, the "Thanksgiving in the Skies" report forebodes, 24 of the top 30 U.S. airports will experience passenger levels equal to the Wednesday before Thanksgiving at least one day during the average week. One in five major airports -- including John F. Kennedy in New York, McCarran International in Las Vegas, Orlando International and Chicago Midway International -- already experience Thanksgiving-like congestion at least once a week.
U.S. Travel believes that pre-Thanksgiving congestion will become the new normal two days each week at 25 of the nation's top 30 airports within the next decade. In 15 years, every other day will feel like the Wednesday before Thanksgiving at more than half of America's largest airports.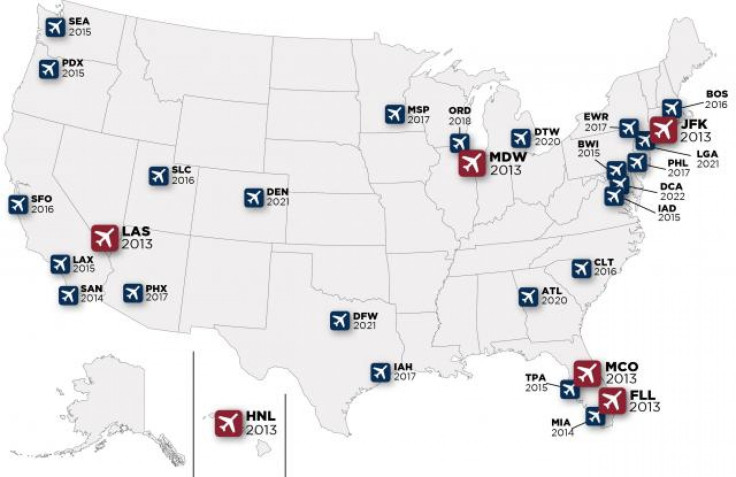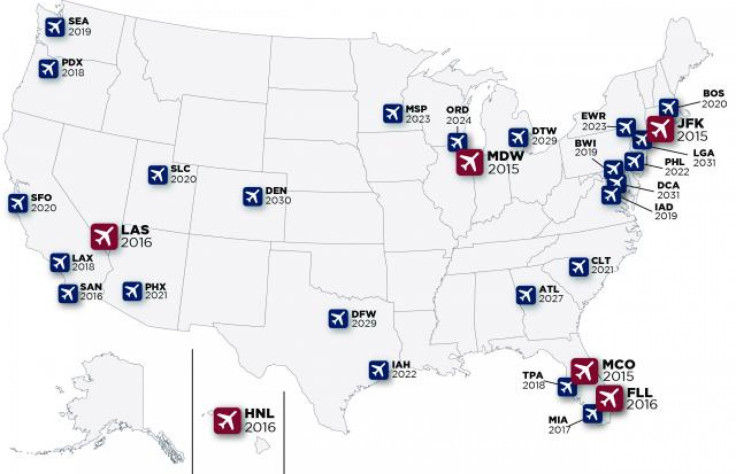 So what can be done to avoid this dreadful scenario? That's the focus of a comparison study called "Addressing Future Capacity Needs in the U.S. Aviation System" from a nonpartisan Washington think tank, the Eno Center for Transportation. Eno looked at six major airports and concluded that a failure to immediately expand capacity could have dire economic effects not only regionally, but also nationwide, given that the U.S. aviation system is responsible for 4.9 to 5.2 percent of the nation's GDP and about 10 million jobs.
"Over the next decade, delays in our aviation system have the potential to inhibit travel and economic growth, and current federal policies are not structured to effectively address anticipated capacity issues," Eno Center President and CEO Joshua Schank noted. "In our paper, Eno looks at specific airports and the various ways they are capacity constrained, and proposes four policy recommendations that could reduce delays and enable greater economic benefits."
Those recommendations include the following:
-Restructuring the federal Airport Improvement Program to target investment
-Creating a new federal discretionary grant program to address improvements and innovation in airport operations
-Accelerating the delivery of the $40 billion NextGen air-traffic-control modernization program by exploring the idea of separating the air-traffic control and safety functions of the FAA
-Relaxing current federal restrictions on the airport Passenger Facility Charge to enable each airport to raise additional funds for investment
Dow said that Americans would experience firsthand how the U.S. transportation system had fallen from its pedestal as the envy of the world. "We've fallen way behind our global competitors," he lamented. "It has become clear that the federal government can no longer care for our infrastructure on its own. In releasing these studies, the message we are sending is that every option needs to be on the table."
Neither study put a figure on just how much money was needed to solve the congestion problem. Both indicated that Congress remained the biggest roadblock to any progress in speeding up aviation improvements.
The 10 Worst Airports Of The Future
(airport -- year when every day will feel like the Wednesday before Thanksgiving)
No. 1 John F. Kennedy (New York) -- 2022
No. 2 Orlando International -- 2022
No. 3 Chicago Midway -- 2024
No. 4 McCarran International (Las Vegas) -- 2025
No. 5 Fort Lauderdale/Hollywood International -- 2026
No. 6 Honolulu International -- 2026
No. 7 San Diego International -- 2027
No. 8 Miami International -- 2029
No. 9 Tampa International -- 2031
No. 10 Portland International -- 2032
© Copyright IBTimes 2023. All rights reserved.