US Airstrikes Help Iraqi Forces Retake Area Around Haditha Dam From Islamic State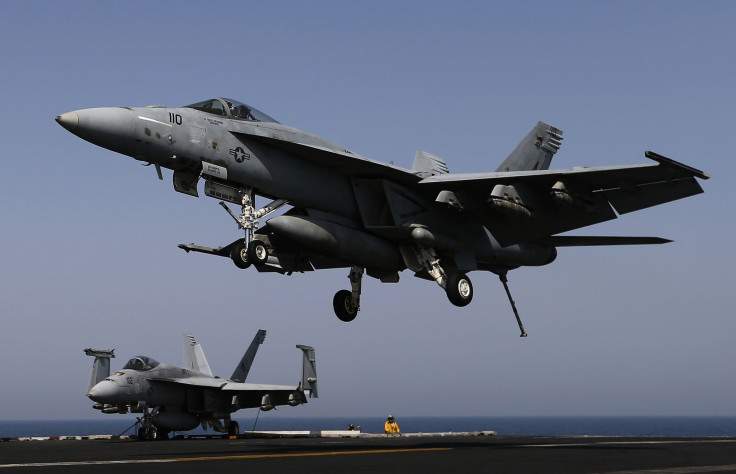 U.S. airstrikes have helped the Iraqi army reclaim a large area around the strategic Haditha Dam and push out Islamic State militants, the BBC reported. Islamic State, or IS, fighters have repeatedly tried to capture Haditha Dam -- the second largest dam in Iraq -- from government troops in western Anbar province.
U.S. military officials reportedly said that they carried out five strikes involving bomber and fighter aircraft to hit Islamic State positions. They said the strikes also destroyed armored vehicles -- some equipped with anti-aircraft artillery -- being used by the militants and that all its aircraft have returned safely. A government affiliated fighter named Sheik Ahmed Abu Risha in western Iraq reportedly said that the U.S. airstrikes hit a IS patrol trying to attack the dam.
"They (the air strikes) were very accurate. There was no collateral damage. If Islamic State had gained control of the dam, many areas of Iraq would have been seriously threatened, even (the capital) Baghdad," Risha reportedly told Reuters.
After the airstrikes, Iraqi ground forces began to drive out Islamic State militants in the Haditha area and regained control of the region, reports said.
"Joint forces backed by air support and tribesmen launched a wide attack to clear the areas surrounding the Haditha district," a security spokesman reportedly told Agence France-Presse, or AFP.
Iraqi troops and its affiliated militia also retook Barwana, east of Haditha, from Islamic State fighters, who abandoned their weapons and vehicles in their retreat, AFP reported.
On Wednesday, President Barack Obama will reportedly reveal a strategy to defeat the Islamic State, which controls vast swathes of territory in Syria and Iraq. The U.S. military has carried out more than 130 airstrikes in Iraq since early August to support government and Kurdish fighters battling the Sunni militant group in northern Iraq.
Haditha Dam is Iraq's second biggest hydroelectric facility and also provides millions of Iraqis with water. The Islamic State has targeted a number of dams in Iraq -- a region where water is scarce and the dams built on the ancient rivers of the Tigris and the Euphrates are life lines for local people. Mosul Dam, the largest in Iraq, was captured by Islamic State fighters until US airstrikes helped government forces retake the dam.
© Copyright IBTimes 2023. All rights reserved.
FOLLOW MORE IBT NEWS ON THE BELOW CHANNELS