US And Chinese Heads Of Defense Highlight Cooperation, Downplay Differences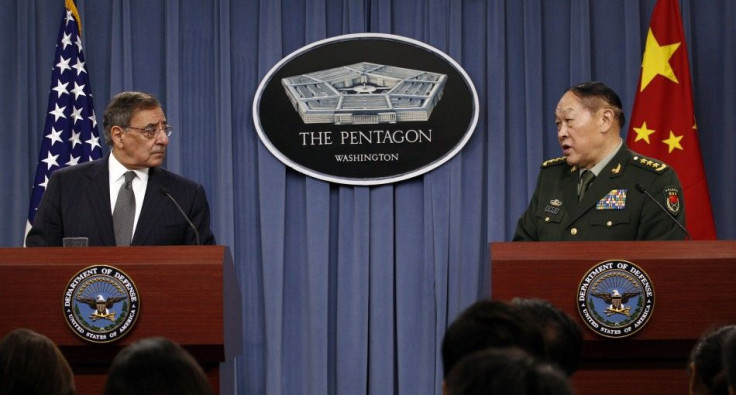 General Douglas MacArthur, famous for his leadership in World War II, was involved in four overseas conflicts for the U.S., served as Field Marshal of the Philippine Army and commanded the U.S. occupation of Japan until 1951, after which he led U.S. forces back from the brink of defeat on the Korean Peninsula. If there exists a singular figure in U.S. military history that ought to be called an Asia-Pacific general, MacArthur would undeniably fit the description.
But MacArthur also argued for using nuclear bombs against Communist China during the Korean War, and he supported expanding that conflict into mainland China.
One wonders what the Chinese Minister of Defense, General Liang Guanglie, will think of the statue of the U.S. general at West Point Military Academy -- at once a reminder of America's Pacific Ocean greatness and of its history of conflict with China -- as he tours the historic institution this week.
The U.S. is looking to the Asia-Pacific as the focal point of world affairs for the future, and the Obama Administration has made it well-known that it sees U.S. security and prosperity tied together with the region. But the Western Pacific, a massive and expansive geographic zone, appears more and more like a shrinking pond in a competition between Chinese and American giants. The Chinese defense community, unsurprisingly, is not pleased that the U.S. strategic pivot is landing it firmly within its backyard.
But in the meantime, mutual trust and mutual understanding were the catch-phrases of a joint U.S.-China press conference at the Pentagon on Monday. Liang is spending a week in the U.S. to travel to some of the country's major bases and military institutions, the first time in nine years a Chinese Minister of Defense has been in the U.S. He arrived last Friday.
U.S. Defense Secretary Leon Panetta told his counterpart that the two countries are both Pacific powers, and our relationship is one of the most critical in the world. Panetta said that U.S.-China military-to-military dialogue is critical to ensuring that we avoid dangerous misunderstandings and misperceptions that could lead to crisis.
The process whereby U.S. and Chinese defense leaders carry out exchange visits to each other's countries to discuss the most prominent security issues in their bilateral relations is a means to promote understanding and respect. In the latter half of this year, Panetta will make a visit to China on the invitation of Liang.
Panetta in turn praised China for its efforts fighting piracy in the Indian Ocean, saying China has ably conducted maritime operations in the Gulf of Aden for more than three years, and these operations have helped to secure the free flow of commerce in vital sea lanes from the Red Sea to the Indian Ocean. I thank General Liang for these efforts. Both countries announced their intentions to seek out non-traditional military channels for future cooperation, including the realms of humanitarian assistance, disaster relief, non-proliferation of weapons of mass destruction, fighting terrorism, drug interdiction, trade and anti-piracy.
Panetta announced that the two navies would conduct a combined counter-piracy exercise in the Gulf of Aden later this year.
Liang said that the two countries were entering a new moment in history, which needed to be guided by equality, cooperation, mutual benefit. Liang remarked that both countries had a common responsibility to work cooperatively and that their mutual cooperation was a common aspiration of global and regional countries.
Whether the attitudes expressed on Monday would actually translate to an immediate or major warming between the two militaries is unlikely. Defense analysts are quick to confirm that each sees the other as its most serious military opponent. A whole host of issues, including Chinese maritime disputes with U.S. allies and U.S. arms sales to Taiwan continues to cloud the relationship.
Panetta was quick to point out that we will not always agree on every issue, but that should not prevent the two from candidly discussing areas of mutual interests in regional relations.
Asked by Chinese reporters whether the U.S. sought to contain China, Panetta responded that the purpose of our [U.S.] strategy is to work with countries in that region to help develop their capabilities so that they can deal with the common challenges that both China and the United States face in that region.
Western reporters asked Liang about his country's alleged involvement in cyberattacks on the U.S. In late March, General Keith Alexander, head of the U.S. Cyber Command and of the National Security Agency, told a Congressional hearing that China was a major source of cyberattacks targeting the U.S. government and U.S. companies. Panetta warned earlier this year that cybersecurity could eclipse terrorism as the biggest threat to the U.S.
Liang denied his country's involvement, saying that I can hardly agree with the proposition that the cyberattacks directed at the United States are directly coming from China.
In our discussion we also talked about the possible ways that China and U.S. can jointly work on to try to find ways to strengthen cybersecurity, Liang said.
A video of the Tuesday press hearing can be found at: http://www.pentagonchannel.mil
© Copyright IBTimes 2023. All rights reserved.