US Army To Investigate Allegations Of Child Rape In Colombia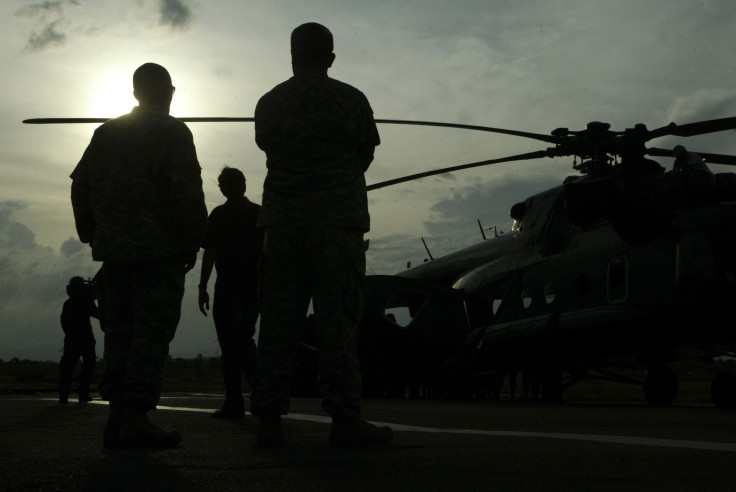 The U.S. Army has pledged to investigate recently resurfaced allegations that American soldiers and contractors sexually abused more than 50 Colombian minors in the mid-2000s, weeks after the accusations appeared in a report on the Colombian government's battle against rebel militias.
Colombia's Historical Commission on Conflict released a landmark 800-page report in February detailing the government's fight against the Revolutionary Armed Forces of Colombia (FARC), a guerrilla group that engaged in a 50-year conflict with state forces. One section of the report focused on the U.S. military's assistance to Colombia's government in its efforts and noted harrowing accounts of rape and sexual abuse against underage Colombian girls.
"There is abundant information of sexual violence with total impunity, thanks to bilateral accords and diplomatic immunity to U.S. officials," the report stated. In the towns of Melgar and Girardot, 70 miles from Bogotá, U.S. military workers allegedly abused 53 girls, recorded the acts and sold the footage as pornographic videos, the report said.
Although the report called it one of the most "notorious" cases of sexual violence of that time, Colombian media outlets began amplifying the allegations in the report in late March. On Friday the U.S. Army confirmed it would investigate the situation along with Colombian officials. "We take this issue very seriously and will aggressively pursue all credible allegations," Chris Grey, a spokesman for the Army's criminal investigation unit, told USA Today.
One case highlighted in the report, in which a U.S. military contractor and sergeant allegedly raped a 12-year-old Colombian girl in 2007, is well known in Colombia. Last month Colombian newspaper El Tiempo spoke with the girl's mother, Olga Lucia Castillo, remarking that "half the country knows of her tragedy."
Castillo told the newspaper her daughter was "never the same" after the incident. "When I was finally able to establish that the girl had been raped, we tried to find who was responsible and, despite the pain that overwhelmed us, I found them at the base and confronted them," she said. "Their response was: 'Your daughter is a little whore; nothing has happened here.' " Castillo said her daughter, now 20, has attempted suicide three times and rarely speaks or leaves the house.
Grey told USA Today that investigators tried to interview the girl as part of the investigation, but her attorneys refused.
The report recommended that the U.S. government subject its citizens accused of committing crimes against Colombians during the conflict, including killings, forced disappearances and sexual abuse, to independent tribunals and "eliminate the privileges and protection that cover the military officials of the U.S. and the contractors in their service."
© Copyright IBTimes 2023. All rights reserved.