US Auto Sales 1Q Speed Past Expectations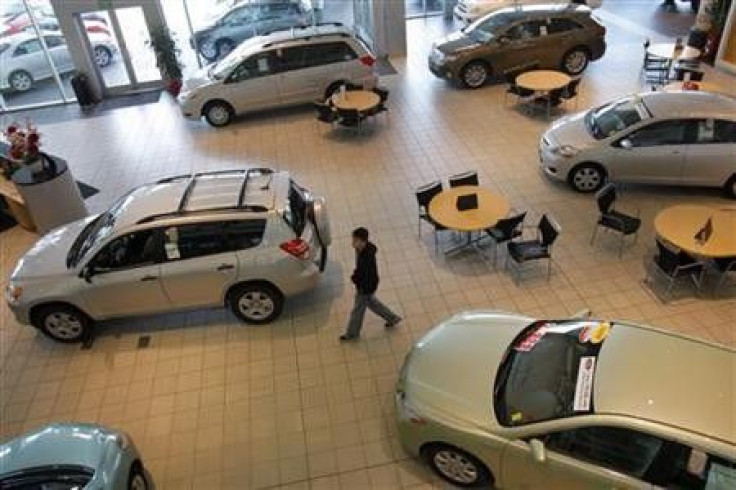 U.S. automobile sales last quarter beat predictions for the first time since 2008 as demand for small and fuel-efficient cars, strong fleet sales and pent-up demand drove sales up to 14.5 million cars on a seasonally adjusted annual selling basis, according to J.D. Power and Associates and LMC Automotive.
First-quarter U.S. auto sales achieved a seasonally adjusted annual rate of 11.7 million vehicles for retail and 14.5 million in overall light vehicle sales, a tempo that was ahead of our earlier retail and total sales forecast, according to a report last week by J.D. Power.
Fleet sales are higher through the first quarter than they were last year, and consumers need to replace some vehicles that have gotten too old, David Cutting, senior manager for North American Forecasts, said Monday, explaining the strength of the first quarter.
The automotive selling rate in the first quarter beat the J.D. Power annual sales forecast for the first time since the industry slipped into recession in 2008, according to Jeff Schuster, senior vice president for forecasting at LMC Automotive, which has a strategic alliance with J.D. Power.
First-quarter auto sales also beat Kelley Blue Book expectations. KBB predicted a first quarter seasonally adjusted rate of approximately 13.5 million vehicles, a rate which the market beat by a full million.
It was a very, very strong quarter ... demand is very, very strong from consumers, Alec Gutierrez, senior market analyst of automotive insight for KBB, said Monday.
KBB's overall forecast has been upgraded to between 14 and 14.2 million vehicles for the year, reflecting an expected moderation in sales beginning in the second quarter. The strong first-quarter sales were in part a result of pent-up demand. Poor inventory levels in the fourth quarter of 2011 left many buyers putting off new car purchases until 2012.
To start the year we were in a great position in terms of inventory ... with sales kind of beating everyone's expectations; that inventory is coming back down again, Gutierrez said, adding that a drop in inventory levels for Hyundai and Toyota cars in particular may cramp their sales in the coming months.
Pent-up demand from 2011 is largely satisfied and will probably no longer be a factor at all come June, Gutierrez said.
Fiat-Chrysler and Volkswagen Group both enjoyed double-digit sales and market share growth in the first quarter of 2012 compared with their standings the year before, according to J.D. Power. Fuji Heavy Industry's Subaru brand and Mazda also experienced strong sales growth.
Chrysler Group LLC, owned by Italian Fiat SpA, led the way for U.S. carmakers and gained 35 percent in sales. The Chrysler brand increased sales 81 percent on strong demand for the redesigned Chrysler 200 and 300 models. Jeep sales grew 31 percent, and the Fiat 500 sky-rocketed to 8,850 in the first quarter of 2012 from 500 units in the first quarter of 2011. The vehicle was only on sale for one month of last year's first quarter.
VW also posted large gains, setting a record in March, and increasing first-quarter sales by 28.9 percent. The German company's gains were carried by a 37 percent increase in VW brand sales, with the new Passat accounting for 26 percent of those sales.
Detroit's big three automakers ran strong in the first quarter, but still lost a little ground as their combined market share fell to 44.46 percent from 44.87 percent. However, the U.S. automakers still increased the number of cars they sold compared to the year before.
Asian automakers also gained strength as their recovery from last year's earthquake and tsunami in Japan and floods in Thailand. Toyota Group improved U.S. sales 9.4 percent while Nissan Group likewise grew almost 10 percent, according to J.D. Power. Honda was more lethargic, though, gaining just 1.3 percent.
Mitsubishi and Suzuki both suffered in the first quarter, the only independent brands to see declining sales. Mitsubishi's sales dropped 19.8 percent, while Suzuki fell 4.6 percent in the first quarter.
Suzuki's losses were largely the result of poorly received vehicles, a lack of new models and a lack of dealers, Cutting said. Mitsubishi's situation, however, may not be as dire as it is in a transition phase between new and old models.
Keeping with monthly sales trends showing substantial growth for smaller and more fuel-efficient cars, smaller cars are showing a larger percentage from a year ago, Cutting said.
Sub-compact conventional cars, like the Ford Fiesta, Chevrolet Sonic, Toyota Prius C and Toyota Yaris, saw sales growth of 37.1 percent in the first quarter of 2012, compared with the same time last year. Market share for the category was 4.4 percent compared with 3.5 percent the year before.
Consumers purchasing in this segment (sub-compact conventional cars) are able to get excellent fuel economy ratings and still get interior options previously seen only in the larger models, the report said.
However, as fuel prices subside, we expect to see some of that share to dwindle somewhat, Gutierrez said.
Midsize conventional cars also gained in sales, up 26.8 percent for the first quarter, but still trailed the sub-compact category for growth. Midsize car sales were helped by strong showings from the new Toyota Camry, which gained 33.6 percent, and the Chrysler 200, which posted sales growth of 152.4 percent. The midsize conventional segment made up 15.4 percent of the U.S. market, up 2.2 points from last year.
Crossover vehicles, though, suffered in the first quarter. Midsize CUVs dropped 1.4 percent in sales as GM's Enclave, Traverse and Acadia dragged the entire segment down. However, the segment is expected to recover somewhat as the year progresses, the report said.
Premium cars lost 1.6 percent in sales over last year, whereas non-premium sales rocketed up 11.5 percent. Some consumers might be finding that new non-premium vehicles are now equipped with features previously seen only in premium model vehicles and deciding not to spend the extra money in this slowly recovering market, the report said.
© Copyright IBTimes 2023. All rights reserved.
FOLLOW MORE IBT NEWS ON THE BELOW CHANNELS