US Blames Iran For 'Unprovoked' Tanker Attacks In Gulf Of Oman
U.S. Secretary of State Mike Pompeo quickly blamed Iran for attacks Thursday evening on a Norwegian oil tanker and a Japanese chemical tanker anchored in the Gulf of Oman. The three explosions that struck the Norwegian owned oil tanker, Front Altair, left it ablaze while the Japanese M/V Kokura Courageous was holed by two explosions.
It is the second attack on ships in the Strait of Hormuz since May 12 when four ships were damaged by explosions.
"It is the assessment by the United States government that the Islamic Republic of Iran is responsible for the attacks that occurred in the Gulf of Oman today," said Pompeo in his remarks at the Department of State.
"This assessment is based on intelligence, the weapons used, the level of expertise needed to execute the operation, recent similar Iranian attacks on shipping, and the fact that no proxy group operating in the area has the resources and proficiency to act with such a high degree of sophistication."
Political analysts noted Pompeo made this accusation only a few hours after the twin attacks. Pompeo presented no clear proof of Iranian culpability apart from vague assessments.
In the same speech, the Secretary of State enumerated a series of Iranian attacks and appealed to other countries to help the U.S. restrain Iran.
Pompeo claims that "taken as a whole, these unprovoked attacks present a clear threat to international peace and security, a blatant assault on the freedom of navigation, and an unacceptable campaign of escalating tension by Iran."
"Iran is lashing out because the regime wants our successful maximum pressure campaign lifted," claimed Pompeo. "No economic sanctions entitle the Islamic Republic to attack innocent civilians, disrupt global oil markets and engage in nuclear blackmail."
He said the U.S. will defend its interests in the region to the utmost.
"The United States will defend its foreign interests and stand with our partners allies to safeguard global commerce and regional stability. We call upon all nations threatened by Iran's provocative acts to join us in that endeavor."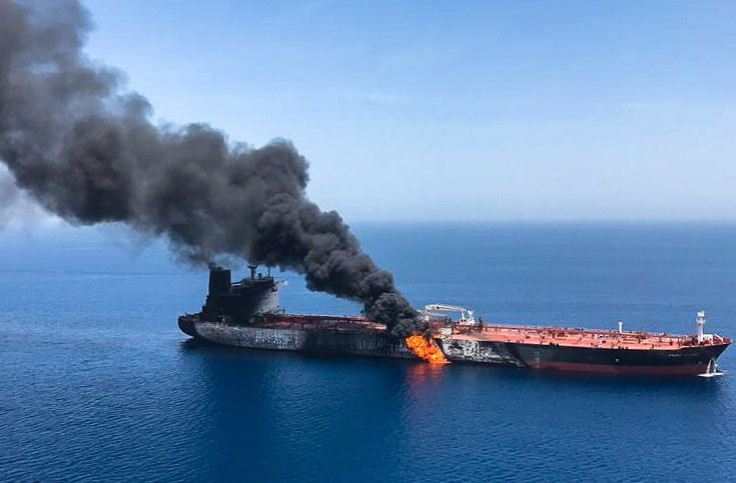 Pompeo said the attack is an insult to Japanese prime minister Abe Shinzo who is currently in Iran trying to diffuse tensions between Iran and the U.S. One of the ships damaged in Thursday's attacks was a Japanese chemical tanker.
"Iran's Supreme Leader rejected Prime Minister Abe's diplomacy today by saying he has no response to President Trump and will not answer."
Pompeo claims the Iranian government "insulted Japan by attacking a Japanese oil tanker just outside Iranian waters."
Iran hasn't yet officially responded to Pompeo's statement blaming it for this new wave of attacks.
Iranian Foreign Minister Mohammad Javad Zarif did talk about it and tweeted, "suspicious doesn't begin to describe" this latest incident. Zarif noted that one of the tankers is Japanese owned and that the attack took place as Abe is in Iran.
"Reported attacks on Japan-related tankers occurred while PM (Shinzo Abe) was meeting with Ayatollah (Khamenei) for extensive and friendly talks. Suspicious doesn't begin to describe what likely transpired this morning," tweeted Zarif.
Analysts said the attacks are likely to increase the possibility of a clash between the U.S. and Iran in the Gulf. Tensions are already at fever pitch and keep mounting.
The U.S. has intensified its "maximum pressure" campaign designed to starve Iran's economy and targeting the country's oil exports. It's also beefing-up its military forces in the region.
The Trump administration has made no secret of its willingness to use military force against Iran. Anti-Iranian hawk John Bolton, Trump's national security adviser, has ordered updates to a military plan that will send 120,000 troops to the Middle East should Iran attack U.S. forces.
Trump ordered an additional 1,500 U.S. troops to the region in late May as a "mostly protective" effort to deter Iranian threats he said. A U.S. Navy carrier strike group is still patrolling the region.
On Thursday morning, a U.S. Navy crew on the USS Bainbridge (DDG-96), an Arleigh Burke-class guided missile destroyer, reported seeing an unexploded limpet mine on the side of one of the ships. A limpet mine is a type of magnetic mine attached to a ship's hull.
Limpet mines were also suspected to have been used in attacks on four oil tankers in roughly the same area last May 12.
The UAE, a regional rival of Iran's, said it concluded a "state actor" is the most likely culprit in the May attacks. It said chemical analysis of the debris recovered revealed "it was highly likely that limpet mines were deployed."
None on aboard the Front Altair was injured but one of the Kokura Courageous' 21 Filipino crew was reportedly hurt.
Frontline, the company that owns Front Altair, said a fire broke out after an explosion. It said the cause of the blast was unclear. Singapore-based management company BSM, the owner of Kokura Courageous, said the ship had suffered damage to its hull.
The vessels were hit "at or below the waterline, in close proximity to the engine room," said the International Association of Independent Tanker Owners (IAITO). The organization also noted the attacks "appeared to be well-planned and coordinated."
© Copyright IBTimes 2023. All rights reserved.