US-China Trade Talks Could Reach 'Biggest Deal Ever' Soon, Says Trump
The trade talks between the U.S. and China are sending positive signals. Chances of a mini deal were evident in the words of President Donald Trump who declared that he was looking forward to sealing a comprehensive trade deal with China when he meets with his Chinese counterpart Xi Jinping.
Trump said he was optimistic that the two largest economies could reach "the biggest deal ever made."
The president made this statement at the White House during the meeting with the Chinese vice premier Liu He, who led China at the trade talks. The Chinese VP also sounded positive and said the two sides had agreed on "a timetable and roadmap" for proceeding toward the next round of negotiations.
However, no specific dates have been set for a summit meeting with Xi.
China has reportedly invited the U.S. trade representative Robert Lighthizer and Treasury secretary Steven Mnuchin to Beijing in mid-February though specific dates are yet to be finalized.
In a statement, White House reiterated that the proposed tariff on $200bilion of Chinese goods from 10 percent to 25 percent, which takes effect on March 2, will prevail as it is a "hard deadline" in case no trade deal happens before that.
Soybean cheer from China
China's state news agency, Xinhua, reported that the Chinese delegation agreed to "expand" imports of US farm products, energy products, industrial goods, and service products.
Liu told Trump that China would increase soybean imports from the U.S. In 2017, U.S. soybean exports to China amounted to 31.7 million tonnes. The exports came to naught after China clamped retaliatory tariffs in mid-2018 after the trade war erupted.
China's decision to augment soybean imports delighted Trump, who commented that it would "make our farmers very happy."
China's gesture of expanding U.S. agricultural products imports did not stop the U.S negotiators from raising issues such as laxity in protecting American intellectual property and pursuing policies that seek divesting technology from U.S. companies.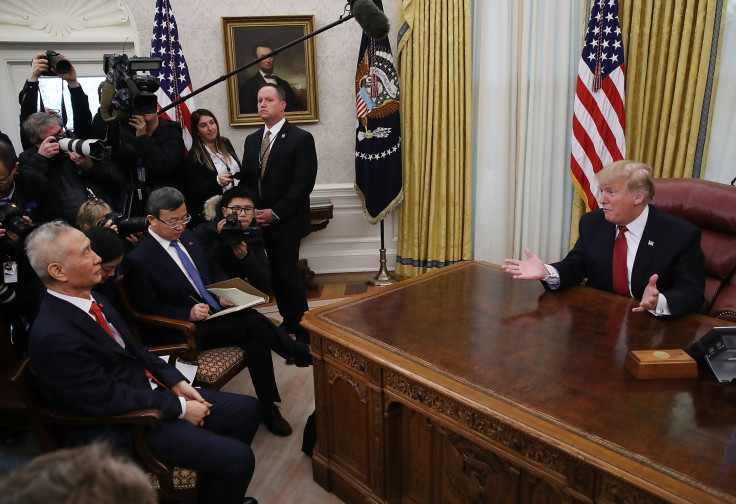 Even while claiming "substantial progress" on the above fronts, the U. S official Lighthizer said it was too early to predict success.
Lighthizer added that the U.S. objective was to make China's commit to mechanisms for enforcing action on these points and having systems to verify it if China fails to follow through.
To the question, whether the two sides discussed lifting U.S. tariffs on Chinese goods, Lighthizer answered that tariffs were not part of the talks.
Mini deal possible in the interim
One more element that expressed China's readiness to handle the talks constructively was evident from the letter from Chinese President Xi Jinping to Trump that was read out at the Oval Office. Xi expressed the wish that both sides would meet halfway at the trade talks.
These are viable pointers toward willingness by both sides to stitch a mini-deal that may give Trump an upper hand in the trade talks and avoid bruising China with the March 2 tariff hikes.
© Copyright IBTimes 2023. All rights reserved.