US Condemns Morsi For Anti-Semitism, But Muslim Brotherhood Has Long Harbored Hatred For Israel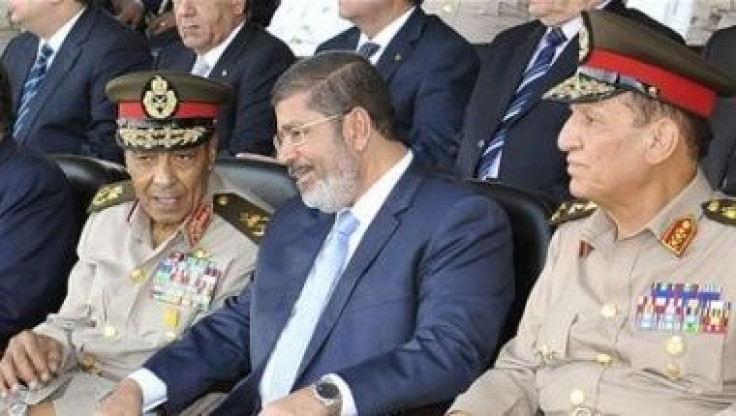 The U.S. government has condemned anti-Semitic remarks allegedly made by the current President of Egypt, Mohammed Morsi, during a speech he delivered in 2010.
According to a video unearthed by the New York Times, Morsi asked his fellow Egyptians to "nurse our children and our grandchildren on hatred" for Jews and Zionists.
In a subsequent television interview, he characterized Zionists as "these bloodsuckers who attack the Palestinians, these warmongers, the descendants of apes and pigs. They have been fanning the flames of civil strife wherever they were throughout their history. They are hostile by nature."
He also declared in the video: "The land of Palestine will not be freed except through resistance. Who is our enemy? The Zionists. Who occupies our land? The Zionists. Who hates us? The Zionists. Who destroys our lands? The Zionists."
Morsi also did not spare Western allies of Israel, spewing venom toward U.S. President Barack Obama, France, Britain and Germany.
In the 2010 interview that was initially broadcast on Lebanon's Al-Quds TV, Morsi blasted the Palestinian Authority as a creation of "the Zionist and American enemies for the sole purpose of opposing the will of the Palestinian people."
"Either [you accept] the Zionists and everything they want, or else it is war," he fumed.
Morsi, who was elected president of Egypt last June under the banner of the Muslim Brotherhood party, has been urged by U.S. officials to repudiate his earlier remarks.
Jay Carney, spokesman for Obama, told reporters on Tuesday that Morsi's inflammatory comments about Jews and Israel were "deeply offensive" and raised the subject with figures in Cairo.
"We completely reject these statements, as we do any language that espouses religious hatred," Carney said at a White House daily briefing.
Carney urged the Egyptian president to "make clear that he respects people of all faiths and that this type of rhetoric is not acceptable or productive in a democratic Egypt."
Carney offered an olive branch of sorts, by praising Morsi's efforts to broker a cease-fire -- and verbal cooperation with Obama -- during the Gaza-Israel conflict last year.
"Since taking office, President Morsi has reaffirmed Egypt's commitment to its peace treaty with Israel, in both word and deed, and has proven willing to work with us toward shared objectives, including a cease-fire during the crisis in Gaza last year," he said.
"These commitments are essential for our bilateral relations with Egypt, as well as the stability in the region, but we will always speak out against language that espouses religious hatred or encourages the use of violence."
Similarly. Victoria Nuland, a spokesman for the U.S. State Department, told reporters: "We'll also judge him [Morsi] by what he says, and we think that these comments should be repudiated and they should be repudiated firmly."
Morsi, who has faced his own battles with liberals and secularists within his own country over the rights of women and minorities as envisioned in a new constitution, was widely hailed by the West for helping to broker a peace that ended a brief war between Hamas and Israel.
The U.S. has been counting on Morsi to maintain peaceful relations with Israel and to abide by a path of moderation with respect to domestic policies.
Indeed, Morsi has promised to uphold the Camp David peace treaties with Israel [even though The Muslim Brotherhood doesn't even recognize Israel], likely in exchange for Western aid that he desperately needs to ease Egypt's battered economy.
However, the revelation of his hateful remarks about Jews from three years ago may haunt him now.
"When the leader of a country has a history of statements demonizing Jews, and he does not do anything to correct it, it makes sense that many people in Israel would conclude that he cannot be trusted as a partner for peace," Kenneth Jacobson, deputy national director of the Anti-Defamation League, told the New York Times.
But Morsi's extreme rhetoric from three years ago is starkly contrasted by his rather moderate and pragmatic approach as president. Given the realities of Middle East politics, Morsi cannot appear to adopt too much of a conciliatory tone toward Israel. On the other side of the ledger, he cannot alienate Western powers who are allied with Israel too much either.
"What you believe in your heart is not the same as what you do in power," said Shadi Hamid, research director of the Brookings Doha Center, to the Times.
"You are already starting to hear his opponents saying, 'Morsi is too close to the U.S. and doing its bidding in the Middle East.' It would be smart to attack him there because he may be vulnerable."
However, virulent rhetoric against Israel and the Jews has long occupied a core value among the Muslim Brotherhood.
In late December 2012, the Simon Wiesenthal Center included Egypt's Muslim Brotherhood among the worst perpetrators of anti-Semitic rhetoric last year.
The Center singled out the Brotherhood's Mohammed Badie, who complained about "Jewish control" and the Jews "spreading of corruption on earth."
Badie also condemned peace treaties with Israel.
"The enemy [Israel] knows nothing but the language of force," he said. "Be aware of the game of grand deception with which they depict peace accords."
Another top Brotherhood-linked official, Futouh Abd al-Nabi Mansour, was cited for asking Allah to "destroy the Jews and their supporters" during a sermon attended by Morsi last October.
Eli Shaked, a former Israeli ambassador to Egypt, told media that due to Egypt's economic woes and domestic turmoil, Israel provides a handy distraction for the authorities.
"Every time there is domestic tension in the new Egypt, Israel and the Jews will be targeted, and every time the Egyptian street is tense or protests, the Muslim Brotherhood will bring the anti-Semitic genie out of the bottle," he said.
Israeli politician Danny Danon has demanded that the U.S. and the European Union punish Egypt by withholding financial aid.
"The direction of the new Egyptian government is very worrying, and we are following with great concern what is being said and done and what is not being done there against extremists," he said.
FOR FREE to continue reading
✔️ Unlock the full content of International Business Times UK for free
offer available for a limited time only
✔️ Easily manage your Newsletters subscriptions and save your favourite articles
✔️ No payment method required
Already have an account?
Log in
© Copyright IBTimes 2023. All rights reserved.