US Credit Downgrade 'Entirely Unwarranted': Yellen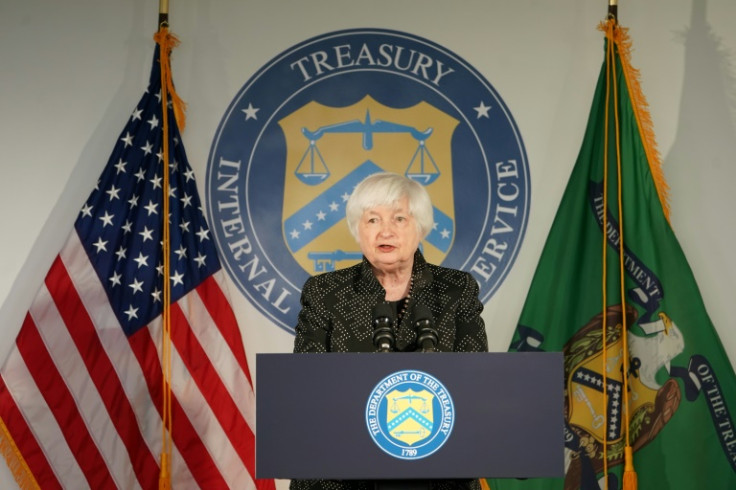 A US credit downgrade by Fitch was "entirely unwarranted," Treasury Secretary Janet Yellen said Wednesday, pushing back against the second-ever decrease by a major ratings agency following repeated debt limit standoffs in Washington.
Her remarks came a day after the world's biggest economy lost its top-tier credit rating from Fitch as the agency lowered it a notch from AAA to AA+, drawing fiery disapproval from the White House and Treasury.
The action was on the back of the United States' growing federal debt burden and an "erosion of governance" resulting in multiple gridlocks over the debt ceiling, said Fitch Ratings on Tuesday.
But Yellen told an event in Virginia that "Fitch's decision is puzzling in light of the economic strength we see in the United States."
Citing US economy's bounceback from the pandemic with a robust jobs market and cooling inflation, Yellen stressed that fiscal responsibility is a priority for herself and President Joe Biden.
"At the end of the day, Fitch's decision does not change what all of us already know," she said.
This includes the understanding that "Treasury securities remain the world's preeminent safe and liquid asset," she added.
But a Fitch Ratings senior director told CNBC Wednesday that Washington needs to tackle the recurrence of debt limit impasses and find "long-term" solutions for growing fiscal issues if it seeks a credit upgrade.
"We've seen a pretty steady deterioration in governance over the last couple of decades," Richard Francis said in an interview.
Among the elements he highlighted was January 6, referring to the date in 2021 when supporters of Donald Trump stormed Congress in a bid to prevent certification of his rival Joe Biden's election victory.
Other factors, he added, included "constant brinksmanship surrounding the debt ceiling" along with Republicans and Democrats' inability to generate "meaningful, long-term solutions" on fiscal issues surrounding programs like social security and Medicare.
While the US economy has so far defied predictions of a looming downturn, Francis noted that entering or skirting a recession "doesn't really move the needle" when it comes to underlying fundamentals Fitch is eyeing. It also does not stabilize debt or address governance issues, he added.
Markets slumped following the Fitch Ratings downgrade, with bourses in Asia, Europe and the United States tumbling even as analysts said they did not forecast long-term implications.
Asked about the impact to borrowing costs, Treasury assistant secretary for financial markets Josh Frost, told reporters that the department sees limited or no impact on yields or prices.
He noted "a very limited price response in markets," at a press briefing after the Treasury announced it would boost the issuance of new long-term debt.
In a separate interview, Jared Bernstein, who chairs the Council of Economic Advisers, told CNBC the timing of the downgrade "makes no sense," citing improvements under Biden's watch.
© Copyright AFP 2023. All rights reserved.