US Defense Chief In Japan To Show Alliance Strong Amid China Worries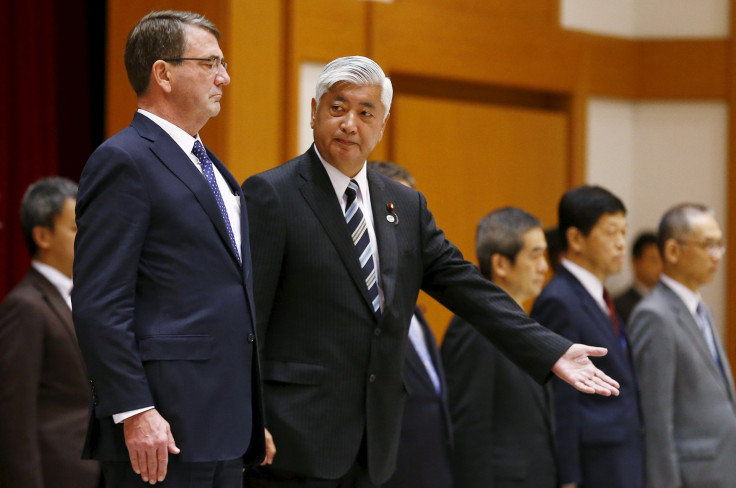 (Reuters) - U.S. Secretary of Defense Ash Carter kicked off talks with his Japanese counterpart on Wednesday aimed at demonstrating that the two countries' security alliance is tighter than ever amid China's growing assertiveness in the region.
Carter's visit coincides with the first update in U.S.-Japan defense cooperation guidelines since 1997, a revision that will expand the scope for interaction between the two allies in line with Prime Minister Shinzo Abe's push to ease the constraints of Japan's pacifist constitution on the nation's military.
A top U.S. commander said last month that Abe's move to allow Tokyo to come to the aid of an ally under attack would pave the way for closer cooperation between U.S. and Japanese forces across Asia.
Such expanded training and joint missions might extend through the South China Sea – where China, Vietnam, the Philippines and other nations have rival claims - to the Indian Ocean.
Neither Tokyo nor Washington have territorial claims in the South China Sea, but the U.S. Seventh Fleet operates in the area and a Japanese naval presence could irritate Beijing, which has a separate territorial row with Tokyo in the East China Sea.
Washington has welcomed a broader regional military role for Japan, as the United States pushes its allies in Asia, including Australia, to do more as China takes an increasingly assertive stance in territorial disputes.
In a written interview with Japan's Yomiuri newspaper published on Wednesday, Carter expressed concern about China's land reclamation in disputed areas of the South ChinaSea.
"We are concerned by the scope and pace of China's land reclamation activities, which are inconsistent with China's own past commitments to ASEAN countries," the newspaper quoted Carter as saying.
"We are especially concerned at the prospect of militarization of these outposts. These activities seriously increase tensions and reduce prospects for diplomatic solutions," he said. "We urge China to limit its activities and exercise restraint to improve regional trust."
Reuters reported in February that China was rapidly creating artificial islands from six reefs in the Spratly archipelago in the South China Sea. Beijing says the work falls "within the scope of China's sovereignty".
U.S. and Philippine troops will take part in annual military exercises this month near the Spratlys in the largest such drills since the allies resumed joint activities in 2000.
Abe's government plans to submit bills to parliament in the coming months to ratify his cabinet's decision last year to allow Japan to exercise its right of collective self-defense, the biggest shift in Japanese security policy in decades.
Carter, Japanese Defense Secretary Gen Nakatani and the two countries' foreign ministers are expected to unveil the new defense guidelines in late April, before Abe meets U.S. President Barack Obama on April 28 for a summit in Washington.
© Copyright IBTimes 2023. All rights reserved.
FOLLOW MORE IBT NEWS ON THE BELOW CHANNELS