US Economy: Yelp Analysis Sees Local Businesses Suffering Declines
KEY POINTS
Yelp looked at 50 metro areas and the District of Columbia
Declines were largely blamed on retail, restaurants, food and nightlife
The survey projects economic growth based on business survival and consumer interest
Review site Yelp unveiled its first annual local business index Thursday, indicating most local economies fell last year with the trend expected to continue through the first quarter of 2020.
The Yelp Economic Average blamed the slump on declines in the restaurant, food and nightlife categories as well as declines in brick-and-mortar shopping in 50 metro areas and the District of Columbia, measuring economic strength on business survival and consumer interest.
The fourth quarter decline was measured at 1.4%, boosting the overall annual decline to 1.3%. The report also found businesses in so-called red states did better than blue states.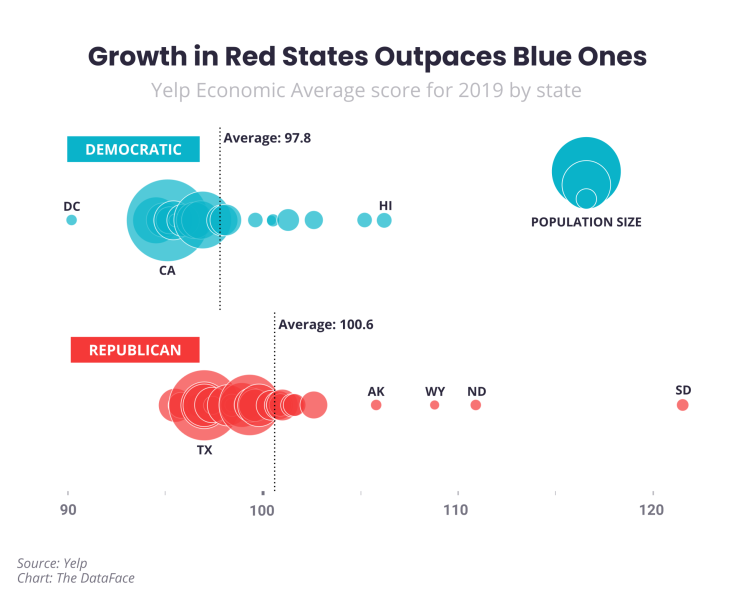 Four of the states with the strongest economies were North and South Dakota, Wyoming and Alaska saw growth based on growth in the services sectors, especially restaurants. Those with the worst economic growth were Washington, D.C., Illinois, Massachusetts, Connecticut and California, largely due to a decline in retail.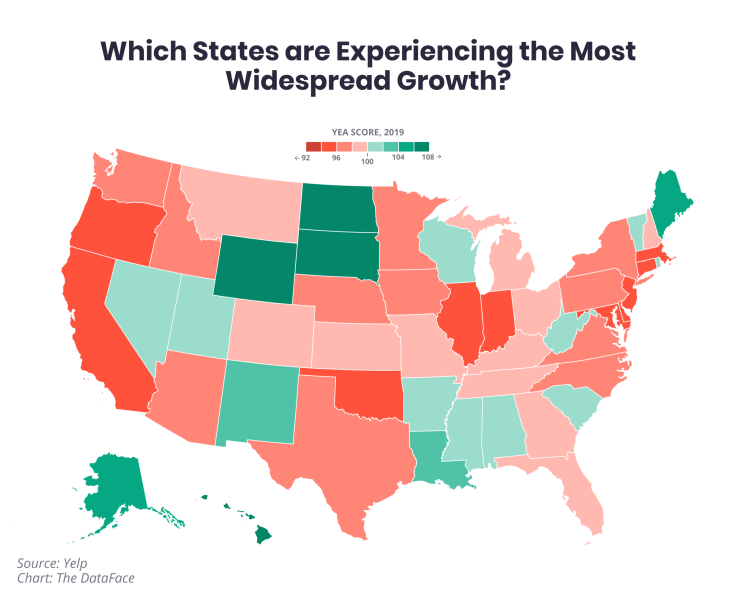 "The slowdown in overall economic growth in 2019 reflected business profits declining, which contributed to a fall in business investments. Uncertainty around trade policy also hindered local economic growth in 2019," Carl Bialik, Yelp's data science editor, said in a press release. He said the results point to a drop in the national gross domestic product for the fourth quarter from the third quarter's growth rate of 2.1%. The Federal Reserve Bank of St. Louis projects real GDP for 2019 at 2.2% and to fall to 1.8% in 2020.
Shopping categories were down 2.1 points compared with 2018 while restaurants, food and nightlife were down 1.3 points, driven by declines in ice cream, grocery stores and New American cuisine. Fast-food restaurants were down 1.5 points but breweries, food trucks and juice bars saw upticks.
Auto businesses also were down, a possible effect of ride-hailing services.
Milwaukee; Honolulu; Portland, Maine; Buffalo, New York, and Pittsburgh saw growth, mainly in services businesses. Orlando, Florida; New Orleans, Portland and Honolulu were likely to grow in 2020, Yelp said.
Portland, Oregon; Dallas; Chicago; San Jose; and San Francisco ranked at the bottom of the list. The world's fifth largest economy, California, ranked fifth from the bottom in 2019 while Oregon, Delaware, Oklahoma, Connecticut and the District of Columbia were expected to decline in the first quarter.
© Copyright IBTimes 2023. All rights reserved.