US Embassy In Nicaragua Closed Again Due To Security Threat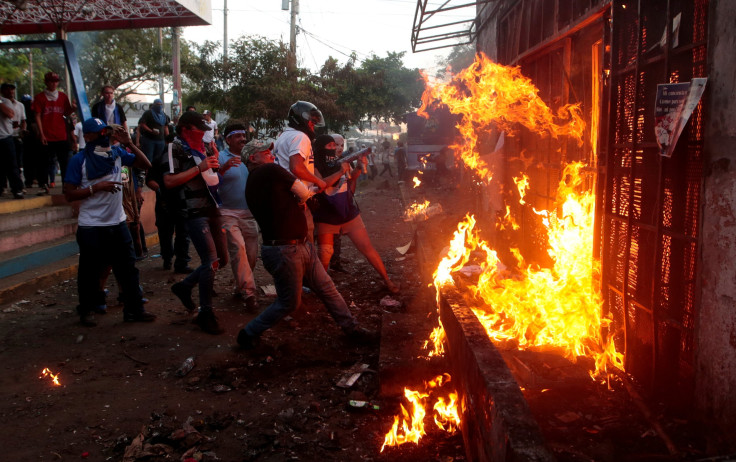 The U.S. Embassy in Managua will be closed to the public on Thursday as civil unrest continues across Nicaragua. The decision was taken considering the traffic disruptions and unpredictable violence that happened on Tuesday and Wednesday in the Central American nation.
It was closed on Tuesday as well. The embassy will, however, provide emergency services by telephone and all other appointments will be rescheduled at the earliest, an official statement read.
"The U.S. Embassy in Managua reminds U.S. citizens in Nicaragua that several Nicaraguan laws could be construed to prohibit foreigners from participating in demonstrations, marches, and protests," the statement said.
Nicaraguan constitution prohibits foreign interference in the internal matters of the country. Migration law also lists two activities that could cause foreigners' lawful residence in Nicaragua invalid: participating in activities that destabilize Nicaragua economically or politically and/ or participating in national politics.
The statement said, "Additionally, we are aware of Nicaraguans with a second nationality who have received threats from Nicaraguan government officials due to their foreign nationality combined with their participation in recent demonstrations. We ask that you keep these factors in mind when deciding whether to participate in demonstrations."
The embassy has also advised the U.S. government personnel in Nicaragua to remain in their homes and avoid unnecessary travel. It also asked them to avoid Rotunda Metrocentro, Rotonda Universitaria and the vicinity of all universities over concerns of violence when the embassy is open to the public.
Until further notice, the embassy will not be providing routine visa services and American citizens who need emergency U.S. travel documents can visit the embassy between 7:30 a.m. and 10:00 a.m. local time (9.30 a.m. and 12 p.m. EDT).
The embassy was receiving a high number of calls regarding people's welfare and hence it requested U.S. citizens to keep family and friends back home informed.
"If you feel unsafe, make personal arrangements to leave the country; commercial flights are available. There are no plans for a U.S.-government assisted evacuation," the statement said.
It also requested the citizens to avoid areas of demonstrations and move to safer areas if the demonstrations are nearing their place. It said "the Embassy has limited resources to assist U.S. citizens affected by these circumstances."
As per latest reports, violence erupted the streets of Managua on Wednesday. The day also saw a massive march led by the mothers of those killed in violent crackdowns on demonstrators, demanding justice for their children.
According to the human rights group Amnesty International, at least 81 people were killed and 868 wounded since April 18, reported DD News.
Amnesty International, in a report, accused the government of shooting protesters demanding the resignation of President Daniel Ortega and stated the killings happened "with the knowledge of those at the highest level of the Nicaraguan state, including the president."
Amnesty's Americas director Erika Guevara Rosas said, "The Nicaraguan authorities have turned on their own people in a vicious, sustained and frequently lethal assault on their rights to life, freedom of expression and peaceful assembly."
© Copyright IBTimes 2023. All rights reserved.