US Grandmaster Hans Niemann Offered $1 Million To Play Chess Nude; Here's Why
KEY POINTS
Hans Niemann recently ended Magnus Carlsen's 56-game unbeaten streak
Carlsen withdrew from the tournament the following day
Carlsen is a 5-time World Chess Champion
A popular cam site has reportedly offered $1 million to U.S. chess player Hans Niemann to broadcast himself playing a live game of chess completely naked. The offer was to help him prove he did not cheat in his controversial victory over reigning five-time world champion Magnus Carlsen.
Stripchat, an adult webcam site, that claims to have a monthly viewership of 400 million people, has sent a letter to Niemann congratulating him on his victory, and extending sympathies for all the accusations of cheating against him.
"Congratulations on your victory against world No. 1 Magnus Carlsen. It's a shame you're being ridiculed by the chess community for potentially cheating. Claims that you used wireless vibrating anal beads to gain n upper hand are ridiculous," the letter read, Vice reported.
"I know you even offered to strip completely naked to prove to people you didn't cheat. Well....being that Stripchat is an adult entertainment webcam platform that receives 400 million views on average each month, I wanted to extend you an offer to do just that. Prove the haters wrong once and for all. Strip naked and play a game of chess live on Stripchat in return for up to $1 million," it added.
Carlsen's unbeaten streak of 53 games ended on Sept. 4 when he lost to the 19-year-old US grandmaster in the Sinquefield Cup hosted by the St Louis Chess Club.
Since Carlsen's defeat was a massive upset in the chess fraternity, the teenage chess star was accused of using anal beads connected to a computer that would use artificial intelligence to find the best moves and provide directions through vibrations in the toy.
However, in a post-match interview, Niemann rejected accusations that he had used a sex toy to beat Carlsen.
"Do any fair play checking you want, I don't care because I know that I'm clean. They want me to strip fully naked? I'll do it. I don't care because I know I know that I'm clean and I'm willing to subject myself to what you want me to play," Niemann said in an interview with the chess club after the game, Yahoo Sports reported.
The 31-year-old World Champion withdrew from the tournament following his loss. He announced the news on Twitter by sharing a video of former Chelsea head coach Jose Mourinho speaking after a surprise defeat in 2014, "I prefer really not to speak. If I speak, I am in big trouble".
The coach was hinting that his team lost because of calls made by the referee, prompting speculation that Carlsen was suggesting he lost because of foul play.
Apart from being the defending world champion, Carlsen is also a three-time World Rapid Chess Champion and five-time World Blitz Chess Champion.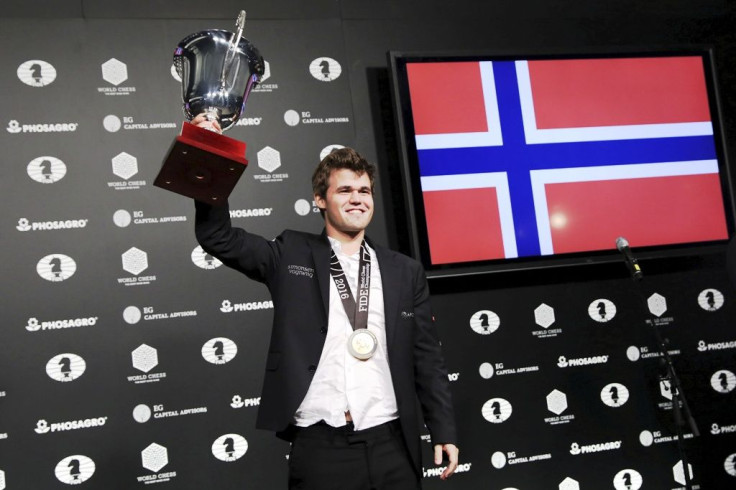 © Copyright IBTimes 2023. All rights reserved.
FOLLOW MORE IBT NEWS ON THE BELOW CHANNELS