US Has 'No Problems' With Short-Range Missiles As North Korea Conducts Second Test In A Week
The United States seems indifferent to North Korea's series of short-range missile launches, with President Donald Trump saying he has "no problem" with it.
"Short-range missiles. We never made an agreement on that. I have no problem," Trump said Thursday. "These are short-range missiles, they are very standard."
A senior official confirmed that U.S. intelligence tracked North Korea's new launches on Friday at 2.59 a.m. (1:59 p.m. EDT, Thursday) and 3.23 a.m. respectively. The official said the two projectiles appeared similar to the short-range ballistic missiles that were test-fired earlier this week.
The South Korean military's Joint Chiefs of Staff, in a statement, also confirmed that two unidentified short-range projectiles were launched from North Korea's South Hamgyong Province toward the East Sea (also known as the Sea of Japan). Analysts described the missiles as unusually fast as it flew very low, at an altitude of about 25 km (15.5 miles) and traveled about 220 km (136 miles). South Korea's presidential office spokesperson said the missiles could be a "new type" of short-range ballistic missile.
On Wednesday, North Korea had launched two missiles that reached a height of 30 km before landing in the East Sea. North Korean leader Kim Jong Un, according to the Korean Central News Agency (KCNA), expressed satisfaction overseeing the successful test of a "newly developed large-caliber multiple launch guided rocket system". Kim said the rocket system would play a key role in North Korea's land combat operations and "cause inescapable distress to the forces becoming a fat target of the weapon."
The KCNA said, "the test scientifically confirmed that the tactical data and technical characteristics of the new system had reached numerical values of its design and verified the combat effectiveness of the overall system."
Experts say the launches are intended to pressurize South Korea and the U.S. to stop planning and conducting military exercises together, which North Korea deems as intimidating.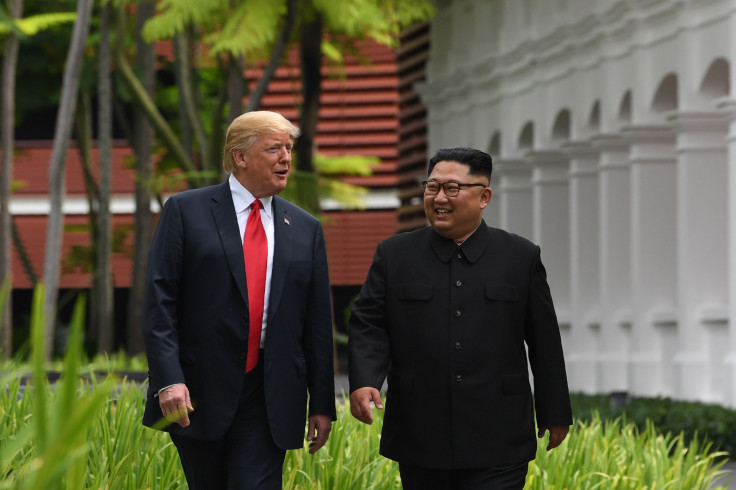 © Copyright IBTimes 2023. All rights reserved.