US-India Climate Change Talks Could Pave Way For Billions In Clean Energy Investments But Not Carbon Emissions Goals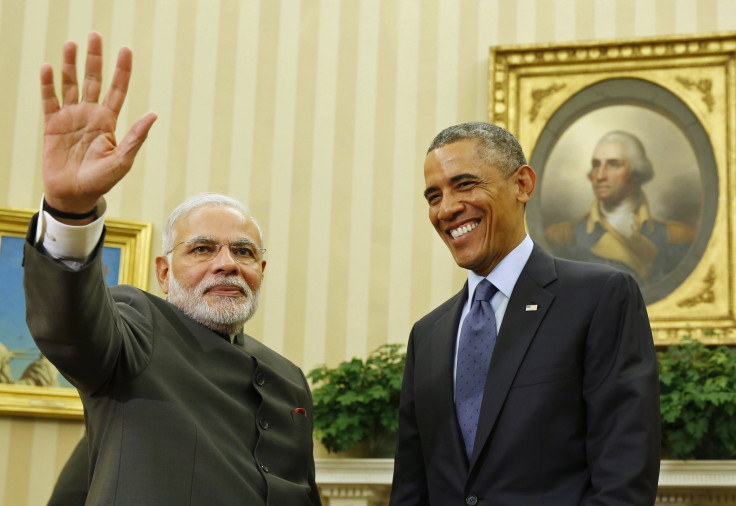 U.S. President Barack Obama's upcoming trip to India could clear the way for billions of dollars of U.S. investment in India's fast-growing clean energy sector. The president and Indian Prime Minister Narendra Modi next week are expected to make a joint announcement on climate change, which will focus more on building new solar and wind energy projects than on slowing India's use of coal and oil, policy experts said Wednesday.
The meeting comes as India faces growing international pressure to tackle its rising greenhouse gas emissions. The Modi administration has so far resisted calls to curb or cap its carbon pollution, insisting that the government's top priorities are creating manufacturing jobs, building infrastructure and lowering poverty levels. All these steps will lead to greater energy consumption, which will expontentially multiply India's emissions if the country continues to use fossil fuels instead of cleaner alternatives.
To that end, Obama and Modi plan to discuss India's goal to expand solar power capacity by 100,000 megawatts within the decade, a 30-fold rise from today. To meet the target, India needs to raise around $100 billion in total financing, creating a massive opportunity for U.S. banks and companies to enter the sector, said Raymond Vickery, a former assistant secretary of commerce for trade development under the Clinton administration and an expert on U.S.-India economic ties. India also aims to add 10,000 megawatts of wind power every year--an amount that equals about half the country's current total installed wind capacity.
"It's going to take strong public-private partnerships [in India] in order to be able to accomplish goals that are really going to make a difference in regards to CO2 emissions and climate change," he said on a press call hosted by the World Resources Institute. "It's good news really for the United States, in terms of economic engagement with India … [and] I think with private sector involvement that a lot of progress can be made by this visit."
The leaders could further spur American investment in India's solar sector by clearing up a years-long trade dispute between the countries, Vickery said. India requires a certain percentage of solar projects built in the country to include domestically produced components. The policy makes it harder for U.S. suppliers to enter the market. U.S. trade officials in 2013 complained to the World Trade Organization that India's policy "discriminate[s] against U.S. solar equipment," and the dispute settlement process is ongoing.
However, Obama and Modi are unlikely to unveil ambitious targets for reducing greenhouse gas emissions, as the U.S. president did with Chinese leader Xi Jinping in Beijing last fall. Obama set a target to cut U.S. emissions to 28 percent below 2005 levels by 2025, while China's president pledged to cap the country's emissions by 2030.
"I don't think we'll see a peaking year" target for India's emissions, said Navroz Dubash, a senior fellow at the Center for Policy Research in New Delhi. He said it is unfair and "unproductive" to pressure India to set such a concise goal. Despite its projected population boom and economic expansion, the country today still produces far fewer carbon emissions and gobbles far less energy than China and the U.S., the world's top two climate polluters.
For instance, India produces less than 2 metric tons of carbon per capita, while China produces more than 6 tons per capita and the U.S. spews nearly 18 tons. India's per-capita electricity consumption is about one-fifth that of China and nearly one-twentieth the size of U.S. levels. Dubash said that while the difference in numbers will shrink as India expands and the U.S. and China become more efficient, for now it's extremely difficult to predict the scope of India's future energy needs and determine a target for reducing emissions.
"In that context, it's very hard for a country to nail down a number unless it does it in a way that's as risk-free as possible, in which case it's meaningless" as a target, he said on the Wednesday press call. "The approach that India is taking to address energy and climate is really sector by sector."
Obama's talks with Modi could still yield a smaller but meaningful development on hydroflourocarbons, or HFCs, the industrial chemicals used in refrigerators and air-conditioning units that are extremely potent as a greenhouse gas. U.S. diplomats have been lobbying India and China to join international negotiations to phase out HFCs, and in September Modi signaled a wiliness to cooperate during a trip to Washington, D.C. India is the world's fastest-growing producer of HFCs, though it contributes only a small amount to total global emissions.
"The U.S. is keen to see greater progress be made on this globally as a quick win to help address some of the climate challenges," Manish Bapna, managing director of the World Resources Institute, told reporters. "I think if we were to see progress on HFCs [with India], that could also be a fairly significant deal in terms of what it could unlock on global movement" toward a phase-out.
He added that India could play a similarly powerful role in the upcoming United Nations-led climate change talks in Paris. Leaders from nearly 200 countries have agreed to adopt a global agreement on tackling emissions after more than two decades of negotiations.
"India is going to be central to whether or not we have a bold outcome in Paris," Bapna said. "In the recent past, it's been two countries that have wielded a global veto -- the United States and China -- and increasingly India sees itself as having a third veto on big global decisions. Making sure that India sees its self-interests reflected in the global deal is increasingly important."
© Copyright IBTimes 2023. All rights reserved.