For UN Negotiators, Climate Change Deal In Peru Is Just First Step Of Painstaking Process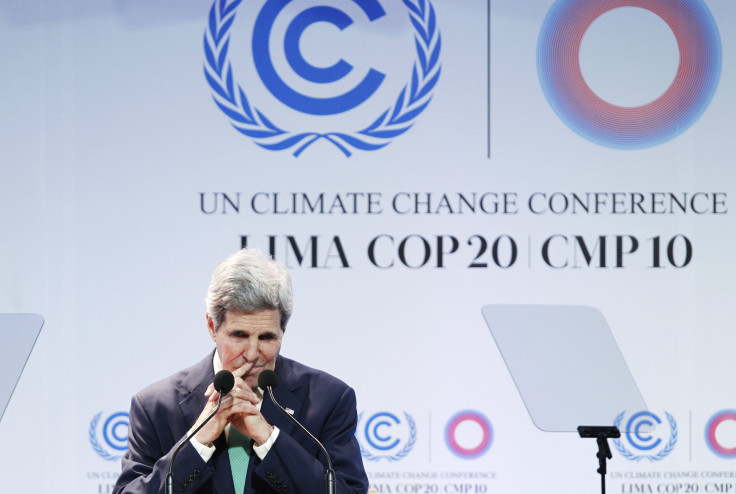 Nearly 200 nations unveiled a landmark climate change accord on Sunday in Lima, Peru, but delegates won't have long to rest. Over the next year, United Nations members will hammer out the plan's finer details, including setting standards for each country's greenhouse gas reduction goals and raising billions of dollars to help emerging economies cut carbon and adapt to rising seas, extreme weather events and other climate impacts.
Delegates agreed on the four-page decision after two weeks of negotiations, which ran 30 hours over deadline into the early hours of Sunday morning. The Lima Call for Climate Action is the basic framework for a broader deal that could be passed in Paris at the 21st U.N. climate conference in 2015.
The Lima accord drew mixed reactions from negotiators and outside observers. Some participants said they were pleased with the outcome, given the likely risk that countries could have dumped the accord entirely. But critics, including many environmental groups, said the plan is too weak and ineffective as written to have any meaningful effect on global greenhouse gas pollution.
"The foot-dragging in Lima is out of step with the urgent signs of climate change that are already apparent in Peru's melting glaciers and threatened fisheries, as well as around the globe," Nathaniel Keohane, vice president for international climate at the Environmental Defense Fund in New York, said in a statement.
"You can view it as half-full or half-empty," Robert N. Stavins, who directs the environmental economics program at the Harvard Kennedy School in Cambridge, Massachusetts, said by phone. "If you compare it to the history of climate negotiations, it's very positive. If you compare it to the ideal, then it's disappointing. The people who have been involved in this longer tend to view it as a positive step."
Under the Lima accord, the 196 participating countries have until June at the latest to present their strategies -- called "intended nationally determined contributions" -- for curbing carbon and other greenhouse gases. Negotiators in Peru ultimately watered down language on the nature of these pledges, so that countries now "may" instead of "shall" include quantifiable information on how they intend to meet their goals. That could make it difficult to compare and scrutinize countries on their climate performance, Stavins said.
Over the next few months, participants in the process will push to include more concise and systemic details about countries' targets, Jennifer Morgan, global director of the World Resources Institute's climate program, said from Peru. She said her group would also call for a U.N.-led public review process to allow nations and observers to openly analyze each of the plans. The Lima accord initially included such a review, but it was removed at the last minute. Countries did agree to update their commitments every five years, however.
"All of those things will be a core part of the negotiations next year," Morgan said.
Another large task before Paris is figuring out how wealthier nations will raise $100 billion per year in public and private aid from 2020 onward. Developed countries did pledge $10 billion for a Green Climate Fund to support emerging economies -- including $3 billion from the United States -- but leaders of industrialized nations resisted calls to set interim targets toward the larger funding goal.
The money is critical for building cooperation between developed and developing countries. Many poorer nations say they can't meet an international pact to cut emissions without substantial financial and technical support from larger economies -- which are largely to blame for the current scale of global-warming pollution.
"We're really looking for a pathway out to meet that $100 billion goal, which remains fairly vague as well," Morgan said. "There's so much more that has to get done. 2015 is going to be quite a year."
She said it is too soon to tell if next year's climate deal in Paris will be enough to limit global warming to 2 degrees Celsius (3.6 degrees Fahrenheit) above pre-industrial levels, the level at which scientists say we can avoid the most catastrophic climate impacts. The U.N. Climate Change Secretariat this week warned that countries' combined emissions pledges don't meet the 2-degree target, but many nations have yet to put forth their individual emissions reduction plans.
Stavins, however, said he doesn't believe the 2-degree target is politically possible. Reducing emissions to such a degree will require upending the global energy sector; oil, coal and natural gas would stay in the ground while renewable sources such as solar, wind and hydrogen fuel cells would supply most of the world's electricity and transportation needs. While scientists and energy experts say such a reversal is technically possible with today's technology, few countries have been willing to eschew fossil fuels in favor of costlier alternatives.
"It's politically unachievable," he said. The point of U.N. climate talks, "therefore, is to do the best that they can do … and not let perfect be the enemy of good."
Climate negotiators will next meet in March in Geneva, where most countries are expected to turn in their individual reduction strategies. The next meeting in June is in Bonn, Germany, though WRI's Morgan said a third reunion was also likely ahead of next year's December talks in Paris.
© Copyright IBTimes 2023. All rights reserved.
FOLLOW MORE IBT NEWS ON THE BELOW CHANNELS