US Military Base In Poland? European Country Willing To Pay $2 Billion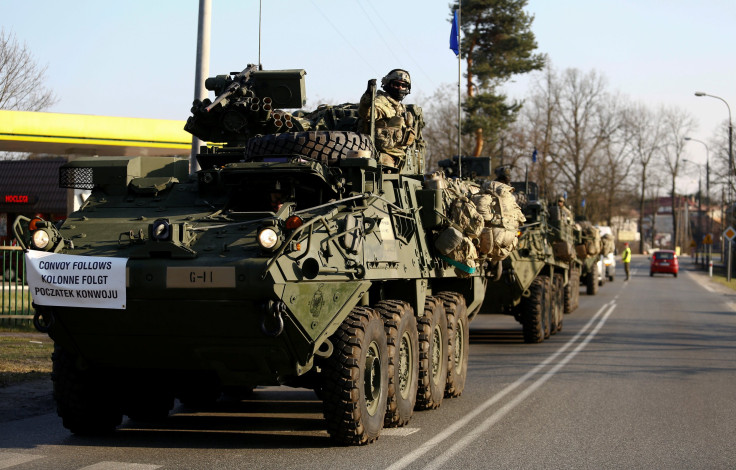 The Polish Ministry of National Defense confirmed in a tweet Wednesday that it is interested in setting up a permanent U.S. base in Poland.
"We are applying for permanent US bases in Poland. This is important for Poland and Poles. This is important for security, which is a priority for the government," the tweet read.
Poland's government has for years wanted to establish a permanent U.S. military base on its soil as a defensive wall against Russia and is willing to pay up to $2 billion to make that a reality.
A proposal by the country's defense ministry, delivered to the U.S. government on May 28, lays out "the clear and present need for a permanent U.S. armored division deployed in Poland." It also declares the country's willingness to provide financial backing that could reach $2 billion USD.
"Establishing such a force is necessary to present an unequivocal challenge and deterrence to Russia's increasingly emboldened and dangerous posture that threatens Europe," the proposal titled "Proposal for a U.S. Permanent Presence in Poland" reads.
The proposal, first obtained by Polish news portal Onet, offers up to two ideal locations that could support the unit's training, housing, family support needs and barracks.
"As shown in Ukraine, Russia is capable of effectively deploying hybrid warfare through its annexation of Crimea, cyberattacks on Ukrainian infrastructure, and fueling separatists in eastern Ukraine," the proposal read. (This was in reference to the Trump administration's 2017 National Security Strategy that identified Russian aggression in Ukraine in 2014 as a key threat to the U.S.) "Russia is seeking to strengthen its political and economic relations with key European countries at the expense of U.S. national interests."
According to the ministry, "an increased U.S. permanent presence in Poland will give America the strategic flexibility it needs to confront and deter these threats."
Meanwhile, Russia strongly opposed potential attempts by the Trump administration to strengthen U.S. military presence in the region.
"The Russian diplomatic community continues its work in this direction, hoping to warn this decision or persuade Poland to abandon it, but despite diplomatic efforts, the Russian Defense Ministry is ready to oppose (in case a base appears) and, as far as I know, such measures already conducted," said Yevgeny Serebrennikov, first deputy chairman of the Federation Council Committee on Defense and Security, Al Masdar News reported.
Kremlin spokesperson Dmitry Peskov said, "These expansionist steps, certainly, result in counteractions of the Russian side to balance the parity which is violated every time this way," Washington Times reported.
Vladimir Dzhabarov, first deputy head of the Federation Council's Foreign Affairs committee, warned that Poland will become "an object of retaliatory strike."
Poland is strategically important to China as it is one of its top Silk Road nodes. China is also constructing a high-speed railway between the Hungarian and Serbian capitals and could also expand to Poland, the largest country in the region.
The U.S. would oppose the expansion but any potential hybrid war that can take place to offset this outcome could be avoided if Washington gains control through a military base in its most important Polish node.
"We regularly address issues such as manning and equipping requirements with our NATO allies as part of our ongoing mil-to-mil dialogues," Eric Pahon, a Pentagon spokesman, told Army Times adding that "This is the subject of private bilateral discussions between the U.S. and our NATO ally, Poland."
© Copyright IBTimes 2023. All rights reserved.