US Military Pilots In East China Sea Targeted By Blinding Laser Attacks
The United States military aircraft pilots flying over the western Pacific Ocean were targeted by lasers more than 20 times in recent months, U.S. officials told the Wall Street Journal.
The officials confirmed the incidents occurred in and around the East China Sea, where China has military presence amid a long-running territorial dispute with Japan over Senkaku Islands. Currently, the uninhabited islands are controlled by Japan.
The lasers were directed from both shores and fishing boats, some of which were Chinese-flagged, official said. The lasers were reportedly commercial-grade — often used for briefings and even playing with cats — which can temporarily blind pilots and, in some cases, cause eye damage.
"In light of these recent incidents, units operating in the area are conducting an assessment of their laser eye protection equipment," U.S. Pacific command spokeswoman Maj. Cassandra Gesecki said, Japan Times reported.
The officials said they were unsure if Chinese military was responsible for the incidents, but added the possibility could not be ruled out given the recent issues in Djibouti, and added people from other countries in the region could also be doing this simply to harass American pilots.
In May, the U.S. had complained to China after Chinese nationals pointed lasers to interfere with the former's military aircraft in Djibouti, in which two American airmen suffered minor injuries.
"They are very serious incidents ... We have formally démarched the Chinese government and we've requested the Chinese investigate these incidents," Dana White, Pentagon spokeswoman said, Reuters reported.
However, Chinese Foreign Ministry spokeswoman Hua Chunying denied it saying, "We have already refuted the untrue criticisms via official channels. The Chinese side consistently strictly abides by international law and laws of the local country, and is committed to protecting regional security and stability."
"You can remind the relevant U.S. person to keep in mind the truthfulness of what they say, and to not swiftly speculate or make accusations," she added.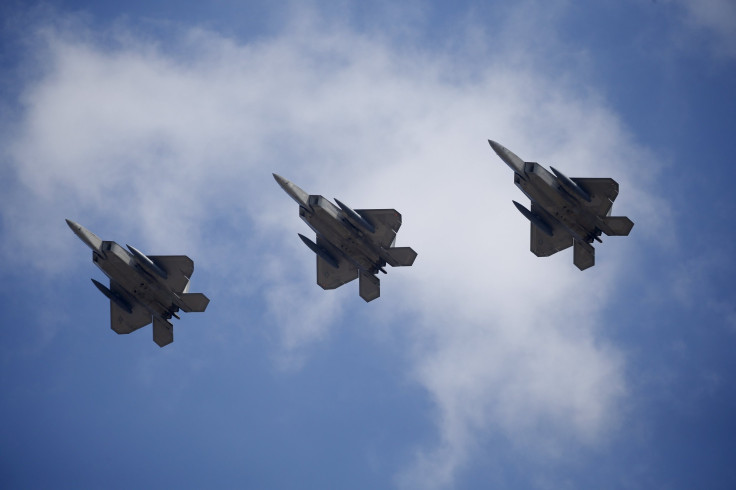 In the same month, the U.S. withdrew an invitation for China to participate in a multinational naval exercise to be hosted by the American military in a few months' time, in response to China's militarization of the South China Sea, Phil star reported.
Chinese President Xi Jinping has heavily promoted the country's military to embark on a military modernization program that includes projects such as integrating stealth fighters into the air force, building a second aircraft carrier and fielding an array of advanced missiles that can strike from long distances.
In April, the Chinese military conducted drills in the Pacific Ocean with its sole operating aircraft carrier to demonstrate its power-projection capabilities. China's Defence Ministry also carried pictures of the drill on its website.
Experts said China used its maritime militia to cause inconvenience to the Japanese fishermen and coast guards in a bid to better enforce its claims in the East China Sea.
© Copyright IBTimes 2023. All rights reserved.