US Navy Ship Sails Through Taiwan Strait Amid Rising Tensions With China
A United States Navy ship passed through the Taiwan Strait on Friday, in a show of support for the self-ruled island-state as tensions continue to rise between Washington and Beijing.
Tensions between U.S. and China are set to escalate, already fraught because of the expansive Chinese claims on the South China Sea and the trade war between the two countries, after the USS Green Bay, an amphibious transport dock ship, sailed through the strategic 180 km-wide (112 miles) Taiwan Strait, which separates China from the island.
The USS Green Bay is a San Antonio-class amphibious transport dock.
Commander Reann Mommsen, a spokeswoman for the U.S. Navy's Seventh Fleet, said in a statement: "The ship's transit through the Taiwan Strait demonstrates the U.S. commitment to a free and open Indo-Pacific."
Another U.S. ship had sailed through the contested waters of the South China Sea last month, and China had expressed its "deep concerns." Already facing strong opposition from the pro-democracy supporters in Hong Kong, China has warned other nations including the U.S. to stop interfering in its internal matters.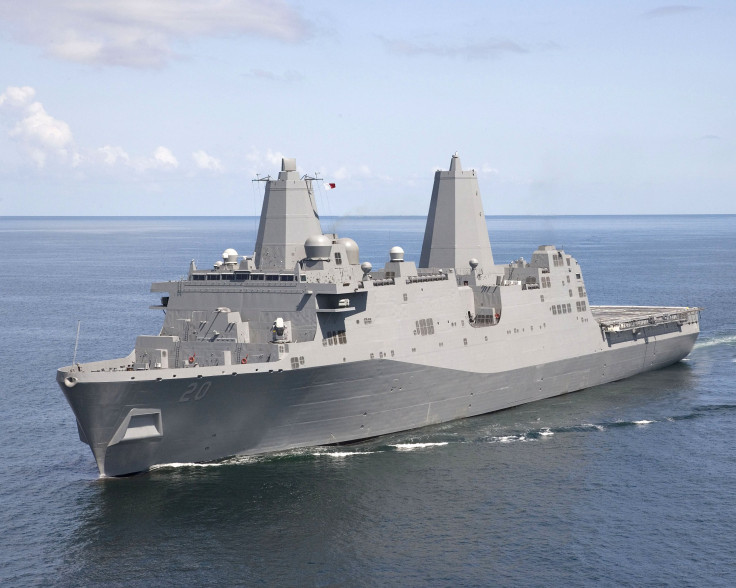 However the latest action, coupled with Taiwan's push for independence, may force Beijing to take an aggressive stance. China had earlier made it clear that it is prepared to go to war and under no circumstances allow Taiwan to move towards independence. Beijing has been flexing its muscles by sending military aircrafts and ships in the vicinity of Taiwan to enforce the issue.
While the United States does not have any formal ties with Taiwan, it is one the country's main source of arms.
Taiwan brought F-16 fighter jets worth $8 billion from the United States this month, making it the largest defense spending increase in more than a decade. China, however, has condemned the arms sale as increasing the hostility between the two nations and asked the U.S. to cancel the sale.
The United States. had come to the aid of Taiwan in 1996, in what is known as the Third Taiwan Strait crisis, with one the biggest displays of U.S military might. Then President Bill Clinton ordered ships including the aircraft carriers USS Nimitz and the USS Independence into the region after the Chinese fired missiles in a bid to intimidate Taiwan. The USS Nimitz and her battle group along with the amphibious assault ship USS Belleau Wood sailed through the Taiwan strait, making the Chinese leadership realize that it couldn't possibly stop the U.S from coming to the aid of Taiwan.
© Copyright IBTimes 2023. All rights reserved.