US-Russia Anti-ISIS Syria Meeting: In Moscow, Kerry, Putin Discuss How To Defeat Islamic State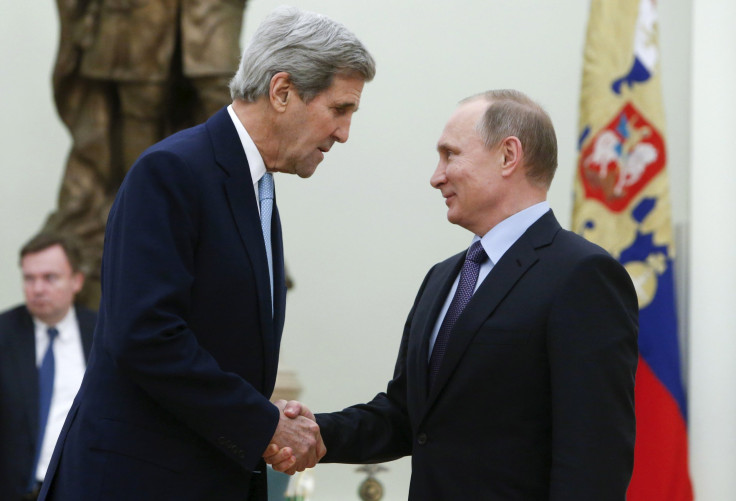 Russia and the U.S. reiterated Tuesday they will both make efforts to work toward settling the Syrian crisis during a high-profile meeting in Moscow between U.S. Secretary of State John Kerry, his Moscow counterpart, Foreign Minister Sergei Lavrov, and Russian President Vladimir Putin. While few details of the session have been made available, a U.S. Department of State press release outlined early exchanges between Putin and Kerry, revealing that defeating the Islamic State group is a high priority.
The conference between the three took place after Lavrov and Kerry conducted a private meeting about the Syrian civil war and the conflict in Ukraine, both of which have placed Moscow and Washington in direct opposition to each other. The 20-month-long war in Ukraine, however, wasn't a topic of discussion at the larger session.
"You had a chance to speak with President Obama in New York and then subsequently in Paris, and both you and President Obama have committed yourselves to trying to develop as much as possible, through Foreign Minister Lavrov and me, an approach that can try to deal with both Ukraine and deal with Syria," Kerry said, according to the State Department release. "I think there is no question Foreign Minister Lavrov and I have agreed that together, the United States and Russia have an ability to be able to make a significant difference here."
Putin told Kerry through a translator that "together, we are looking for ways out of the most urgent crises," read Russia's version of the exchange.
The meeting comes at a pivotal time during the continuing civil war in Syria. Russia and the U.S. both agree that the Islamic State militant group, aka ISIS, has to be destroyed but are in disagreement about what should happen to authoritarian Syrian President Bashar Assad. Moscow considers Assad an ally, while the U.S. views him as a disruptive force who has done little to end the civil war and has conducted crimes against his own people, including using chemical weapons.
However, with Russia reportedly boosting Assad's military forces with weaponry and support from the air, the Syrian armed services have made significant progress against ISIS, which has undoubtedly benefited the U.S.-led coalition's cause. Over the past month, the U.K. and France have both voted to join airstrikes against the terror group in Syria.
The Ukraine war, however, which could be argued is a far more dangerous conflict than in Syria, as it directly pits Russia against U.S.-led NATO, threatens to reignite old Cold War hostilities between the two nuclear powers. Russia is upset about NATO expansionism, while the predominately European alliance is concerned by Russia's creeping imperialism in the East, where it enjoys huge power among many Eastern European nations. That has meant a military buildup in that region.
Kerry said in the aftermath of his meeting with Lavrov that they had a "good discussion" on Ukraine, adding that the sooner the Minsk agreement is implemented in full, the better sanctions can be rolled back, according to a breaking news alert Tuesday. The Minsk agreement, which was signed in February this year, is a package of measures calling on Russia to withdraw from Ukraine, ensure a ceasefire and assist with political stability in the war-torn region of Donbass.
In recent months, Putin has also met several times with U.S. President Barack Obama at various international events. The Russian and American leaders met on the sidelines of the U.N. General Assembly in New York Sept. 28, at the G20 summit in Antalya, Turkey, Nov. 15-16 and at the Paris conference on climate Nov. 30. Putin and Obama discussed the situations in Syria and Ukraine.
© Copyright IBTimes 2022. All rights reserved.
FOLLOW MORE IBT NEWS ON THE BELOW CHANNELS