US And Russia Closer On Syria, But Still Not Quite Friends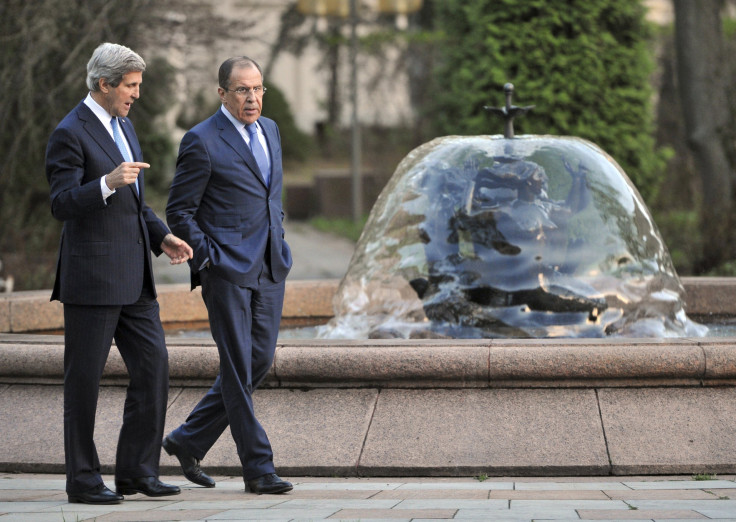 CAIRO -- After two years of a stalemate on Syria, the U.S. and Russia appeared to reach a breakthrough agreement during Secretary of State John Kerry's first official visit to Moscow: a declaration of shared interests on Syria, and a plan for a international peace conference to end the escalating civil war. "This is the first hopeful news concerning that unhappy country in a very long time," said Lakhdar Brahimi, the U.N.-Arab League peace envoy to Syria in a statement on Wednesday. "It is nevertheless only a first step."
For the U.S., which had been lukewarm on the idea of a peace conference, this is a major shift. Yet for Russia, a political and military ally of the Assad regime, it's hardly a departure from its existing position. And it will take a lot more to ensure this is a breakthrough for the Syrian conflict as well.
"I don't think it will have any impact on the ground," says Radwan Ziadeh, director of Washington-based Syrian Center for Political and Strategic Studies, who is attending a series of meetings with Syrian opposition groups in Istanbul.
Ziadeh, whose work focuses on a transition plan to be used if Bashar al-Assad's regime falls, plans to attend the international peace conference, but harbors no illusions about U.S.-Russian talks. "This Russian-American agreement -- there is no implementation policy," Ziadeh said. "Most of the freedom fighters on the ground would agree that this consensus is irrelevant for their struggle and their fight."
The conference will be based on the final communiqué from the Action Group for Syria meeting last June in Geneva, whose goal is ending the violence that has taken so far more than 70,000 lives. Russia's Foreign Minister Sergei Lavrov last proposed the idea of an international conference almost a year ago, in June 2012.
What has changed in the last two years for the U.S. to reconsider the proposal? Both sides are eager to avoid military intervention in Syria. "Russia and the United States will encourage both the Syrian government and the opposition groups to reach a political solution," said Lavrov, as quoted by state-controlled Russian news agency RIA Novosti.
The two sides share more of the same concerns now too, as the presence of international fighters, including a small contingent of jihadists from the North Caucasus, a part of the Russian Federation, has grown over the past two years.
Intelligence cooperation on counterterrorism has also intensified between the two countries, since the suspects in the April bombings at the Boston Marathon were linked to the same region.
"The fear that American and European politicians expressed two years ago that if this goes on for any length of time it will be a civil war has now come true," said Dmitry Gorenburg, an expert on Russian military and analyst at CNA Strategic Studies in Alexandria, outside Washington, D.C.
"Once you have a civil war you have all sorts of groups and many of them are not the kinds of people the American government wants to support."
A major issue on the ground is that General Selim Idriss -- head of the Syrian rebels' Supreme Military Council, and the man in charge of distributing the non-lethal aid the U.S. recently decided to send, as well as weapons from Qatar and Saudi Arabia -- is straining to remain in control of his troops.
"General Idriss does not command any troops, he has militias that are aligned with him that are rented and not loyal to him. He cannot give them orders and this has been the main problem," said Joshua Landis, director of the Center for Middle East Studies at the University of Oklahoma. "And this is why the U.S is so hesitant to provide arms because they fear the arms will go to militias they do not like."
According to Ziadeh, "the U.S. doesn't want to do any action [in Syria], this is why they agreed with the Russians." So far, U.S. aid has been limited to humanitarian aid and non-lethal assistance for opposition forces. On Thursday, while visiting Rome, Kerry announced an additional $100 million in humanitarian funds.
But while he announced more aid for the rebels, Moscow may have been selling advanced weapons to their enemy. Russia is going ahead with the impending sale to Syria of S-300 advanced anti-aircraft missile batteries and advanced ground-to-air weapons, valued at $900 million, according to a Wall Street Journal report. Those weapons would make it much harder for the West to enforce any no-fly zone on Syria.
Lavrov later said on Friday that Russa was not selling Syria advanced air defense systems. However, it left open the possibility that it could deliver such systems under an existing contract.
"I think we have made it crystal clear that we would prefer that Russia not supply assistance," Kerry said at a press conference in Rome on Thursday, after meeting with Italian foreign minister Emma Bonino. There is also no consensus between Moscow and Washington on Bashar al-Assad stepping down, which the Syrian rebels see as a precondition for talks.
While Kerry echoed this sentiment in Rome, he did not press this point in Moscow. "The [Italian] foreign minister will work with us, as they have, to try to bring all the parties to the table so that we can effect a transition government by mutual consent on both sides, which clearly means that, in our judgment, President Assad will not be a component of that transitional government," Kerry said.
Russia may not be helping Assad as much as it used to financially -- contributions to Syria declined sharply in 2013 to $3 million from over $7 million in 2012, according to Russian Foreign Ministry data -- but it remains politically committed to the Assad regime.
Hardline U.S. analysts saw Kerry's visit as a concession to Russia. "The picture of an American secretary of state hanging around for three hours, desperate to see Putin and seek his help, is pathetic -- and suggests a profound misjudgment of Putin and of Russian policy," blogged Elliott Abrams, senior fellow for Middle Eastern Studies at the Council on Foreign Relations.
Beyond Syria, Russian-U.S. relations were characterized by tensions recently over the so-called "Magnitsky list," a U.S. act placing sanctions on Russian officials believed by Washington to be linked to the death of lawyer Sergei Magnitsky.
Magnitksy, a tax accountant employed by the American-born founder of investment fund Hermitage Capital, Bill Browder, alleged that he had uncovered a large-scale tax fraud carried out with the consent of Russian officials. He was arrested in 2008 and died the following year in Russia's high-security Butyrka prison, amid allegations of mistreatment and torture.
"The publication of the Magnitsky list has dealt a blow to bilateral relations and mutual trust," the Russian Ministry of Foreign Affairs said on April 13. "This war of lists is not our choice but we have no right to ignore outright blackmail."
The Russian Duma, or parliament, retaliated by banning adoptions by U.S. citizens in Russia.
Amid this climate, the latest agreement on Syria may not herald closer relations, but underscores the lack of good options in Syria. According to some, it was not a victory for Washington's diplomacy. "This makes Americans compromise rather than the Russians," Ziadeh said. "The Americans failed to convince the Russians of their opinions."
© Copyright IBTimes 2023. All rights reserved.