US - Russia Relations: Blinken Threatens Russia With 'Massive Consequences' If Ukraine Is Invaded
Secretary of State Antony Blinken insisted Sunday the U.S. was more than ready to take action against Russia if the country's aggression leads to a Ukraine invasion.
Blinken appeared on the CNN program "State of the Union" and touched on the U.S. retaliation strategy amid the conflict between Russia and Ukraine.
"If a single additional Russian force goes into Ukraine in an aggressive way, as I said, that would trigger a swift, a severe and a united response from us and from Europe," Blinken said.
Despite rising tensions, Blinken said discussions have taken place with Russia to find a solution with fewer consequences.
"We've given Russia two paths. There's a path of diplomacy and dialogue ... But there's also a path of its renewed aggression and massive consequences," Blinken said.
Deputy Secretary of State Wendy Sherman previously suggested Russia could face financial turmoil if it invades Ukraine. The U.S. has already threatened to impose sanctions that could rock Russia's exports and other industries.
Thus far, the U.S. has not followed through with its warning. During the interview, Blinken defended the country's decision to hold off on imposing sanctions on Russia.
"When it comes to sanctions, the purpose of those sanctions is to deter Russian aggression. And so if they are triggered now, you lose the deterrent effect," he said.
"All of the things that we're doing, including building up in a united way with Europe, massive consequences for Russia, is designed to factor into President [Vladimir] Putin's calculus and to deter and dissuade them from taking aggressive action, even as we pursue diplomacy at the same time."
The comments come amid strained relations between the U.S. and Russia.
Last week, President Joe Biden said in a press conference that Russia would face consequences if troops gathered near the Ukraine border invaded the country.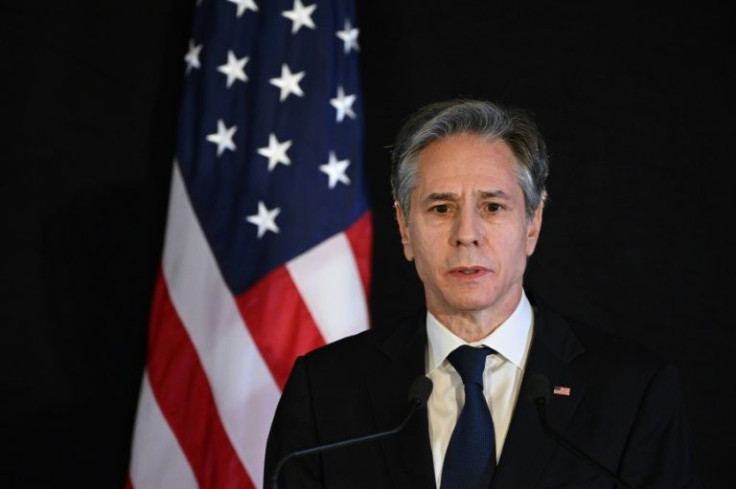 © Copyright IBTimes 2023. All rights reserved.