US Secretary Of State John Kerry Visits Pakistan For Talks With Prime Minister Nawaz Sharif And Army Chief Kayani On Economy, Energy, Security Issues Including Drone Strikes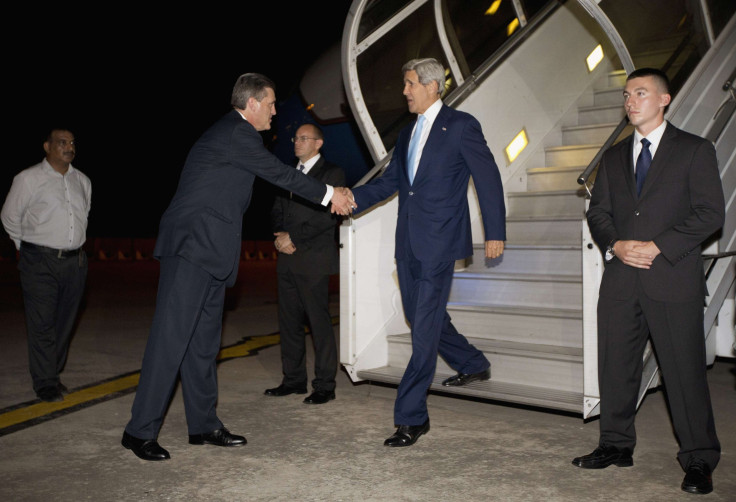 U.S. Secretary of State John Kerry arrived in Pakistan, on Wednesday night, on an unannounced visit, for talks with Pakistan's newly-elected government, which will include discussions about unmanned aerial strikes carried out in the country by the U.S., which have been a source of mounting tensions between the two countries in recent years.
In his first visit to Pakistan as secretary of state, Kerry is expected to apply pressure on Pakistan's government and military leaders to improve their efforts to crack down on militant strongholds in Pakistan, as U.S.-led NATO coalition troops prepare to pull out of neighboring Afghanistan by late 2014.
Kerry, on Thursday, will meet with Prime Minister Nawaz Sharif, whose election campaign was focused on reviving Pakistan's economy and ending extremism as well as U.S. drone strikes in the country. Kerry and Sharif will also discuss a range of issues including the economy, energy, domestic extremism, and Pakistan's relations with India and Afghanistan.
Kerry will hold a separate meeting, later on Thursday, with Pakistani Army chief Gen. Ashfaq Pervez Kayani and outgoing President Asif Ali Zardari, who is scheduled to leave office in September at the end of his term.
A senior state department official, who spoke to reporters on Kerry's flight to Islamabad, lauded Sharif's efforts to revive Pakistan's economy, adding: "Key to any sort of economic revitalization is a broad reform agenda for the Pakistanis, which would include expanding tax collection, resolving the energy crisis, and creating room for the private sector. So we expect that all of this will be part of the economic agenda."
The U.S. official said Pakistan's counterterrorism concerns are "really pretty phenomenal," adding that more than 40,000 Pakistanis have been killed since 2001.
"But we also will continue to talk about the issues of cross-border militancy and… the safe havens for extremist groups, (which) clearly threaten our interests, our allies in the region, and most of all really Sharif's own ability to execute on his reform agenda and provide greater economic stability," the official said, according to a state department transcript of the exchange with the media.
The official declined to go into details about the discussion on U.S. drone strikes, but called Pakistan an important stakeholder in tackling militant extremism perpetrated by the Taliban and the Haqqani network.
The U.S., which is Pakistan's biggest foreign donor, has been urging the Pakistani leadership to come up with a tougher strategy against militants, especially the Haqqani network, which the official said has been "resilient" despite efforts to cut off the flow of funds to its operations.
The State Department said Kerry would also visit the UK before returning to the U.S. at the end of the week.
© Copyright IBTimes 2023. All rights reserved.