US, South Korea Ignore Pyongyang's Warnings, Begin Joint Military Exercise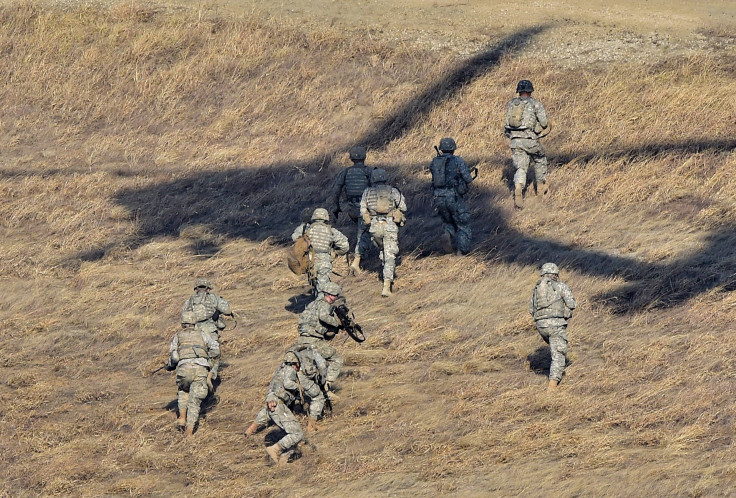 Soldiers from South Korea and the United States began joint military drills Monday in the face of threats from Pyongyang of "the strongest military counteraction." The annual Ulchi Freedom Guardian (UFG) exercises between South Korean and American soldiers involve about 80,000 soldiers and is aimed at preparing the South to defend itself from any attack by North Korea.
North Korea has condemned the drills and has referred to them as a "declaration of war," while Washington and Seoul insist they are purely defensive in nature. The exercises are largely computer-simulated -- involving a scenario of an attack by North Korea -- but include 50,000 Korean and 30,000 U.S. soldiers, according to Agence France-Presse (AFP).
"Such large-scale joint military exercises... are little short of a declaration of a war," the North's Committee for the Peaceful Reunification of Korea, said, last week. North Korea also threatened to attack the South with the "strongest military counteraction," if the drills are not cancelled. Pyongyang also threatened an attack on the White House if the drills were not called off.
This year's drills come amid mounting tensions between Pyongyang and Seoul, after the latter accused North Korea of placing and detonating landmines in the demilitarized zone, injuring two South Korean soldiers. South Korea responded to the landmines by resuming propaganda broadcasts on loudspeakers, which were silent for more than a decade, while some activists revived a leaflet campaign that involved dropping anti-North messages across the border.
While North Korea has denied it had anything to do with the landmines and demanded that Seoul cancel the drills, South Korean President Park Geun-Hye, on Saturday, called the landmine incident a serious breach of an armistice between the two countries.
"North Korea must wake up from its daydream that it can maintain its regime through provocations and threats ... these will only lead to isolation and destruction," Park said Saturday, according to AFP, following which North Korea accused Park of "viciously" slandering the country, and warned that she would pay for her actions.
On Monday, Jeong Joon-hee, spokesman for South Korea's Unification Ministry expressed regret over Pyongyang's latest comments about Park, according to Yonhap, and said: "The government strongly condemns North Korea for making a preposterous argument that the recent mine incident is a fabricated slander against the North," adding: "We urge the North to seek dialogue and cooperation in a bid to help ease military tension between the two Koreas, build mutual trust and improve the livelihoods of the North Korean people."
© Copyright IBTimes 2023. All rights reserved.