US Treasury To Sell All Remaining General Motors Shares, Acquired Through TARP, In 12-15 Months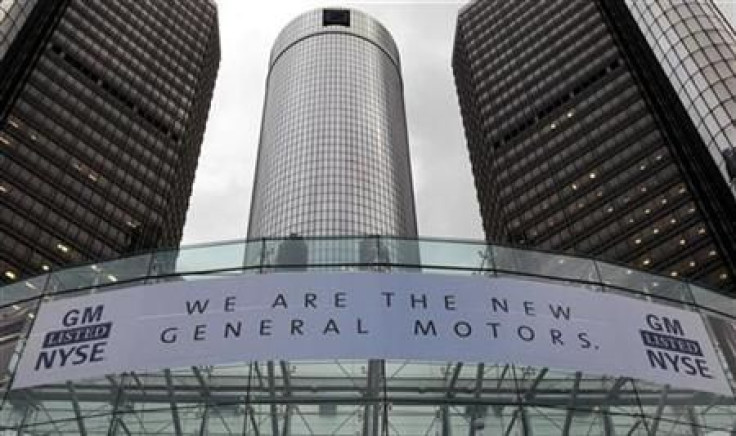 The U.S. Treasury Department said Wednesday it aims to sell its remaining 500 million shares of General Motors Company (NYSE:GM) no later than March 2014.
If the government meets that self-imposed deadline to sell its 32 percent stake in GM, it will largely conclude an historic six-year project to save the U.S. auto industry as it teetered on the brink of extinction from the Great Recession of 2008-09, a financial collapse that threatened the nation's auto industry as well as the global financial system.
Under terms of Washington's so-called Troubled Asset Relief Program (TARP), the government spent a combined $62 billion rescuing GM and rival Chrysler Group LLC, the No. 3 U.S. automaker. GM's share of TARP money totalled $49.5 billion.
The government's intervention allowed GM to bypass the normal restructuring process of federal bankruptcy court by putting together a pre-packaged restructuring that forced bond holders to take losses. It also ensured that the company could keep operating, thus saving jobs. How many jobs remains a topic of debate. The most optimistic figures place the number of jobs saved at about 1.5 million jobs, though that number continues to be disputed by elements in both the political Right and the political Left.
Still, the government's initiative clearly kept many workers employed, and Treasury said Wednesday that since 2009 the U.S. auto industry has added about 250,000 jobs.
"The auto industry rescue helped save more than a million jobs during a severe economic crisis, but TARP was always meant to be a temporary, emergency program. The government should not be in the business of owning stakes in private companies for an indefinite period of time," Assistant Secretary for Financial Stability Timothy G. Massad said in a statement.
"Moving to exit our investment in GM within the next 12 to 15 months is consistent with our dual goals of winding down TARP as soon as practicable and protecting taxpayer interests."
To date, the U.S. Treasury has recovered more than $28.7 billion of its investment in GM through repayments, sales of stock, dividends, interest, and other income, reducing Washington's stake in GM to about 32 percent.
Treasury intends to exit that investment through the following means: GM will purchase 200 million shares of GM common stock from Treasury at $27.50 per share. This transaction is expected to close by the end of the year.
The government intends to sell its other remaining 300.1 million shares through various means in an orderly fashion within the next 12-15 months, subject to market conditions.
Treasury intends to begin its disposition of those 300.1 million common shares as soon as January 2013 pursuant to a pre-arranged written trading plan. The manner, amount, and timing of the sales under the plan are dependent upon a number of factors.
Earlier this week, Treasury announced that it expected to make significant additional progress winding down TARP's bank programs in 2013. Last week, Treasury sold its final shares of AIG common stock. Overall, to date, through repayments and other income, Treasury has recovered more than 90 percent ($381 billion) of the $418 billion in funds disbursed for TARP.
Last year, Treasury sold its stake in Chrylser to Italian carmaker Fiat SpA.
© Copyright IBTimes 2023. All rights reserved.