US Unemployment Report July 2014: Young Black And Hispanic Workers Still Face Toughest Hunt For Jobs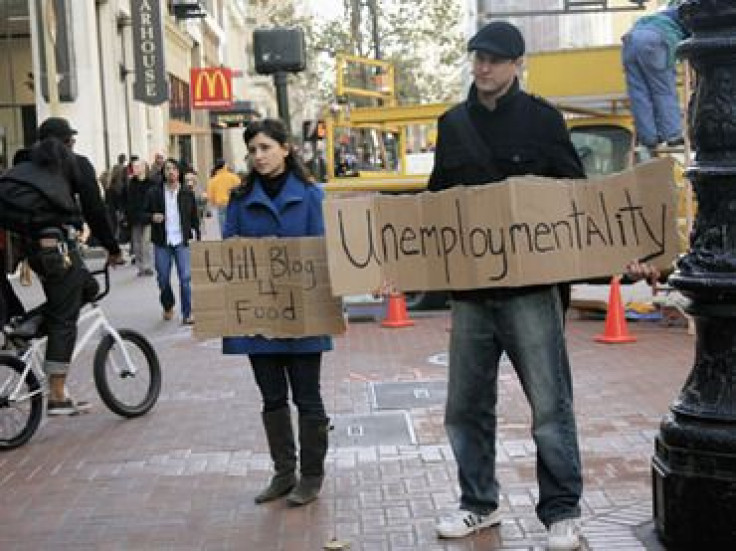 Tucked in among all the data in the latest jobs report, released Friday, is one troubling metric that throws cold water on what looks like sustainable job growth. That statistic is called, in economics, the employment-to-population ratio, and it quantifies the proportion of the 15-to-64-year-old working-age population that is employed.
Economists eye the employment-to-population ratio to gauge the nation's ability to maintain job growth and further quantify the strength of the economic recovery. Because the financial crisis and the recession so dramatically affected the labor market, economists have been watching the metric closely to discern any tipping points in hiring.
"While the unemployment rate is improving, it includes millions of Americans who are working part-time and would like to work full-time," accordin g to Bankrate.com's Mark Hamrick. .
And in the latest report, there's still plenty of reason for concern. The data seem to suggest that while the U.S. is finally creating a pattern of 200,000-plus new jobs per month, a growing labor force is still at the mercy of corporations queasy about adding jobs.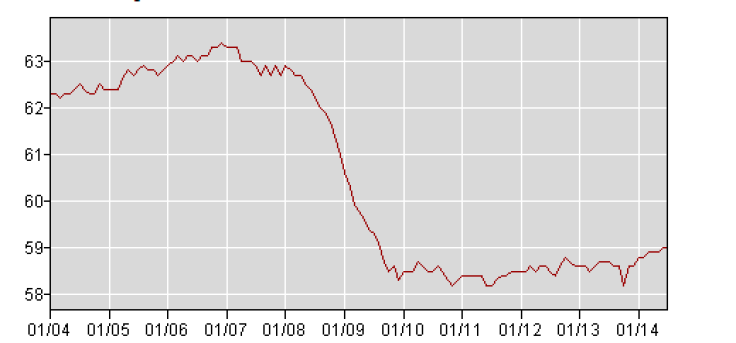 According to Friday's report, "The participation rate has been essentially unchanged since April. The employment-population ratio, at 59.0 percent, was unchanged over the month but has edged up by 0.3 percentage point over the past 12 months."
However, broken down by demographic sectors including race, gender and age, the results show a wide range of labor market conditions.
For instance, men of all ages and races are doing fairly well in the job market, with an employment to population ratio of 66 percent, up just a bit from 65.4 percent a year ago. However, when broken down by race, white men over 20 show a rate of 69.3 percent, almost a full 10 percentage points better than similarly-aged black men.
For Hispanic and Asian men in the same age group, the rates are 76 percent and 61 percent, respectively.
The employment to population among women of all ages and races, which outpaced that of men earlier in the recovery, now lags, coming in at 53.2 percent, almost flat with last year's 53.1 percent.
The real problems remain with unemployment among the young. With so many older, more experienced workers chasing still-scarce employment, the younger folks who would normally be entering the workforce and embarking on careers are being shut out of the job market.
The unemployment to population ratio for all people 16 to 19 years old moved a bit higher, to 33.4 percent, but that came off a very low year-ago figure of 32.8 percent. That figure, while low, is still higher than the rate for black or African American teenagers, which came in at a mere 20.2 percent, a decline from 20.7 percent in July 2013.
The only other group to see a decline in the employment to population ratio were Asian Americans, whose rate fell to 60.5% from 61.3 percent a year ago, and young Hispanic aged 16 to 19, whose rate fell to 25.7 percent from 27.3 percent.
"The half-year long string of 200K jobs or more added to payrolls is worth celebrating," Hamrick concluded. Bu, "It remains the case that significant signs of stress remain, such as for those Americans who underemployed – those working part-time but would prefer full-time work. We know that the number of Americans jobless for six months or longer remains high at nearly 33 percent. That's still well above the pre-recession level."
© Copyright IBTimes 2022. All rights reserved.
FOLLOW MORE IBT NEWS ON THE BELOW CHANNELS