US Weather Woes Crimp Wheat Supply In Europe: Analyst Insight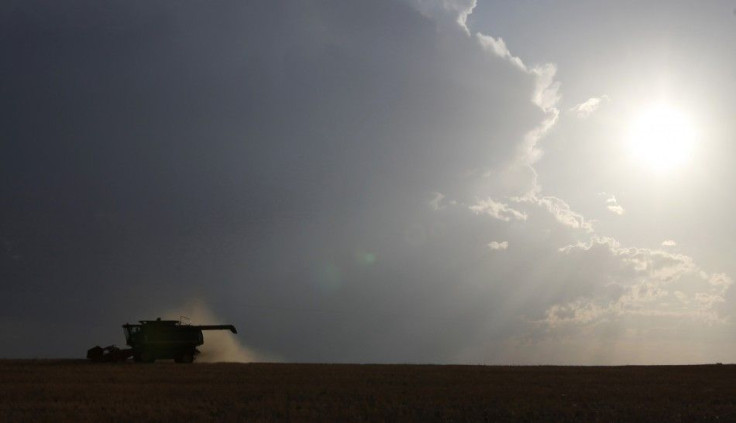 The upsurge in corn and soybean prices as the result of a piercing drought in the U.S. is only the tip of the iceberg. A widespread downgrade in the production of wheat is a triple whammy for U.S. grain farmers, Barclays PLC reported on Monday.
The wheat production downgrade, made after corn and soybean prices reached fresh, all-time highs, is a blow for global wheat suppliers, especially those in the Black Sea, which includes Russia, Kazakhstan and Ukraine.
"In particular, Black Sea supply estimates are being lowered on dry weather," Sudakshina Unnikrishnan, an analyst at Barclays stated in a report on Monday. A wet climate in Western Europe, parched weather in Western Australia and the potential impact of an El Nino, a climate pattern of increased warmth that occurs in the tropical Pacific Ocean roughly every five years, are likely to crimp global wheat supply further, the report indicated.
Because of the heat wave plaguing the Midwest, the USDA has labeled nearly one-third of all U.S. counties, covering 29 states, a federal disaster area -- the largest declaration that it has ever made.
The USDA has now revised its estimate of Russia's wheat harvest downward to 49 million tonnes from 53 million tonnes forecast in June, the department said in a World Agricultural Supply and Demand Estimates (WASDE) report released in July. The department also estimates 13 million tonnes of production in Kazakhstan, 13 percent lower than the month-earlier projection, and 133.1 million tonnes in the EU area, up 1.6 percent from its June forecast. Barclays PLC is more pessimistic about these forecasts.
These estimates appear "too high in our view," Unnikrishnan stated in the report. "In addition to expecting lowered estimates of Russian production, we also anticipate lowered estimates for production in Kazakhstan and the EU."
The U.S. is the world's fourth largest producer of wheat, according to data from the Food and Agricultural Organization. Data from the U.S. Department of Agriculture (USDA) show that the country accounted for about 30 percent of global wheat production last year.
Climbing prices of corn and soybeans in the U.S. have not only squeezed the supply of corn and soybean products, but have led to an upsurge in wheat prices too. The price rise poses a threat to wheat production.
Wheat prices on the Chicago Board of Trade, a global benchmark for agricultural commodities, have surged 46 percent since mid-June as corn supplies began falling in the throes of the worst U.S. drought in nearly half a century. Wheat and corn are both grains that are used in livestock feed.
The U.S. drought could trigger a rebound in wheat prices, which were trading 5 to 12 cents higher at mid-session on Monday. Even as agricultural analysts express concerns about global wheat supply due to inclement weather in wheat producing regions, continued wheat output reductions in key regions will drive demand for U.S. wheat, pushing prices even higher and restricting global wheat supply further.
The USDA is slated to update its global crop projections on Aug. 10.
© Copyright IBTimes 2023. All rights reserved.