U.S. Willing to Share Data of Lockheed Martin Corp F-35 Fighter Jet to India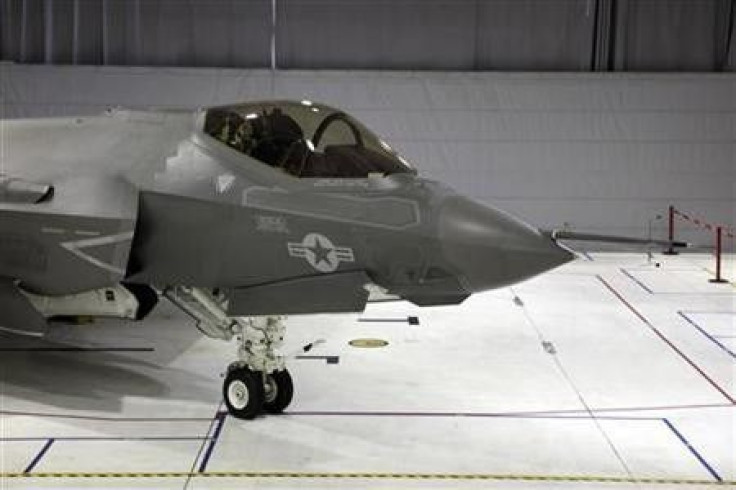 The U.S. Defense Department on Tuesday repeated its willingness to share information about the Lockheed Martin Corp F-35 fighter jet if the Indian government expressed interest in buying the stealthy new, multinational fighter plane.
A F-35 Lightning II Joint Strike Fighter is seen at the Naval Air Station (NAS) Patuxent River, Maryland January 20, 2012.
Indian and French sources on Tuesday said the Rafale fighter, built by France's Dassault Aviation, had beaten out the Eurofighter Typhoon as India's preferred bidder in a $15 billion competition to build 126 warplanes.
India rejected American, Russian and Swedish bids in April, but a source familiar with the negotiations told Reuters on Tuesday that India was considering buying an additional 80 jets and could open that process to bidders from those countries.
Pentagon spokeswoman Leslie Hull-Ryde said there had been no U.S. offer to sell India the stealthy Lockheed F-35 Joint Strike Fighter, but Washington would provide data on the jet's infrastructure and security requirements if India wanted.
Should India indicate interest in purchasing the JSF, the United States would be prepared to provide information on the JSF and its requirements to support India's future planning, she said in an emailed statement to Reuters.
The statement reiterated the Pentagon's position, as stated in a report to Congress on U.S.-India security cooperation late last year, and underscored at the time by Robert Scher, deputy assistant secretary of defense for South Asia.
The F-35 is something that we would be more than willing to talk to the government of India about should they request to find out more information about purchasing it, he said then.
The F-35 is the Pentagon's costliest weapons procurement program. The radar-evading aircraft is being developed with eight international partners, and officials estimate it will cost $382 billion for 2,443 of the jets for the U.S. military.
Lockheed and key subcontractors on the program are looking to increased foreign orders to help offset U.S. plans to scale back procurement of the F-35 for a third time in three years.
New Delhi rejected two older U.S. aircraft - the F-16, also built by Lockheed, and the F/A-18, built by Boeing Co - in a bidding contest in April for the contract that will now be negotiated with Dassault.
Rob Stallard, defense analyst for RBC Capital, said finalizing a deal with India for F-35 sales could be difficult, even if the Indian government was interested.
India generally required foreign contractors to involve their local industry, a demand that could raise hackles in security-conscious Washington, Stallard said.
Sales of the advanced, next-generation F-35 fighter to India could also run into some resistance from U.S. lawmakers, said one Senate aide.
© Copyright Thomson Reuters 2022. All rights reserved.
FOLLOW MORE IBT NEWS ON THE BELOW CHANNELS