US Wind Industry Races To Revive Key Renewable Energy Tax Credit Before Congress Adjourns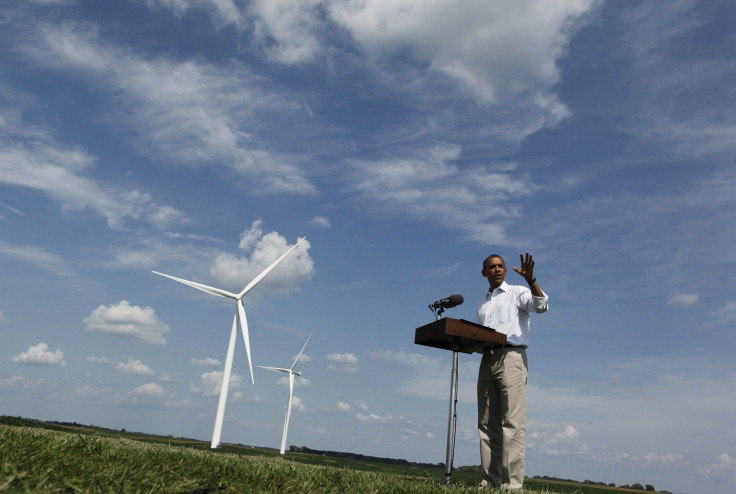 U.S. wind energy companies are racing to revive a key industry tax break before Congress adjourns in mid-December. A narrow window of weeks, while Democrats still control the Senate, is proponents' last shot to save the federal incentive this year.
The wind industry said the production tax credit, which expired at the end of 2013, is crucial for enabling turbine power to compete with coal-fired electricity. Developers credit the subsidy with helping to grow installed wind capacity by more than 800 percent over the past decade, to about 62,300 megawatts -- enough to power roughly 15.3 million average American homes.
"It's working, and by continuing it, we can continue to expand wind power and provide more [economic] benefits in other places of the country," David Ward, a spokesman for the American Wind Energy Association, the industry's main lobby group, said by phone.
He said the most promising legislative avenue for extending the credit is the Senate Finance Committee's package of tax provisions from April. The measure would allow wind projects under construction in 2014 and 2015 to receive a tax credit of 2.3 cents for every kilowatt-hour of electricity produced in the first decade of operation. The extension would cost taxpayers about $13.3 billion, or nearly 16 percent of the tax package's total cost.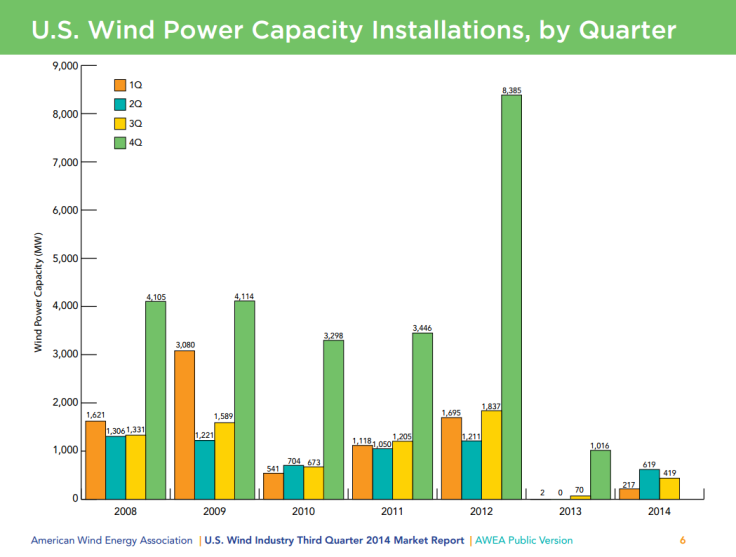 Renewing the credit would help jolt the wind sector out of limbo. Projects that were already in development or under construction before 2014 are coming along, but no new projects have started this year. New development "has dropped off dramatically," Ward said.
Andy Bowman, president of Pioneer Green in Austin, Texas, said his company is working on deals to develop five wind farms across the country, but it can't close any of those agreements until Congress decides the fate of the credit.
"You can't execute a contract to sell the power next year, because you don't know at which price you'll be selling," he said. "The PTC will either be available, or it won't, but you can't commit because you don't know."
He added that developers "basically can't arrange financing with this uncertainty hanging out there. We're in the long shadow of the PTC extension."
Opponents of the wind tax credit, including conservative lawmakers and free-market advocates, say the federal government has subsidized the industry for too long. The incentive was first introduced in 1999, though it's been allowed to lapse four times.
They also point out that wind projects are increasingly cheaper to build as equipment, technology and maintenance costs steadily decline. Wind power prices have dropped to "an all-time low" of about 2.5 cents per kilowatt hour -- a rate that's competitive with coal or natural gas in certain parts of the country, according to the U.S. Department of Energy's annual wind report.
"The industry can stand alone now," Don Nickles, a former Republican senator from Oklahoma, told Bloomberg News this week. "If Congress wants to show [it's] interested in doing tax reform, then let's stop this."
Bowman said he agreed that the U.S. wind sector will survive without the tax credit, but that it would slow the pace of development at a time when the U.S. is promising to increase renewable-energy production and scale back on fossil fuels. "There will still be a lot of growth, but it will be at a different rate, at a different arc, than if [the PTC] is extended," he said.
President Barack Obama this month set a target to cut U.S. greenhouse gas emissions by as much as 28 percent below 2005 levels by 2020, a plan that will require fewer coal and natural gas-fired power plants and more wind, solar and nuclear power production.
Bowman said he expects Congress will renew the wind subsidy this year, as it's done in the past, but he won't be surprised if it's left to lapse. He noted that Rep. Dave Camp, R-Mich., who is chairman of the House Ways and Means Committee, said he's open to discussing Senate tax extenders package.
The Bloomberg report suggested that some Republican lawmakers may use the tax break to take a stand against Obama, both in this session and next. By eliminating some contentious provisions, like the PTC, lawmakers might have a better chance of getting the rest of the bill through. Ward said he's hopeful the PTC will be extended, and he declined to comment on what the wind industry might to do save the PTC in 2015, when Republicans will control both chambers of Congress. "We're just focused on this year," he said.
© Copyright IBTimes 2022. All rights reserved.
FOLLOW MORE IBT NEWS ON THE BELOW CHANNELS