USA Women's Soccer Parade Shows Progress Toward Gender Equality, But Obstacles Remain, Attendees Say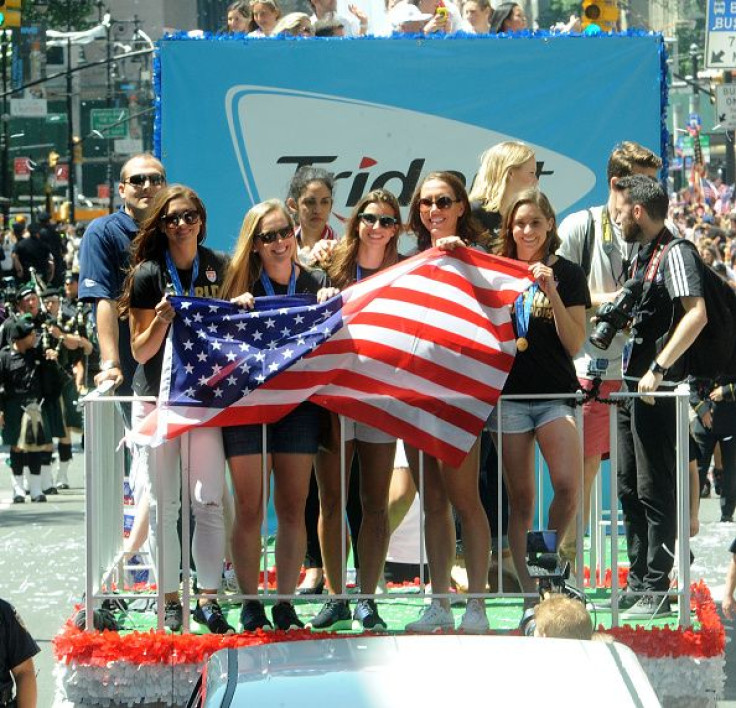 NEW YORK -- Hours before the United States women's national soccer team rode their parade floats down lower Manhattan's "Canyon of Heroes" Friday morning to celebrate their victory in the 2015 World Cup, Brooklyn resident Ciara DiSeta climbed out of the subway into a sea of red, white and blue and started crying. The mere sight of so many Americans, young and old, male and female, united to celebrate the accomplishments of strong, heroic women was enough to bring her to tears.
"I was just overwhelmed that everyone was here to support the women," said DiSeta, who attended Team USA's ticker-tape parade with her boyfriend, Jamal Bing. "It's more than just a sport at this point. I think it gives young girls more hope and more possibility for the future, for their future."
While this isn't the first time the U.S. women's national soccer team has captured the nation's imagination – the squad has won a record three World Cups in its history – this year's victory has produced an unprecedented level of support, as well as scrutiny. While the women who make up the national team have been praised for their talent and athleticism, the team generally receives little recognition and the players earn a fraction of what their far less successful male counterparts are paid. At the parade, a lack of sponsor attention and the inclusion of men's soccer floats further raised concerns about gender equality in American sports. But for fans of all ages who attended the event, it was nevertheless the moment Team USA took its deserving place among the country's athletic icons.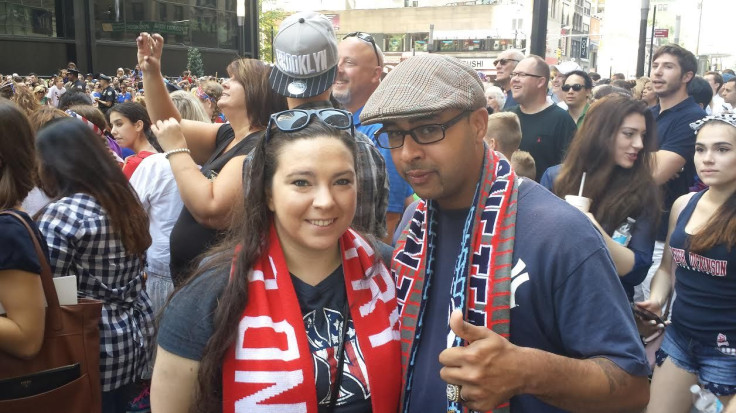 New York City's sidewalks from Battery Park to City Hall were nearly impassible by 11 a.m. local time, crammed with face-painted youth soccer teams, teenagers draped in the American flag, mothers and fathers lifting children onto their shoulders to catch a glimpse of 23 living legends. The air was thick with confetti, the crowd a sea of camera flashes and smartphones, as Team USA passed by, waving as they went.
Bolstered by the ageless Abby Wambach's veteran presence, midfielder Carli Lloyd's high-octane offense and a stalwart defense, Team USA rolled right to the championship Sunday night. Lloyd scored three goals within the first 15 minutes of the World Cup Final – a fitting end to a dominant run.
For Kerry Barbera, a 20-something from Valley Stream, New York, the national team's victory over Germany, the top-ranked country, was the defining moment of the tournament. "I felt like once they beat Germany, it was like we were riding high. Once we beat Germany, I felt like there was no way we were going to lose against Japan," Barbera said.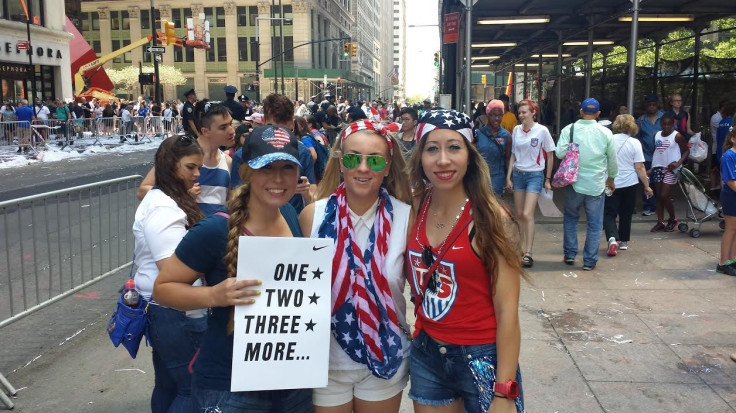 For Tamar, 9, and Sidney, 7, sisters from White Plains, New York, Lloyd's effort was the most exciting moment of this year's Women's World Cup. But the end of last Sunday's Final, when the clock finally struck zero, was the most memorable. "Everyone went screaming and crazy," Tamar said.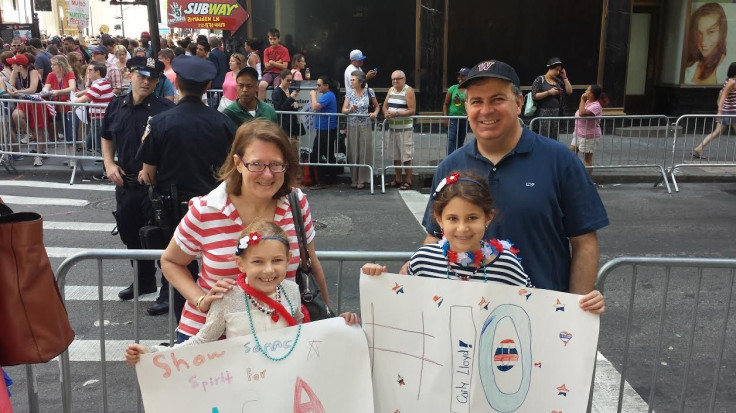 Women's athletics have long been pushed toward the margins in the United States. But this time, at least, the American people responded. A record 22 million television viewers watched the United States defeat Japan in what became the most-watched soccer match in the nation's history, according to U.S. Soccer. It was a 77 percent increase in the audience that watched Team USA compete in the 2011 Women's World Cup Final, also against Japan.
Plenty of the game's audience was young girls, who got a front-row seat to what can happen when natural talent meets lifelong commitment. Like Mia Hamm and the rest of the U.S. women's national team that won the 1999 World Cup, Wambach, Lloyd and other players were praised for inspiring a new generation of women.
Tara Conlin of North Rockland, New York, who brought her daughters and their friends to watch their idols, said their achievement was invaluable to young girls. "It lets them know that women in America, girls in America can achieve, just like men are doing. Women are able to do it just, as well," Conlin said.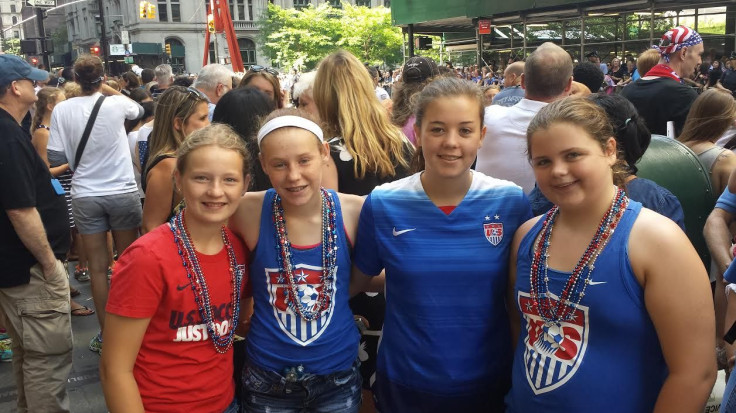 The outpouring of support led New York City officials to approve the ticker-tape parade, an honor typically reserved for New York-based teams and national political icons. The city has not held a parade for a national sports team since 1984, and hasn't catered the event specifically to women since 1960, after figure skater Carol Heiss Jenkins won a gold medal in that year's Winter Olympics. In New York's history, 159 ticker-tape parades were held exclusively for men, compared to just 12 exclusively for women, Five Thirty-Eight notes.
This week, as the women's national team prepared to meet their fans in New York, some of the parade's concerning elements emerged. Critics derided U.S. Soccer's announcement that male-centric Major League Soccer, the New York Red Bulls and New York City FC would all receive their own floats, and that corporate sponsors contributed just $450,000 toward the event's $2 million price tag.
The athletes in women's professional sports are used to this sort of treatment. The women's national team received just $2 million in prize money for winning the 2015 Women's World Cup, while Germany's men's team earned $35 million for its victory at the 2014 World Cup in Brazil. The disparity in pay is worse in domestic leagues. National Women's Soccer League players typically earn between $6,000 and $30,000 in annual salary, far less than their male counterparts.
"I think it's ridiculous," said Whitney Klein, a New Jersey resident who attended the parade with her daughter and her friends, Meryl, Sawyer, Kate and Amelia. "More people watched the women's soccer than [any game] in history. Where's the money? That makes no sense. That needs to change."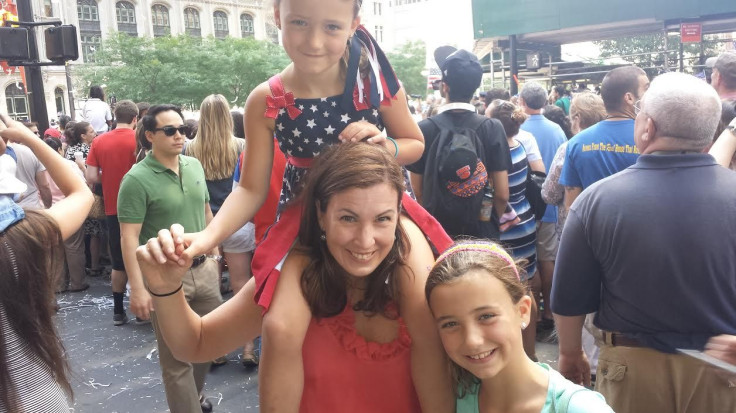 It will likely be years before America achieves full-scale gender equality in professional sports, both in terms of wages and in public attention to the accomplishments of the country's female athletes. But for most who played hooky from work to watch the floats roll by, Friday's ticker-tape parade was a much-needed step in the right direction.
"Women's sports are important, too. Like, legitimately important," said Bing alongside DiSeta, who had exchanged her tears for an easy smile by the time the parade started. "We don't just give anyone a parade here."
© Copyright IBTimes 2023. All rights reserved.
FOLLOW MORE IBT NEWS ON THE BELOW CHANNELS