VA Concedes Whistleblower's Allegations Were True, Including That It Ignored Veterans' Suicidal Tendencies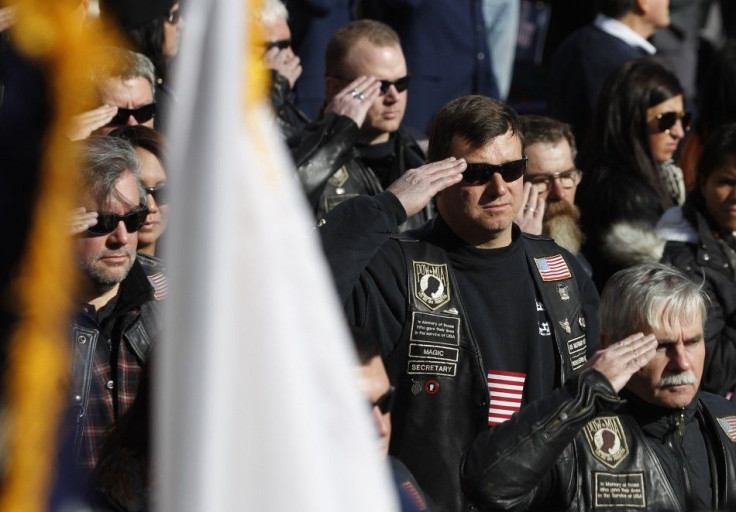 A government whistleblower who suffered retaliation from his agency has been vindicated by a Department of Veterans Affairs admission that it failed to reach out to 2,000 veterans in a research study who said they had suicidal ideas, many of whom later committed suicide.
The agency's admission, which has not been previously publicized, resulted from a congressional inquiry into the allegations of Dr. Steven Coughlin, a former epidemiologist at the Department of Veterans Affairs Office of Public Health, who disclosed that the VA was guilty of shocking ethical lapses.
It has been nearly a year since Coughlin told the House Veterans Affairs Committee's (HVAC) Subcommittee on Oversight and Investigations that he had waged a protracted battle against his supervisors over ongoing and very serious problems at VA, including its failure to follow up with some 2,000 vets who indicated in a survey that they'd had suicidal thoughts.
Coughlin, who conducted surveys of 1991 Gulf War veterans as well as veterans from Operation Iraqi Freedom and Operation Enduring Freedom--Afghanistan, also said that VA obscured facts about the impact of toxic exposures on troops in Iraq and Afghanistan and the causes of Gulf War illness, and that his bosses intimidated, bullied and admonished him for speaking out. His testimony last March prompted an inquiry of VA by the HVAC, and IBTimes has learned from Congressman Jeff Miller (R-Fla.), the HVAC chairman, that just a few weeks ago, without notifying the media, VA informed Congress that its Office of Research Oversight had conducted an internal investigation and substantiated the following Coughlin charges:
VA personnel lost study results related to family members of veterans of the Persian Gulf War. The results related to whether diseases such as brain damage were passed from veteran parents to children due to toxin exposure during the war.
VA personnel did not follow up on some veterans who admitted to having suicidal ideas -- and who later committed suicide -- during a study of Gulf War veterans.
Some VA personnel retaliated against Coughlin for his involvement in highlighting deficiencies in VA studies.
According to Miller's office, VA also assured the subcommittee that it would hold Dr. Michael Peterson, a VA employee specifically cited by Coughlin during the hearing, accountable for these failures.
"Now that VA has substantiated some of Dr. Coughlin's most troubling allegations, it's incumbent upon department leaders to detail the steps they are taking to hold the responsible parties accountable and ensure protections for future whistleblowers," Rep. Miller told IBTimes. "Who was held accountable for not following up on veterans who later committed suicide? What happened to the VA personnel who retaliated against Dr. Coughlin? What is VA doing to foster a culture of tolerance for employees who have the courage to speak out against problems despite hostile opposition from co-workers and managers? America's veterans, American taxpayers and VA's more than 300,000 employees deserve answers to these questions in short order."
VA would not answer any specific questions about Coughlin's charges.
A spokesperson for VA sent IBTimes the following statement: "The Department of Veterans Affairs recognizes and respects the service, dedication and many challenges of Veterans of the 1990-1991 Gulf War, and is committed to improving the health and well-being of these Veterans. Research is a vital component in improving that treatment. VA agrees that there are health issues associated with service in the Gulf War, and the department wants to ensure Gulf War Veterans have access to the care and benefits they have earned and deserve. "
The VA spokesperson also declined to answer questions about Coughlin's supervisors because the Privacy Act precludes their discussing personnel matters concerning individual employees.
Whistleblower Coughlin, a Year Later
Dr. Coughlin, who quit his post at VA in December 2012 -- three months before appearing on The Hill -- was never told about VA's validation of his charges. He only learned of it when contacted by IBTimes last week, and said he was "very surprised" by the agency's response.
"These are very serious admissions on the part of the VA," Coughlin said. "I took a beating trying my best to look out for the interests of U.S. veterans who were enrolled in our studies and other large-scale epidemiologic and clinical research studies conducted by VA. I hope that VA's admissions are a sign that the situation is improving. Of particular concern is the rights and welfare of vulnerable research participants, such as people with severe depression or suicidal thoughts. My thoughts go out to the veterans."
Coughlin said he's paying attention to what happens next at VA, but from a distance -- both geographically and emotionally. The 56-year-old scientist, who has never felt comfortable in the spotlight, did his part, he said, and seems happy now to be out of the fray. He described the past year as one filled with emotional highs and lows -- the lowest being VA's retaliation against him, which he said continued even after he left.
"After I left VA, I was removed as a co-author from two journal articles on which I had been listed as a co-author and which had already been submitted to epidemiologic journals," he said. "When I found out that my previous supervisor had instructed the lead authors to drop me as a co-author, I emailed the chief of the Office of Public Health and the director of the VA Office of Research Oversight, and my name was added back to one of the two articles."
Coughlin said after he left VA he was concerned that he would not be able to find another job and that he might lose everything.
"It's more difficult to find a position if you do not have a positive recommendation from your last employer," he said. "I was very fortunate to receive strong support from my family. My older brother let me live rent-free in his spare bedroom for a year while I searched for a new position. I took a big financial hit by quitting my job at the VA in Washington, D.C. However, I enjoyed spending time with my mother, brother, and my nephews and nieces."
Coughlin said that while being a government whistleblower has earned him respect and praise, it also probably kept some potential employers from hiring him. But with the support of academic colleagues around the country, Coughlin, who was previously associate professor of epidemiology and director of the program in public health ethics at Tulane University, and who once chaired the writing group that prepared the ethics guidelines for the American College of Epidemiology, was able to return to academia.
"I have a great job now at the University of Tennessee College of Medicine in Memphis," he said. His job is as a senior researcher in the Research Center on Health Disparities, Equity and the Exposome, and a professor in the Department of Preventive Medicine. (An exposome is a measure of the health effects of lifelong environmental exposures.)
"The focus of the center is on the pronounced black-white health disparities in Memphis," he explained. "African-American women in Memphis have a twofold increased risk of dying from breast cancer and the city also has the highest infant mortality rates in the U.S."
In addition to finding satisfying new work, Coughlin said that what has kept his spirits up and reminded him that leaving VA and making his complaints public were the right thing to do are the supportive messages he's received from veterans.
"I've heard from hundreds of veterans who have contacted me to thank me for standing up on behalf of veterans and telling the truth," he said. "My father was in the U.S. Navy and I have a nephew who was in the Marines in Iraq and Afghanistan."
Integrity Award
Coughlin's whistleblowing efforts are getting further validation by the International Society for Environmental Epidemiology, whose Ethics and Philosophy committee has nominated him for its Research Integrity Award, citing his "exhibition of great personal and professional risk in relinquishing his position at the VA after his calls to stop the suppression of research findings and prevent needless death among research participants were left unanswered."
ISEE, in its announcement of Coughlin's nomination for the award, said that his "inspirational show of courage and integrity in the face of ethical dilemma can be seen in his refusal to redact complaints made about a study protocol's failure to include a provision for mental health intervention, even under threat of removal from the study. Coughlin's extensive requests to have mental health providers contact participants were met with backlash from his superiors."
ISEE concluded: "Dr. Coughlin's highly ethical conduct makes him a living legend in modern environmental epidemiology. His actions should serve as an inspiration and model for epidemiologists both today and tomorrow."
Coughlin said his nomination by the ISEE ethics committee, which includes 23 epidemiologists in countries around the world, "means a great deal to me as it is clear that they understand the importance of the efforts we made to ensure that a mental health professional reached out to research participants who self-reported suicide ideation."
The award is presented each year at the ISEE annual meeting, this year to be held in Seattle in August, and Coughlin said he'll be told if he won "sometime before that."
As Congress debates how to proceed following the VA's admissions, which were a direct outgrowth of Coughlin's whistleblowing, he added, "It was very difficult at times for me to do what I did. But I have no regrets."
FOR FREE to continue reading
✔️ Unlock the full content of International Business Times UK for free
offer available for a limited time only
✔️ Easily manage your Newsletters subscriptions and save your favourite articles
✔️ No payment method required
Already have an account?
Log in
© Copyright IBTimes 2023. All rights reserved.