Veil Of Democracy? Turkish Women MPs Wear Islamic Headscarves In Parliament For First Time In Decades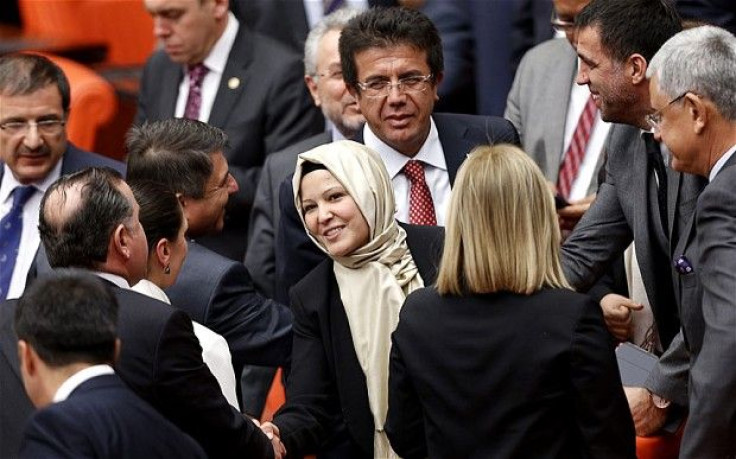 In a bold statement against secularism in Turkey, four female MPs adorned themselves with Islamic headscarves in the Ankara parliament meeting on Thursday. Such accouterments had been banned in public buildings for decades.
The deputies in question -- Sevde Bayazıt Kaçar, Gönül Bekin Şahkulubey, Nurcan Dalbudak and Gülay Samancı – are all members of ruling Justice and Development Party (AKP), and entered parliament with no protest from their colleagues. The quartet all said they decided to cover their heads after performing the hajj pilgrimage to Mecca last month. "I will no longer take off my headscarf," Sahkulubey told a local newspaper, adding that this decision was "between the believer and God."
The AKP, which is generally characterized as a "moderate Islamist" party, has ruled Turkey since 2003 under the leadership of Prime Minister Recep Tayyip Erdoğan and President Abdullah Gül. It has sought to ease the prohibition of headscarves – about one month ago, female civil servants were allowed to wear them, and now that right has been extended to MPs. The wives of both Erdogan and Gul wear scarves in public. The prohibition on veils remains in effect, however, for court officers, judges, prosecutors, police officers and military personnel.
"There is nothing in parliamentary bylaws that stands as an obstacle to this. Everyone should respect our sisters' decision," Erdogan said. "Of course, I see this historic atmosphere as a significant step in Turkey's democratization process. Parliament responded to this with unprecedented maturity." He added that any opposition to the veils would be tantamount to evincing "disrespect to parliament and their faith."
However, the simple act of a woman wearing a headscarf in a public setting has long triggered howls of derision from many quarters in Turkey, which was founded in 1923 as a modern secular republic by Mustafa Kemal Ataturk. The opposition Republican People's Party (CHP) has accused Erdogan and the AKP of violating Ataturk's vision for the republic by promoting such divisive issues as Islamic dress codes.
CHP officials had made vague threats that they might seek to disrupt the arrival of the four veiled women, but nothing came of it. This was quite a dramatic turnabout from the ordeal endured by former MP Merve Safa Kavakçı, the deputy of the Virtue Party (an AKP predecessor) who tried to enter parliament wearing a veil in April 1999. She was bombarded with jeers and catcalls and denied the right to take the oath by members of the Democratic Left Party and others. She even had her Turkish citizenship revoked and lost her seat in parliament. The prime minister at the time, Bülent Ecevit, also piled on Kavakçı, declaring, "This is not the place to challenge the state. Inform this woman of her limits!" Her party was disbanded by 2001. (The European Court of Human Rights eventually determined that her expulsion from parliament violated her rights). This time around, virtually all opposition parties accepted the appearance of MPs wearing the scarves.
But Today's Zaman, an English-language Turkish daily, commented that the issue of female MPs wearing scarves puts the opposition (and staunchly secular) CHP in a delicate and difficult position, especially ahead of elections due next year. CHP officials, the paper said, seem confused and conflicted, that is, they don't want to appear too amenable to the AKP's sentiments, while declaring their disagreement with the ruling party over what women in Turkey should wear in public.
"Their [the AKP's] only goal is to create a perception of victimization over the wearing of headscarves," said CHP deputy group chairman Muharrem İnce. "They will capitalize on this. We will take this gun from the hands of Erdoğan. We will not allow him to seem like a victim when he is actually too powerful." Ince added, "Colleagues [in parliament] who never covered their heads in their lifetime are doing so today in order to win Erdoğan's sympathy and they are making interesting statements." But CHP İstanbul deputy Faik Tunay expressed his support for the women wearing headscarves, describing it as their "most natural right," in a Twitter account.
Dr. Dilshod Achilov, a political scientist at East Tennessee State University and an expert on Mideast politics, called the event in the Ankara parliament "very significant indeed." "It is a major historic milestone for Turkish democracy," he told International Business Times. "It is yet another sign that the consolidation of democratic norms, in the context of advancing individual civil liberties, continues to mature in the Republic of Turkey."
Achilov also noted that Turkey has finally overcome this long-standing discriminatory taboo. "Turkey has still a long way to go on the road of cementing wider civil liberties and political rights," he added. "It is a major step forward and a win for civil liberties and women's rights in Turkey." Achilov further pointed out that the Belgian parliament even has a Turkish-origin MP who wears a headscarf. "This taboo has long been broken in Europe," he said. "It is long overdue in Turkey."
But it remains unclear how the wearing of headscarves will affect Turkey's long and slow path towards joining the European Union. Ria Oomen-Ruijten, the European Parliament's Turkey rapporteur, said she does not oppose the idea of Turkish women lawmakers wearing headscarves, as long as it does not become a requirement for all females in government. "Women should be free to wear headscarves in public as long as this does not lead to a moral obligation for others to also wear headscarves," she said, according to Today's Zaman. "Every woman should have freedom of choice in this regard."
© Copyright IBTimes 2023. All rights reserved.