Venezuela Currency Controls Make Scotch Cheap As Milk, Syringes Go Short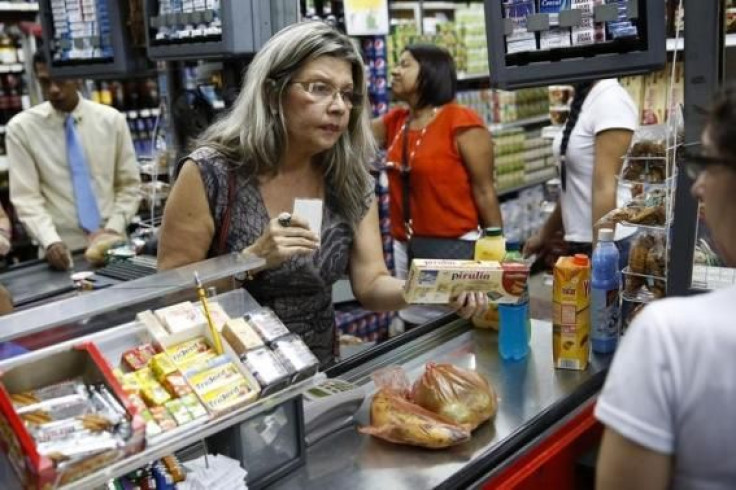 (Reuters) - Venezuelan shoppers line up outside a Caracas liquor store to buy bottles of Buchanan's 12-year Scotch whisky at half the usual cost, a deal made possible by a state subsidy that gave cheap dollars to import them.
The same subsidy, provided under the country's three-tiered exchange control system, helps a Caracas merchant do thriving business in Canadian pines - a Christmas luxury in the sweltering tropical nation.
The socialist government of President Nicolas Maduro has even used the controls to subsidize Barbie dolls for Christmas shoppers by offering an exchange rate subsidy to toy importers.
But the holiday bargains have a downside: consumers continue struggling with shortages of staple products ranging from milk to medical supplies because the exchange control system does not provide enough greenbacks for businesses to import them.
"What we have here is complete disorder," said Asdrubal Oliveros of Caracas-based consultancy Ecoanalitica. "They've provided subsidized currency for things like toys and clothes to create the sensation that they are relieving shortages."
The 12-year-old currency controls are struggling to allocate a shrinking number of dollars as tumbling oil prices weaken state finances, a trend that may spur soaring inflation and further slow an economy widely believed to be in recession.
Product shortages, consistently a top complaint in the polls, may weaken the standing of the ruling Socialist Party in next year's legislative elections as Maduro's popularity has plummeted to 24 percent, according to pollster Datanalisis.
Medical equipment companies, for instance, received half as many dollars this year as in 2013 through the currency controls, which were created by late socialist leader Hugo Chavez in 2003.
Medical essentials such as replacement parts for radiotherapy equipment and syringes for breast biopsies that screen for cancer went scarce for much of the year as medical equipment firms struggled to get dollars to import them.
"Clinics were running out of inventories," said Antonio Orlando, president of medical equipment firm Meditron and head of the industry association.
Once those firms did get dollars, they had to pay double to obtain the hard currency - leaving them with the same exchange rate as the one used to import the cut-rate Scotch.
Maduro has ruled out lifting the exchange controls, arguing that would benefit the rich. He says the current problems are in fact caused by an "economic war" led by opposition businesses with the support of Washington.
"There have been economic damages, a brutal war over the course of the year which has worsened and is now heating up on the international front," he said recently.
The government did not respond to a request for comment on the exchange controls.
DOLLARS DRY UP
Maduro's government maintains three exchange rates assigned to different types of products: the best rate of 6.3 bolivars per dollar for food and medicine, an intermediate rate of around 12 called Sicad I for less important goods, and a "complementary" third rate of around 50 called Sicad II.
The black market exchange rate is 173 bolivars, and has depreciated 40 percent since the start of November.
Bottles of 750 ml (25 oz) of Buchanan's 12-year during the Christmas sale were imported with dollars obtained at the Sicad I rate and priced at 2,000 bolivars.
That is equivalent to $317 at the strongest official bolivar rate, $167 at Sicad I, and $40 at Sicad II but just $12 for anyone who has dollars and is able to change them at the black market rate.
Consumed in copious quantities from beaches to dinner-tables, Scotch whisky is virtually a national drink in Venezuela with sales said to be among the strongest in the world.
Diageo, the world's largest spirits company that produces Buchanan's and distributes it in Venezuela, did not respond to an email seeking comment on the exchange controls.
In November, Maduro launched "Operation Merry Christmas" that promised to provide cheap goods such as toys for shoppers weary of inflation that now tops 60 percent.
One downtown Caracas toy store, which also received the Sicad I rate, sold Barbies for 553 bolivars - a markdown of almost 80 percent from their prior price of 3,000 bolivars.
"I'm buying six Barbies before they run out," said Carmen Suarez, a mother of two who recently lined up with a crowd of anxious shoppers after getting permission to leave work. "They said I could buy six as long as I didn't buy the same model twice."
The currency controls have become a primary concern of foreign investors who believe they are draining international reserves, potentially forcing Venezuela to default on its debt.
The country's bonds as a result are seen as the riskiest in the world, and pay investors an average of 10 times what they would make on similar U.S. Treasury notes.
Maduro dismisses default rumors as a right-wing smear campaign.
The late Chavez created the currency controls in 2003 to stem capital flight amid an opposition-led oil industry shut-down meant to force him from power.
During the oil boom years, the system kept luxury imports cheap while ensuring pharmacies and grocery stores were well stocked, bolstering Chavez's popularity during his 14-year rule.
But the system became widely discredited after a central bank chief estimated that as much as $20 billion had been stolen through fraud in a single year.
Merchant Enrique Morales says he has been selling about 30 Canadian pine trees per weekend after importing at the Sicad II exchange rate instead of at the black market rate of three times that.
"It's a good thing I didn't have to go to the black market, because nobody would have bought them," Morales said.
FOR FREE to continue reading
✔️ Unlock the full content of International Business Times UK for free
offer available for a limited time only
✔️ Easily manage your Newsletters subscriptions and save your favourite articles
✔️ No payment method required
Already have an account?
Log in
© Copyright Thomson Reuters 2023. All rights reserved.