Venezuela Jails Opposition Leader Leopoldo Lopez For Inciting Violence During Anti-Government Protests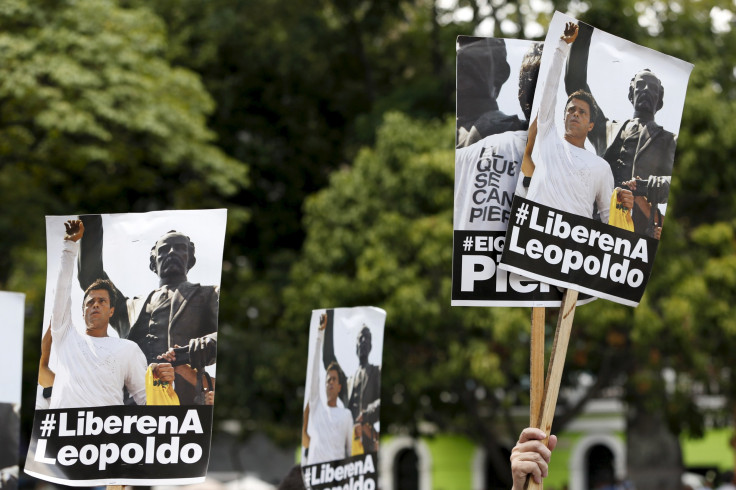 Venezuelan opposition leader Leopoldo Lopez was sentenced Thursday to 13 years and nine months in prison after he was found guilty of instigating violence during the 2014 anti-government protests that killed at least 40 people. Lopez, who has been in kept in a military prison since February 2014, has repeatedly maintained his innocence.
The Caracas court verdict was met with anger and disbelief among the 44-year-old's supporters, according to reports. One of the supporters reportedly died of a heart attack during clashes with pro-government groups, as the verdict was awaited outside the courthouse in the capital.
Lopez's attorneys had previously alleged that the trial had irregularities. The court dismissed all witnesses except two, who eventually declined to testify, and allowed the prosecution to bring in over 100 witnesses, the Associated Press reported. According to Lopez's family, the leader has been under solitary confinement for most of his 19 months in jail, alleging that his human rights were violated.
The jail term for Lopez will be combined with the time already spent in prison. Lopez's case created uproar among opposition supporters, who claimed that President Nicolas Maduro's government squashed human rights, according to Reuters.
"This is not only an attack on liberty and legality ... but also a provocation to the Venezuelan people," Jesus Torrealba, leader of the opposition coalition, which includes Lopez's Popular Will party, reportedly said.
The U.S. government, the United Nations and other international rights groups reportedly called for Lopez's release. The U.S. Assistant Secretary of State for Western Hemisphere Affairs Roberta Jacobson said she was "deeply concerned" by the conviction, according to the BBC. She also reportedly requested the Venezuelan government to "protect democracy" in the country.
Last year's deadly protests were triggered by anger over violent crime, a declining economy and shortages of basic goods. Between February and June last year, 43 people were reportedly killed during the protests.
Lopez was jailed on Feb. 18, 2014, after he handed himself over to police. In May, he was on a month-long hunger strike to pressure authorities to set a date for legislative elections. He ended the strike after the election date was set for Dec. 6.
© Copyright IBTimes 2023. All rights reserved.