Venezuela Launches Disarmament Program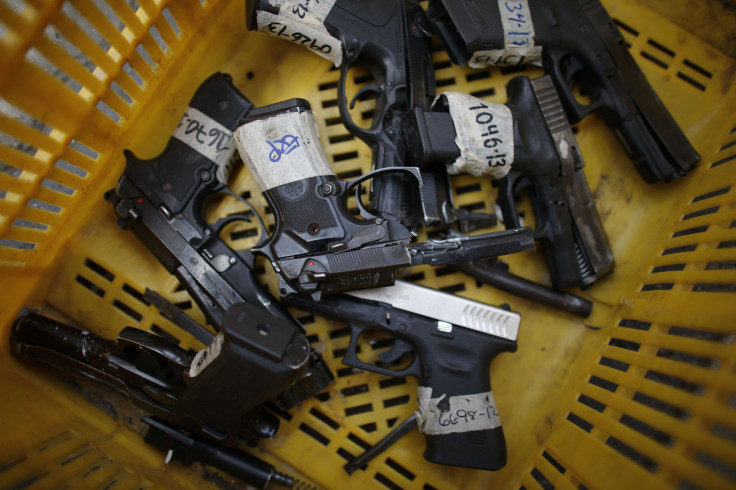 Venezuelan President Nicolás Maduro is launching a nationwide initiative to encourage civilians to surrender their weapons, in an urgent attempt to stem the tide of violence in his country, which has the second-highest murder rate in the world.
Maduro announced the campaign on Sunday while commemorating the International Day of Peace in Caracas, Venezuela's capital. Under the plan, the Venezuelan government will establish a $47 million fund to set up 60 centers around the country where people can voluntarily give up their firearms. Maduro also approved $39 million for a separate plan to install additional security cameras and 2,000 soldiers to patrol alongside police officers in certain neighborhoods in the country.
"We are building peace from within, and for that, you need disarmament," Maduro said during the announcement.
Venezuela is frequently cited as having the world's second-highest homicide rate, after Honduras, and firearms are a major cause of the deaths. The United Nations estimates a murder rate of 53.7 per 100,000 people, while the Venezuelan Violence Observatory, a Caracas-based nongovernmental group, puts their estimate much higher at 79 per 100,000 people -- a rate that it says has quadrupled over the past 15 years. Rising insecurity was also a major grievance of the student-led protests that gripped Caracas and the western city of San Cristóbal earlier this spring.
Venezuela's government has made several efforts in recent years to crack down on gun-related violence as the murder rate has swelled. Gun sales are restricted to only members of the military and security forces, and the government has largely outlawed civilian possession of firearms, with a punishment of up to 20 years in prison.
© Copyright IBTimes 2023. All rights reserved.
FOLLOW MORE IBT NEWS ON THE BELOW CHANNELS