Venezuela Sanctions: Obama Executive Order Freezes Venezuelan Officials' Assets, Demands Release Of Political Prisoners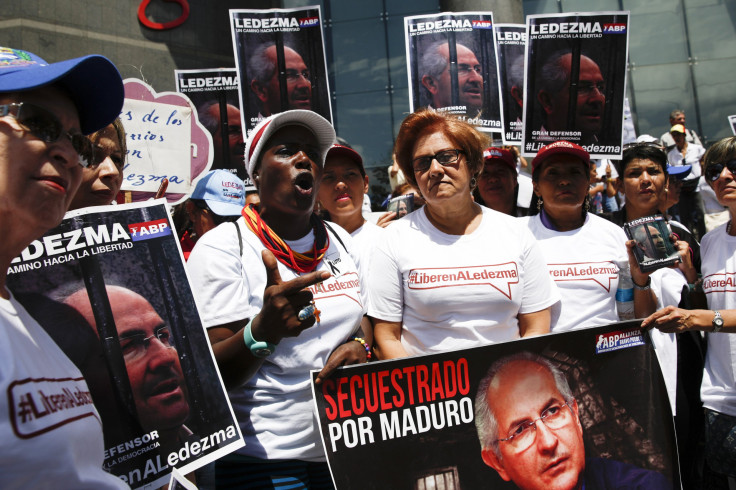 U.S. President Barack Obama imposed sanctions Monday on Venezuelan officials alleged to have violated human rights, repressed freedoms or engaged in public corruption. In addition to existing travel bans, seven officials will see their assets in the U.S. blocked or frozen and will be prevented from accessing U.S. financial systems under an executive order signed by Obama.
"We are deeply concerned by the Venezuelan government's efforts to escalate intimidation of its political opponents. Venezuela's problems cannot be solved by criminalizing dissent," a White House Office statement said. "We have consistently called on the Venezuelan government to release those it has unjustly jailed as well as to improve the climate of respect for human rights and fundamental freedoms, such as the freedoms of expression and peaceful assembly. These are essential to a functioning democracy, and the Venezuelan government has an obligation to protect these fundamental freedoms."
The U.S. government had called for the Venezuelan government release all political prisoners including students, opposition leader Leopoldo Lopez and mayors Daniel Ceballos and Mayor Antonio Ledezma, who represent San Cristobal and Caracas, respectively. Lopez, an outspoken opponent of Venezuela's socialist government, was arrested in February 2014 for allegedly provoking violence during protests. Ceballos, of the opposition Popular Will party, was also arrested last March on similar charges with Lopez. Ledezma was arrested Feb. 19 amid accusations of a coup attempt. These arrests were seen as attempts by the Venezuelan government to stifle the opposition and quash dissent.
President Obama signed the order declaring a national emergency as the situation in Venezuela posed an "unusual and extraordinary threat to the national security and foreign policy of the United States." The new sanctions, which the statement emphasized did not target the economy, targeted seven individuals in Venezuela's various ministries and defense sectors, and U.S. entities have been forbidden from doing business with them. They include:
Antonio José Benavides Torres of Bolivarian National Armed Forces (FANB)
Gustavo Enrique González López, director general of Bolivarian National Intelligence Service (SEBIN)
Justo José Noguera Pietri, president of state-owned Venezuelan Corporation of Guayana (CVG)
Katherine Nayarith Haringhton Padron, national level prosecutor of the 20th District Office of Venezuela's Public Ministry
Manuel Eduardo Pérez Urdaneta, director of Bolivarian National Police
Manuel Gregorio Bernal Martínez, chief of the 31st Armored Brigade of Caracas
Miguel Alcides Vivas Landino, inspector general of the FANB
Venezuela has been plagued by protests against high inflation resulting from falling oil prices in recent months, and President Nicolás Maduro's ratings have taken a hit, dropping last month to a 22 percent low. The Maduro government passed a resolution in late January allowing soldiers to fire on protestors, a policy change that drew sharp criticism from civil and human rights activists. The U.S. and Venezuela subsequently imposed travel restrictions on each other in February. Maduro accused the U.S. of working with Venezuelan opposition members that same month to overthrow of his government, a charge that Washington has dismissed.
"It is unfortunate that during a time when we have opened up engagement with every nation in the Americas, Venezuela has opted to go in the opposite direction," the White House statement said. "Despite the difficulties in our official relationship, the United States remains committed to maintaining our strong and lasting ties with the people of Venezuela and is open to improving our relationship with the Venezuelan government."
© Copyright IBTimes 2022. All rights reserved.
FOLLOW MORE IBT NEWS ON THE BELOW CHANNELS